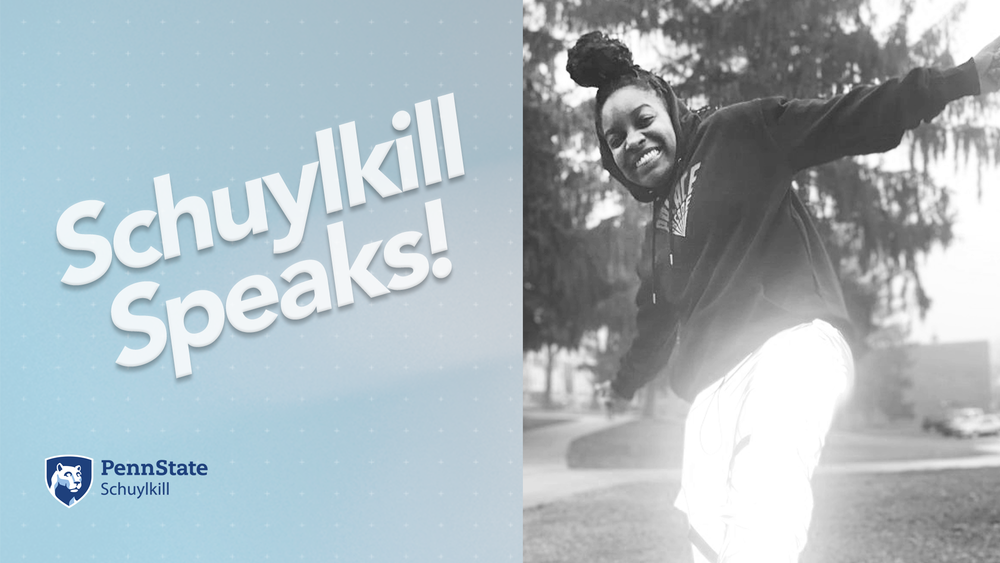 Editor's note: This story is part of a series profiling exceptional members of Penn State Schuylkill's spring 2020 graduating class.
SCHUYLKILL HAVEN, Pa. — Armani Jefferson is a spring 2020 administration of justice graduate from Philadelphia. Like many "true blue" Pennsylvanians, she said she knew from an early age that she was destined to be a Penn Stater. "I always knew that if I were to go college, it was going to be Penn State, or nowhere at all," emphasized Jefferson. However, it took some encouragement from Jefferson's mother to help her decide that college was indeed the right path for her.
During her time on campus, Jefferson has distinguished herself as a student member of the residence life team in Student Affairs. She served as a resident assistant for two years, as well as a member of the campus chapter of Habitat for Humanity. In fact, Jefferson has been involved in two Habitat builds that took place over holiday breaks, and she was scheduled for this year's spring break service trip to Honduras that was canceled due to the coronavirus pandemic.
This spring Jefferson received the Student Life Outstanding Service and Leadership Award, for excellence in service and leadership to the campus community and local, national, and global communities. In addition to Habitat for Humanity, Jefferson has been involved in various other local community service projects.
"I have worked with Armani for two years," stated Valerie Clay, associate director of Student Affairs. "Her low-key demeanor and laid-back personality make accomplishing any task easy. Armani is a student you can always call on. She will stop what she's doing in order to help, and she does it with a smile. I will miss having her as part of the ResLife team, but I know she is graduating to bigger adventures where she is certain to leave her mark!"
We caught up with Jefferson recently and asked her about her time at Penn State Schuylkill.
Q: Who, or what, influenced your decision to come to Penn State Schuylkill?
Jefferson: At the time, I was unsure of what I wanted to do after high school, but my mother helped influence my decision that college was the right option, and she encouraged me to apply. So, when I was accepted at Penn State Schuylkill, I was super excited.
Q: What extracurricular activities were you involved in, and how did they impact your time on campus?
Jefferson: I was a part of Penn State Schuylkill women's basketball team for two years. Even though I didn't play all four years, I remained a fan and supporter. I was also president of the school's modeling club, Fatal Attraction, which was a lot of fun.
Q: Outside of academics, what was the most valuable lesson learned?
Jefferson: I learned that while the past is always with you, with the passing of time there is also an opportunity to grow and for your life to get better.
Q: What surprised you most about your time at the Schuylkill campus?
Jefferson: The number of good friends that I have made in my time here. Even though the Schuylkill campus is small, there were so many opportunities to meet new people.
Q: Do you have a favorite Penn State Schuylkill memory?
Jefferson: I loved going to all the Penn State Schuylkill basketball games and cheering on both the men's and women's teams. I enjoyed going on Habitat Humanity trips — which was a great opportunity to do good, and also spend time with my friends.
Q: What will you miss most about campus?
Jefferson: I think what I'll miss most is going to the café everyday with my friends. Also, visiting with some of my favorite staff members: Bryan Valentine, director of Student Affairs; Valerie Clay; Cindy Ebling, coordinator of health services; Mindy Spolski, coordinator of counseling and student disability services; and Tina Rose, coordinator of career services. I learned so much from my time with them, and they have all helped me become the person I am today.
Q: As you near graduation, what advice would you give to an incoming student about college in general, and Penn State Schuylkill specifically?
Jefferson: The most important advice I would give anyone coming to Penn State Schuylkill is to get to know the faculty and staff. They will be your family for the next four years. They will truly help you unlock your full potential, and you will discover things you never even knew you had in you.
Q: Where do you see yourself next year? In five years?
Jefferson: Next year, I'd like to go back to college to study business at a graduate level. Eventually, I want to open my own art gallery and a chain of sneaker stores.