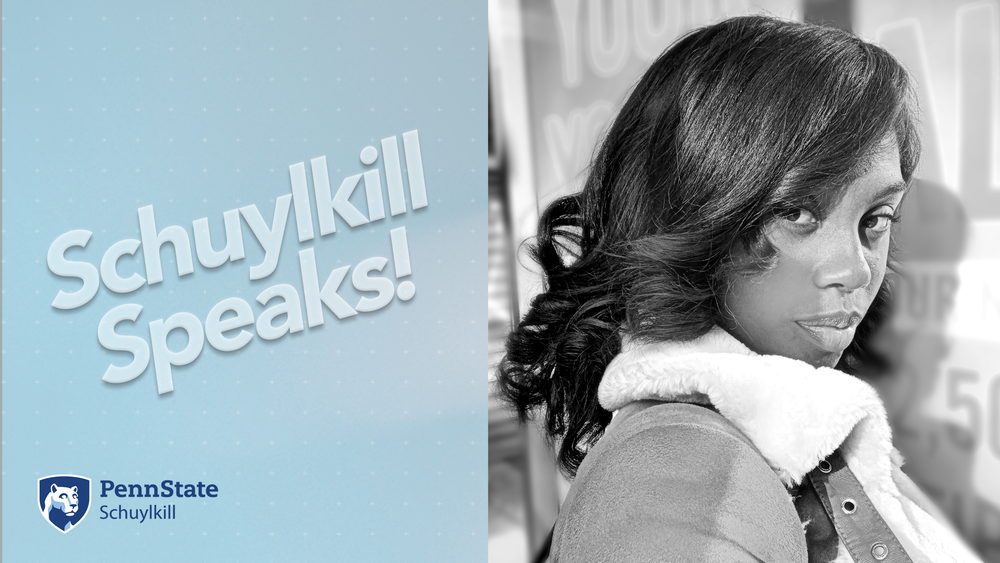 Editor's note: This story is part of a series profiling exceptional members of Penn State Schuylkill's spring 2020 graduating class.
SCHUYLKILL HAVEN, Pa. – Senior Bria Nickerson is an administration of justice major from Brooklyn, New York, and despite having one of the best criminal justice schools in the country in her hometown of New York City, Nickerson decided that Penn State Schuylkill offered the best opportunity to advance her career in criminology. Although the small rural campus was a big change after growing up in a busy metropolis, she found the change of pace to her liking.
Nickerson took advantage of the collegial atmosphere and became involved in various student and academic organizations. She was vice president of the campus Student Government Association, as well as a member of the Black Student Union, and the Blue & White Society. She was a part of the Honors Program, and in her senior year was a resident assistant in Nittany II, the Honors Program apartment complex.
"Bria Nickerson is an exceptional young lady who has been a student leader throughout her entire time at Penn State Schuylkill," stated Bryan Valentine, director of Student Affairs. "She was the 2019-2020 recipient of the Student Life Chancellor's Award for Student Leadership for contributions to the improvement and advancement of campus life. Based on all of her accomplishments while a student, I have no doubt Bria will go on to do great things after she graduates."
Hakan Can, professor of administration of justice, elaborated on Bria's exceptional commitment to community leadership. "During an internship with the Schuylkill County District Attorney's Office, Bria was intensively involved with the community and the local criminal justice system. Her enthusiastic approach has led me to strongly believe that she will be an asset to whatever community she serves," Can said. "In both her oral and written presentations in my classes, or in conferences she attended, Bria has been highly polished. She is intimately knowledgeable of the nuances of ethics and values in almost every area of criminal justice and demonstrates an excellent grasp of the philosophy of justice and fairness."
The Schuylkill Speaks series caught up with Nickerson recently to ask her about her time on campus.
Q: What made you choose Penn State Schuylkill?
Nickerson: This is actually one of my favorite Penn State stories! I knew that I wanted to study criminology and since I'm originally from New York City, a local college of criminal justice seemed like the best choice. I really wanted to go there, but I also wanted a backup plan. So, I applied to Penn State Schuylkill and was accepted there in January. I didn't get accepted to the local school until about nine days before commitment day. But during the time I was waiting to hear from the local school, I learned a lot about Penn State Schuylkill and became really torn. One night, after spending the whole day contemplating on which school to commit to, I had a dream. In that dream, I had visions of "Blue & White." Taking that as a sign, I knew where I was supposed to be.
Q: What surprised you most about your time here?
Nickerson: How much I actually enjoyed the campus. One of the main complaints I've heard from other students, is about the smaller size of the campus. However, coming from a big city like New York, it allowed me to really appreciate the small, quiet environment even more.
Q: What class or instructor had the most impact, and why?
Nickerson: Truthfully, it was three professors in my academic program: Dr. Hakan Can, Ron Kelly, and Dr. Juyoung Song. Dr. Can was the most influential professor for me during my time at Penn State Schuylkill. The first class I ever had with him was Criminology Research Methods. He played a pivotal role in strengthening my skills as a scholarly writer in my discipline. He also did a lot for me in terms of helping me find an internship. In many ways he was both an academic and personal advisor for me.
Ron Kelly's classes were some of the most interesting classes I took during my time at Schuylkill. He taught a sexual violence class that helped me solidify my interests in working in the field of sex crimes. Ron Kelly was a professor who was professional but also made his classes interactive and fun. Dr. Song was one of the first professors I had at Schuylkill. I took her for Statistics 200 and working with her gave both my friend Naje James (a Schuylkill alumna) and I the opportunity to present original research at a national conference in New Orleans.
Q: What's your favorite spot on campus?
Nickerson: Nittany II, apartment 201, room 1 (my former bedroom). The seating area outside of the commons was a close second, but only when it was warm outside.
Q: What is your favorite Penn State Schuylkill memory?
Nickerson: My favorite memory was Welcome Weekend in August 2019. When I originally arrived as a freshman, I missed a lot of the Welcome Weekend activities due to scheduling conflicts. As a result, I never had a real "welcome" when I came to the school. This year, as a resident adviser, I was not only able to enjoy the experience that I missed my freshman year, but I helped facilitate some of the events we had planned.
Q: What are you most proud of from your time at Penn State Schuylkill?
Nickerson: I'm proud that I've accomplished so much. I worked multiple jobs on campus to help pay off my tuition and continued to keep my GPA up. I'm also graduating with honors. I'm also proud that I was able to contribute to the development of Penn State Schuylkill, and the University as a whole, in the positions I held on campus in my extracurricular activities.
Q: What's next for you?
Nickerson: Due to unforeseen circumstances resulting from the coronavirus pandemic, I decided to push back my entry to graduate school from fall 2020 to fall 2021. However, until then, I plan on applying for jobs and, hopefully, get my foot in the door in the criminal justice field.
Q: As a Penn State Schuylkill grad, what advice would you give to an incoming student?
Nickerson: Take your studies seriously, but always remember to have fun! Due to the coronavirus pandemic, our graduating class lost out on so many of those senior year moments. This situation has taught me to take nothing for granted because you never know when it will be gone. With that said, I would advise a new student to make the most of their time at Penn State Schuylkill and take advantage of all of the benefits and opportunities!