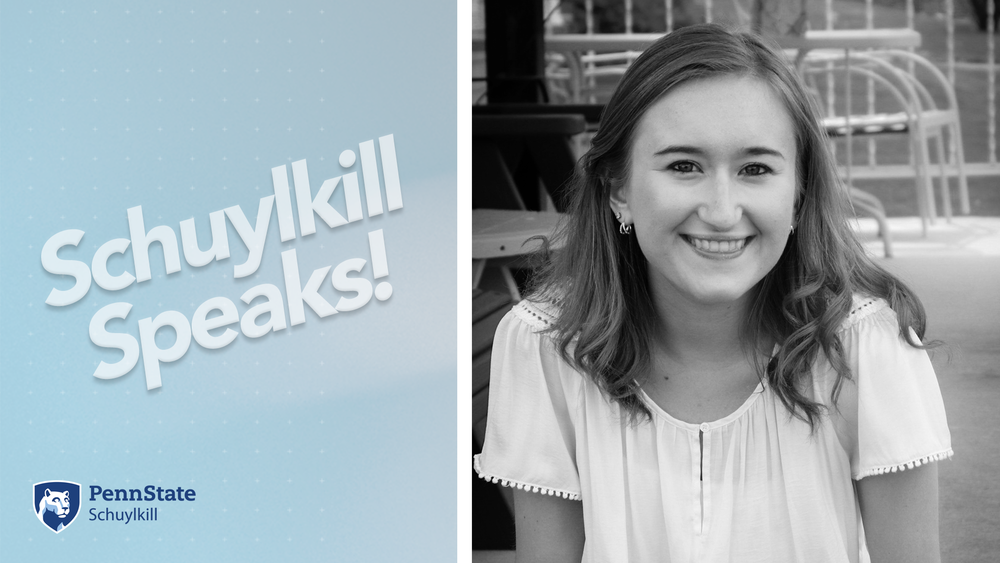 Editor's note: This story is part of a series profiling exceptional members of Penn State Schuylkill's spring 2020 graduating class.
SCHUYLKILL HAVEN, Pa. — Tara Laubenstine has dreamed about attending Penn State since the day she began considering her college options. With family members aplenty having graduated from Penn State — including several of her cousins, members of her extended family, and currently her younger sister — she wanted to continue that legacy. And when this Schuylkill County native discovered Penn State Schuylkill offered a degree in her ideal career path, she eagerly applied and began writing her Penn State story.
Laubenstine recalls being a happy introvert her freshman year. She would nestle herself in books and documentaries about past presidents and former first ladies, or channel her inner old soul watching TV shows such as "I Love Lucy" and "The Golden Girls." But with encouragement from faculty, staff, and fellow classmates, she broke out of her shell and became a leading fixture in a number of campus clubs.
Laubenstine became most involved in the Blue & White Society, the student branch of Penn State's Alumni Association, and was elected as the society's secretary. Patty Shoener, Penn State Schuylkill's alumni relations and stewardship officer and instructor of business, acts as the society's faculty adviser. "Tara is an amazing student, and an even more amazing person," said Shoener. "As secretary of the Blue & White Society, Tara has been super active in our group. She was our leader of the virtual walks the club hosted throughout our remote-learning period this semester, and I enjoyed chatting with her every Tuesday and Thursday."
In addition to being an involved student, Laubenstine is also an outstanding scholar. This spring, she was recognized for her work as a student tutor and also earned the Bachelor Degree in Business Award. Most impressively, Laubenstine earned the Evan Pugh Scholar Award, an award reserved for juniors and seniors who rank in the upper 0.5 percent of their respective classes.
Business Division Coordinator Gina Whalen has had Laubenstine in several of her classes, and has seen her ability to excel academically, firsthand. "It is not difficult to see that Tara is a person who is dedicated to excellence in all her endeavors, but what is even more impressive is what you will discover when you look deeper and get to know her. Tara's character and integrity in combination with her intelligence set her apart from the crowd and make her a rarity," said Whalen.
As Laubenstine closes the book on her time at Penn State Schuylkill, she looks forward to moving into the job market. Ahead of Penn State's virtual commencement ceremony this Saturday, Tara sat down with the Schuylkill Speaks series to reflect on her time at Schuylkill and offer advice for the incoming class.
Q: What made you choose Penn State Schuylkill?
Laubenstine: I have always known I wanted to attend Penn State University — no matter the campus. Penn State Schuylkill is a close commute for me, and they offered the degree for the career path I wanted to pursue. Thus, the choice was extremely easy!
Q: What surprised you most about your time here?
Laubenstine: Well, aside from the last two months of my senior year being finished remotely via Zoom, I would say what surprised me most was the numerous personal connections I have formed with staff and faculty members (definitely a benefit of our small campus!). I never realized when I started college here how much the staff and faculty members would truly care about becoming familiar with their students and how students are not merely a "familiar face" in a classroom.
Q: What extracurricular activities — clubs, sports, etc. — were you involved in?
Laubenstine: Blue & White Society, Schuylkill Benefitting THON, and I am a tutor in the ARC! Each provides rewarding opportunities for student involvement and building friendships for life.
Q: What class or instructor had the most impact on you, and why?
Laubenstine: Two instructors that have had a significant impact on me, and I need to give them both the recognition they deserve (although, I have had many amazing instructors here): Patty Shoener and Gina Whalen. I have taken multiple classes with both of them, and both have become tremendous mentors to me. The knowledge, advice, and guidance they have provided me regarding my field and life in general are extremely valuable to me. And my college experience would not be the same without them!
Q: What's your favorite spot on campus?
Laubenstine: This is such an easy answer: THE LIBRARY! It's actually a joke among my friends because I have spent so much time there. If I am not in class or the ARC, I am more than likely in the library. The library has truly been my escape the past four years, and a great hangout spot for my friends and me. I really would like to know the total number of hours I have garnered in the past four years there. I sound like a huge nerd here, but that has truly been the most productive place for me to study for exams, write essays, and complete homework assignments.
Q: What is your favorite Penn State Schuylkill memory?
Laubenstine: This is an incredibly difficult question for me because I have so many favorite memories! The first memory that comes to mind is attending THON 2020. The atmosphere of THON is truly indescribable and incredibly emotional. You're surrounded by children suffering in ways you can't imagine as well as fellow students all fighting for the same cause. Sharing this weekend with some of my dearest friends made the experience even more special. THON weekend is a true representation of the power of the Penn State family.
Q: What are you most proud of from your time at Penn State Schuylkill?
Laubenstine: I'm proud of myself for stepping out of my comfort zone and becoming involved on campus, which were matters I was terrified of my freshman year. I have achieved a significant amount of academic success, which I never expected to accomplish, and I am incredibly proud of. But the clubs I have become involved in, the instructors and professors who have guided me, the students I have tutored, and my internship at Kohl's, all made my journey at Schuylkill and the academic success I've achieved become so much more rewarding.
Q: What's next?
Laubenstine: I am on my job hunt, seeking a position in the field of human resource management. My ideal position is an HR assistant, and I would eventually like to become a human resource generalist.
Q: As a Penn State Schuylkill grad, what advice would you give to an incoming student?
Laubenstine: These four years will pass by in the blink of an eye, and it may not seem like it at the time. Do not wait to become involved on campus. There is a plethora of advantages to our small campus right at your fingertips: small classes, clubs, sports, the opportunity to become closely connected to professors and instructors — I could write a book! Do not be afraid to step out of your comfort zone, because that is where greatness and adventures lie. Each student has their own Penn State story: Make the most of YOURS!