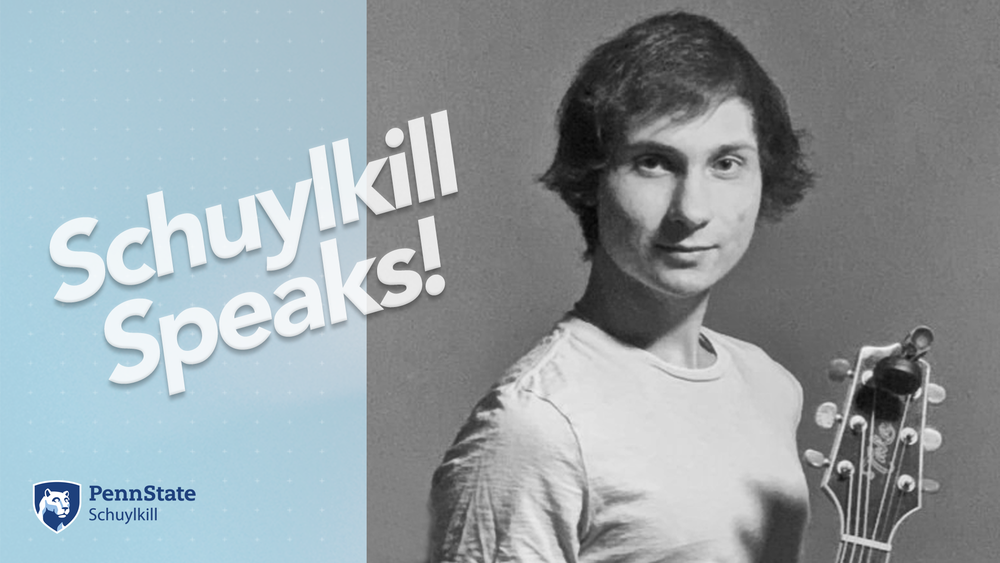 Editor's note: This story is part of a series profiling exceptional members of Penn State Schuylkill's spring 2020 graduating class.
SCHUYLKILL HAVEN, Pa. — Even before becoming a student at Penn State Schuylkill, 2020 alumnus James Abicunas was making waves. The Frackville, Pennsylvania, native earned Penn State Schuylkill's prestigious Wylonis Scholarship ahead of his freshman year and continued his upward trajectory from there.
A biology major and USCAA Academic All-American for the Penn State Schuylkill golf team, Abicunas earned Dean's List honors in spring and fall 2019 and participated in the Honors Program. This proven science wiz has a bent toward the creative side, too. In his spare time, he plays guitar and sketches detailed portraits. In fact, he was one of four prize winners in a recent Penn State Schuylkill virtual talent competition.
And while all of these achievements should be celebrated, Abicunas says he is most proud of how he was able to overcome serious medical issues that could have halted his undergraduate studies. "I had a liver biopsy, a liver ablation, and eventually a liver transplant last year," Abicunas recalled. "My professors were incredibly understanding and went the extra mile to ensure I wasn't left behind."
One of those professors, Kelly Puzzi, assistant teaching professor of biology, said, "Jimmy has taken care of business and handled himself beautifully through tremendous adversity. Not only has he maintained a full academic load and continued to strive for excellence in the classroom, he managed his health issues with grace and maturity."
With his undergraduate career complete and his eye on a future as a physician assistant, Abicunas reflects on his experience at Penn State Schuylkill.
Q: What made you choose Penn State Schuylkill?
Abicunas: My guidance counselor in high school informed me of the Wylonis Scholarship. I applied, interviewed, was awarded the prestigious scholarship, and I didn't think twice about attending anywhere else. I didn't even send out any other applications to another university.
Q: What surprised you most about your time here?
Abicunas: How closely knit the Penn State community is. I have made some friends for life at this campus that I otherwise never would have met.
Q: What extracurricular activities — clubs, sports, etc. — were you involved in?
Abicunas: I was involved in Beta Beta Beta (the national biology honor society), golf, the Blue & White Society (the student arm of the Penn State Schuylkill Alumni Society), Student Government, Lion Ambassadors, Engineering Club, Business Society, Habitat for Humanity and research with two of Schuylkill's biology professors—Dr. Luke Redmond and Dr. Brenna Traver.
Q: What class or instructor had the most impact, and why?
Abicunas: There have been so many wonderful instructors that have impacted me during my time at Penn State that it is truly too difficult to choose just one.
Q: What's your favorite spot on campus?
Abicunas: I would have to choose the library. Many hours spent studying and goofing around in there.
Q: What is your favorite Penn State Schuylkill memory?
Abicunas: The night the Blue & White Society took a trip to the Hershey Bears hockey game. I was able to race tricycles on the ice at the half-time event competing against my friends who were also in Blue & White Society. There were a few thousand people cheering us on. I won the half-time event and will always remind my friends of that!
Q: What's next?
Abicunas: I plan on attending EMT classes in the summer and applying to physician assistant programs in about a year.
Q: As a Penn State Schuylkill grad, what advice would you give to an incoming student?
Abicunas: I would say take full advantage of the campus being relatively small and make quality connections with your professors. Be involved as best you can in clubs and other activities. And have fun!