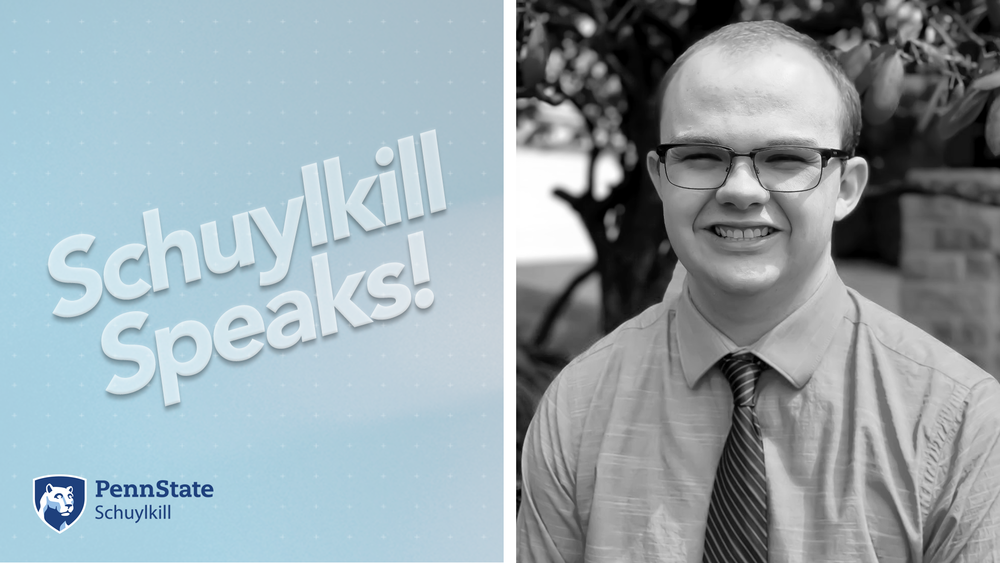 Editor's note: This story is part of a series profiling exceptional members of Penn State Schuylkill's spring 2020 graduating class.
SCHUYLKILL HAVEN, Pa. — Biology major Steven Shalamanda has his eye on the future. On Saturday, May 9, he will earn his undergraduate degree and head off to earn his doctor of optometry degree beginning in fall 2020. But before he begins his graduate studies, Shalamanda reflects on his time at Penn State Schuylkill.
Shalamanda is a Schuylkill County native who said he always knew he wanted to attend Penn State. When he was accepted, he decided to make the most of his experience. He joined numerous student organizations and took advantage of every leadership opportunity that came his way. A born leader, Shalamanda attended conferences and assumed officer positions in his student organizations, honing his skills. He has earned the Outstanding Academic Achievement and Leadership Awards, and after he graduates, he will join the Penn State Schuylkill Alumni Society Board — the first biology major to be part of the group.
"He was the former president of Blue White and he has been attending our alumni board meetings for the past three years," said Patty Shoener, instructor of business and alumni relations and stewardship officer. "He is the president of Tri Beta, involved in Schuylkill Benefitting THON, and vice president of the Blue & White Society," she continued, enumerating his various leadership roles.
Shalamanda is not only a leader, but also an incredible scholar. His academic performance earned him several scholarships, including the Penn State Schuylkill Cotler STEM Scholarship, the Fred and Helen Ciletti Scholarship, and the Jack Shuttlesworth Memorial Scholarship.
"I was asked to be a reference for him for grad school, and it was very easy to write that letter," said Shoener. "He is a phenomenal student."
In addition to his leadership and academic skills, Shalamanda also has a big heart, which he expresses through craftsmanship, said Shoener.
"Steve is super talented. He is an avid woodworker and has made so many beautiful items. He donated a bunch of pieces to the Schuylkill Benefitting THON pick-a-ticket auction," Shoener said.
Though Shalamanda brought natural talent and intellect with him to Penn State Schuylkill, he credits many of the skills he developed to his time at the campus. In the following interview with the Schuylkill Speaks series, Shalamanda shared his secret to success and offered advice to incoming students.
Q: What made you choose Penn State Schuylkill?
Shalamanda: I chose Penn State Schuylkill because it was a dream to attend Penn State, and attending a Penn State campus close to home made sense. Having the close ties to our professors as well as the small class sizes made it an ideal situation!
Q: What surprised you most about your time here?
Shalamanda: I was really surprised by how much involvement and opportunities our campus had to offer. Because I took advantage and got involved, I was given many networking opportunities and experiences that I will cherish for the rest of my life.
Q: What extracurricular activities — clubs, sports, etc. — were you involved in?
Shalamanda: I was heavily involved with the Blue and White Society; Health Care Professional Club; Schuylkill Benefitting THON; Tri Beta, the national biological sciences honor society; Gamma Beta Phi, a national community service honors program; [and I was] a tutor at the Academic Resource Center and a part of the Student Initiated Fee Committee. During my time at Penn State Schuylkill, I also attended numerous conferences, including the Summer Leadership conference as well as the Penn State Alumni Association Leadership Conference.
Q: What class or instructor had the most impact, and why?
Shalamanda: I have been impacted heavily by numerous faculty members including Patty Shoener and Dr. Brenna Traver. However, Dr. Kelly Puzzi had the most impact on my career path. Dr. Puzzi worked closely with all of the pre-health professionals, including myself, to properly apply to graduate schools, prepare for standardized tests, and write personal statements to aid us in the application cycle. She genuinely cared that we worked our hardest and achieved our goals.
Q: What's your favorite spot on campus?
Shalamanda: My favorite spot on campus has to be the library. I made a lot of memories with friends and finished large amounts of work there.
Q: What is your favorite Penn State Schuylkill memory?
Shalamanda: My favorite Penn State Schuylkill memory includes all the wonderful memories while participating in THON. Over the last four years, our campus chapter held many events, spent time with our THON families, and raised money for a tremendous cause. All these experiences led me to the opportunity to dance for 46 hours without sitting or sleeping in THON 2019. All the memories obtained from our campus' THON will never be forgotten.
Q: What are you most proud of from your time at Penn State Schuylkill?
Shalamanda: I'm most proud of my academic performance as well as the experiences I got with the many great opportunities our campus presented. I put myself out there early on as a freshman and joined clubs and activities that I never thought I would eventually hold an executive position in. Being involved in as many clubs and activities as I was while maintaining a great GPA and preparing for optometry school is what I am really most proud about.
Q: Why optometry?
Shalamanda: I had an idea that I wanted to become an optometrist but my mind was not totally set. In the fall semester of my junior year, I began shadowing at a local practice. The passion the doctor I shadowed put into his work as well as the patient interactions really opened my eyes to just how great the profession is. I first got interested in the career path after I learned more about a family member's setback growing up. He had a piece of metal ricochet into his eye, leaving the eye permanently damaged to the point he had zero vision in it. Noticing some of his struggles, I grew passionate about how important vision is and how I would like to correct my patients' vision issues in the future.
Q: As a Penn State Schuylkill grad, what advice would you give to an incoming student?
Shalamanda: My biggest piece of advice to an incoming student is to get involved early. As a freshman, I was extremely shy and kept to myself. However, I opened up and got involved with a lot of great clubs and activities that helped shape the person I am today. Time flew by, and I can honestly say I don't regret anything I have ever participated in. Make sure to get involved and stay active on campus to get the most out of your college degree, because it's not just about the education!