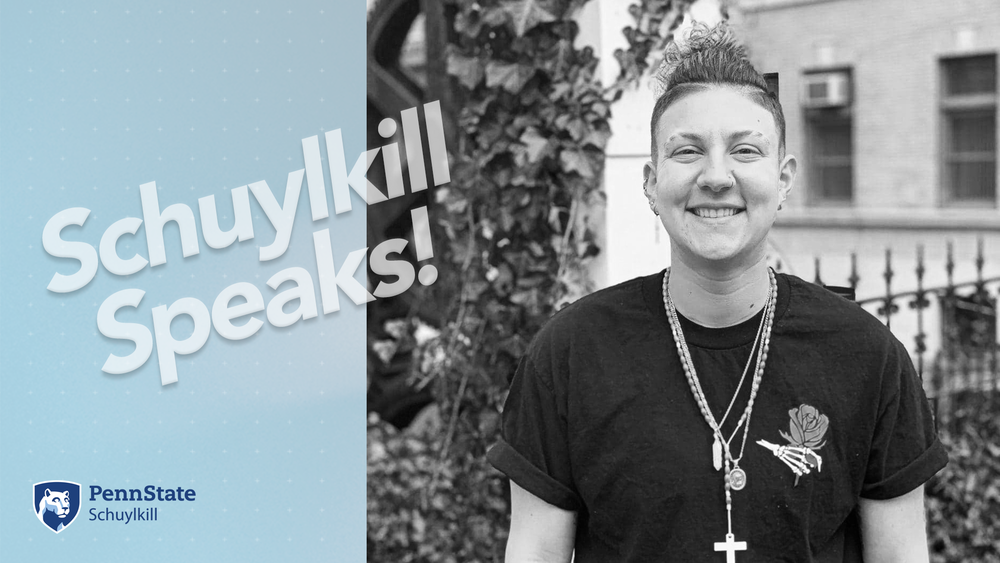 Editor's note: This story is part of a series profiling exceptional members of Penn State Schuylkill's spring 2020 graduating class.
SCHUYLKILL HAVEN, Pa. — In fall 2016, then-freshman Raquele Amato had no idea how her Penn State journey would unfold. The first-generation student wanted to do Penn State's 2+2 degree plan, which allows students to begin the first two years of any of Penn State's 275+ majors at one campus and complete their degree at another. But Amato quickly realized she'd prefer to stay at Penn State Schuylkill to earn her degree in corporate communication, and in the process, she became a campus icon.
"Raquele is a born communicator and is extremely hard-working," said Janelle Gruber, lecturer and program coordinator of corporate communication. "She has made the most of her time in the major and has been a positive presence both in and out of the classroom."
During her time at Schuylkill, Amato acted as an officer and member of several student clubs, including Quiet Storm, a stomp organization; Paw Pride, Schuylkill's LGBTQ+ ally group; Lion Ambassadors, Schuylkill's student tour guides; Media Club; Fatal Attraction, a modeling group; the Penn State Schuylkill chapter of Habitat for Humanity; and Community Service Club.
Amato further ingrained herself as a campus fixture by becoming a resident assistant, and is also a member of three honor societies: Lambda Pi Eta, the National Communication Association's honor society; Gamma Beta Phi, a national honors and service society; and after joining the soccer team her senior year, Chi Alpha Sigma, the national college athlete honor society. This go-getter also earned awards aplenty during her time at Schuylkill, including the Corporate Communication Program Award.
"Raquele has one of the best work ethics of all of my students, and she has a great positive outlook that inspires so many people around her. She sets goals for herself and she works hard to accomplish them," added Valerie Schrader, associate professor of communication arts and sciences and Schuylkill's Honors Program coordinator.
"Raquele will be truly missed, but I look forward to hearing about all the wonderful things she will accomplish," commented Gruber.
Schrader echoed that sentiment, saying, "I'm so proud of Raquele and everything she has accomplished in her four years at Penn State Schuylkill!"
With such a storied experience at Schuylkill, there is no doubt Amato will continue her trajectory as an engaged Penn Stater making a difference and changing the world.
As Amato considers the future and fondly reflects upon the past, she shared some of her thoughts with the Schuylkill Speaks series.
Q: What made you choose Penn State Schuylkill?
Amato: I chose Penn State Schuylkill because it was a campus close to home. My original plan was to go to University Park after two years, but as soon as I was introduced to the corporate communication major, it became a no-brainer to stay. Dr. Schrader helped make the decision easier for me because she showed me what opportunities would be available if I stuck to the plan and truly applied myself to this major/degree.
Q: What class or instructor had the most impact on you, and why?
Amato: Tina Rose has been my career counselor, instructor, and most importantly, an inspiring mentor. Tina has been there for me since freshman year. She never gave up on me and showed me what potential I truly have. Tina represents something more than just a "career counselor" — she represents what students can become if they apply themselves and truly believe in what they can do. Tina has an amazing soul and I aspire to be like her as I grow. I can't say thank you enough to her for helping me.
Q: What is your favorite Penn State Schuylkill memory?
Amato: My favorite Penn State Schuylkill memory was getting my first opportunity to build a home for Habitat for Humanity in Portugal. Habitat for Humanity set the foundation for me choosing the civic and community engagement minor. When you get an opportunity to help an individual or family, it changes something within you. I will never forget that opportunity because I not only helped a wonderful family in need, but was also able to see the beautiful country of Portugal with my Penn State family.
Q: As a Penn State Schuylkill grad, what advice would you give to an incoming student?
Amato: Enjoy every single second. You never realize the last time is the last time until it happens. With the coronavirus situation, it has hurt me tremendously that I will never get to walk into the Hidden Stream Café as a student to meet my friends for lunch or run into the Health and Wellness Building to chat with Cindy (Ebling, coordinator of health services) or Mindy (Spolksi, coordinator of counseling and disability services). Also, not being able to walk down the mall walk as a proud graduate.
Enjoy every moment given to you like it's your last. Embrace the moments, go after captivating moments, meet people, do EVERYTHING. Join clubs and organizations because making your time here at Penn State Schuylkill memorable is what you will be able to bring with you long after graduation. We Are!