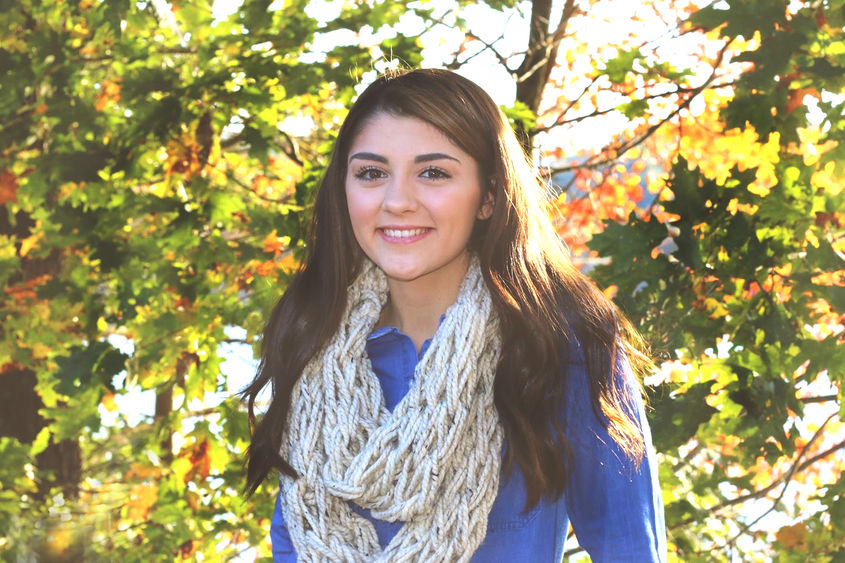 SCHUYLKILL HAVEN, Pa. — Lillian Stoyer, a Penn State Schuylkill sophomore, has been combining her drive for personal success with a deeply rooted belief in service to others for most of her life. With her parents as an example, Stoyer was drawn to her church's mission work early in life, traveling throughout the southern United States and as far away as Trinidad to be of service to others. She has helped repair homes damaged by natural disasters and regularly teams up with other church members for various community assistance projects.
Always a straight-A student, Stoyer was Schuylkill Haven High School's Class of 2018 salutatorian, and she set her sights on that top honor by packing her senior year with AP and honors classes. Although her final high school year was busy, she nevertheless heeded the advice of her high school accounting teacher who suggested she would be a good fit for the local Young Entrepreneurs Academy (YEA!) program.
YEA! is a 30-week program for students in grades 6-12 offered by the Schuylkill Chamber of Commerce and hosted by Penn State Schuylkill. A national program administered through local chambers of commerce, the curriculum helps participants develop business skills and entrepreneurial acumen through field trips, guest speakers, and mentorships. Participants propose a business idea and plan, and then pitch it to a panel of local business leaders. Initially, Stoyer viewed her involvement as an opportunity to learn some skills and test the waters of a career in business, but the experience became a platform from which to launch her own business.
The seed of an idea
It was through her participation in YEA! that Stoyer first developed an idea that would combine her newly acquired business skills with her passion for serving the community. After a few false starts, including an idea for an app that would track random acts of kindness, Project 4 Love was born. The idea was to build a locally focused website that could link donors and volunteers with all of Schuylkill County's nonprofits.
In those early days of concept development, Stoyer wasn't sure how the idea would go over during the YEA! business pitch.
"I loved the idea, but I didn't know where it would lead," stated Stoyer. "I was up against students with real products to sell. I thought my idea was just going to be blown off by the investors [on the panel], but they loved it! I was awarded my full asking price and was picked to travel to Rochester, New York, to compete nationally among 75 other students."
Local opportunities yield positive outcomes
With both academic and extracurricular successes under her belt, Stoyer began to explore her options for college. As a native Pennsylvanian, Penn State was at the top of her list. In fact, she was ready to accept her offer from University Park when she received a call from her YEA! adviser, Mary Jo Moss. Moss asked if she would first meet with a team from Penn State Schuylkill, including Darcy Medica, director of academic affairs, and Shannon Del Conte, director of community engagement, before making her final matriculation decision.
"I never really thought about attending the Schuylkill campus," confessed Stoyer. "I always thought bigger was better, but I was absolutely wrong. I took up the offer [to meet] with Dr. Medica, and I am so thankful I did. By the end of the meeting, I was positive that Schuylkill was the place for me."
The following year, Stoyer enrolled at Penn State Schuylkill in the business program with an accounting option. She found the small campus to her liking and appreciated the chance to really get to know the professors in her degree program — many of whom she had for several classes.
"Professor Angela Brown has been my accounting, finance, and economics teacher since my first semester. Not only is she always willing to make time for my questions and to help me review before tests, but she has also given me a lot of guidance about my future direction. At a larger campus, I know I would not have had the opportunity for this one-on-one interaction."
The Penn State Schuylkill LionLaunch Business Plan Competition
A big incentive for Stoyer to attend the Schuylkill campus was the opportunity to take advantage of Penn State Schuylkill's LionLaunch programming. LionLaunch proved to be a perfect transition from YEA! for both Stoyer and Project 4 Love. Through LionLaunch programs, Stoyer was able to develop and refine her business model and website and grow her professional network. When Penn State Schuylkill's Spring 2019 Business Plan Competition rolled around, Stoyer, a freshman at the time, was ready to compete.
Each year during the Business Plan Competition, Penn State Schuylkill invites the local community of budding entrepreneurs to pitch their business ideas to a panel of local business experts for a chance to win up to $5,000 in award money for their businesses.
Stoyer was successful in presenting her current business model and explaining her vision to the panel and received a $3,500 grant. That money proved instrumental in helping to develop the back end of her website and creating advanced user capabilities for participating businesses. She also used funds to consult with an attorney, do some paid advertising, and renew her membership in the Schuylkill Chamber of Commerce.
While Stoyer remains determined in her academic career, Project 4 Love is still very much a part of her day-to-day focus. At this time, she has nearly 40 participating nonprofits — including churches, food pantries, libraries, arts centers, and more. She is currently working on developing partnerships between businesses and nonprofits and finding ways to promote both the not-for-profit organizations and the area businesses that support them. It is a full-circle community effort, with both local businesses and nonprofits benefiting.
A serving heart
Stoyer isn't sure what the future holds, but she will likely continue to connect her expertise in accounting with her passion for community service. Whether working at an accounting firm or as in-house support at a nonprofit, she sees herself remaining in the Schuylkill County area. She also plans to continue her Christian missionary work and expressed a desire to spend some of her time traveling around the world to help those in need.
As for Project 4 Love? She hopes to see the website continue to grow, with other students and young people getting involved. She sees its potential as a group project for a marketing or digital design class and envisions future partnerships with area schools to develop that kind of program. She would also like to turn her informal group of advisors into an official executive board to help govern the direction of the website and make decisions for the organization.
"I love people and figuring out ways I can better serve them," emphasizes Stoyer. "I believe Project 4 Love could have a huge benefit to the community, and I'll continue find ways to develop and network it. My goal is to get the entire community involved."
Project 4 Love is always looking for new businesses and nonprofit organizations to be part of their growing community. Interested organizations can reach out to Stoyer via the website. Volunteers looking for opportunities to do good can visit Project4Love.org for a comprehensive list of community organizations and ways to help.
About Penn State Schuylkill LionLaunch
Established in May 2016, Penn State Schuylkill LionLaunch supports the local economy by providing programming, training, and mentorship for budding entrepreneurs and small business owners. It is part of the Invent Penn State program, the University's commonwealth-wide initiative to spur economic development, job creation and student career success.