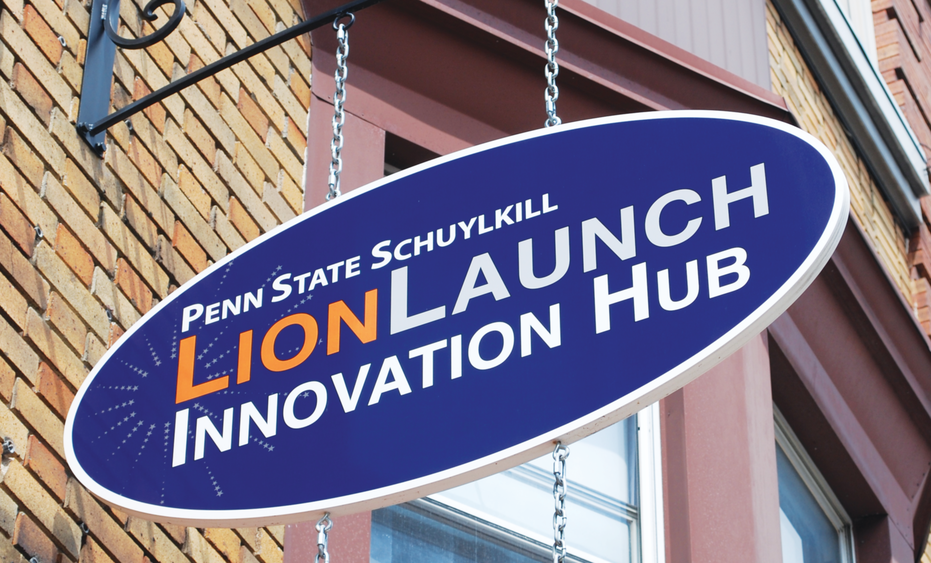 SCHUYLKILL HAVEN, Pa. — Penn State Schuylkill recently announced an anonymous gift of $250,000 to help fund LionLaunch, a program that is part of Invent Penn State, a University-wide initiative established to spur economic growth in Pennsylvania.
"The individual that I represent made this donation because of his belief that a person should not wait for opportunities to come to them — they should create them," said Karen Kenderdine, manager of relationship services for Mid Penn Bank. "That giving a person a handout takes away a person's personal power, however, giving a person a hand up allows them to find their personal power. LionLaunch embodies these values and more and represents an investment in the future of our county. Our hope is that this donation will bring awareness to this endowment and encourage others to make an investment in our future success."
There are three primary focus areas of LionLaunch: the Business Boot Camp, a six-week program led by community professionals; the Business Plan Competition, where entrepreneurs can compete for seed money; and the Innovation Hub, a co-working and meeting space.
"Our mission is to spur entrepreneurship by providing programs, resources and networking opportunities that weren't available in our area a few years ago," said Susan Williams, LionLaunch coordinator. "We are just beginning to tap the entrepreneurial talent in our community, and LionLaunch programs are instrumental in the county's future business landscape."
To date, LionLaunch has awarded $47,000 in seed money to help start 14 new businesses in Schuylkill County. The third annual Business Plan Competition is scheduled for April 4, and entrepreneurs are encouraged to visit Penn State Schuylkill's website for application information.
During the University's current campaign, "A Greater Penn State for 21st Century Excellence," Penn State's 21 innovation hubs across the Commonwealth have the opportunity to leverage $1 million in University matching funds for their program endowment when the endowment reaches $1 million.
"This gift of $250,000 brings the LionLaunch program closer to that goal," said Patrick Jones, chancellor of Penn State Schuylkill. "The combined funds will provide funding to support the LionLaunch program each year, ensuring that it continues to spark economic development and support entrepreneurship in perpetuity."
Jones said Penn State has matched this gift 1:1 for a total endowment of $500,000. The campus will continue to increase philanthropic support through gifts from alumni and friends to maximize the program endowment to $2 million.
"A Greater Penn State for 21st Century Excellence" is a focused campaign that seeks to elevate Penn State's position as a leading public university in a world defined by rapid change and global connections. With the support of alumni and friends, "A Greater Penn State" seeks to fulfill the three key imperatives of a 21st-century public university: keeping the doors to higher education open to hard-working students regardless of financial well-being; creating transformative experiences that go beyond the classroom; and impacting the world by fueling discovery, innovation, and entrepreneurship. To learn more about "A Greater Penn State for 21st Century Excellence," visit greaterpennstate.psu.edu. To learn more about the LionLaunch program at Penn State Schuylkill, contact Susan Williams at [email protected].