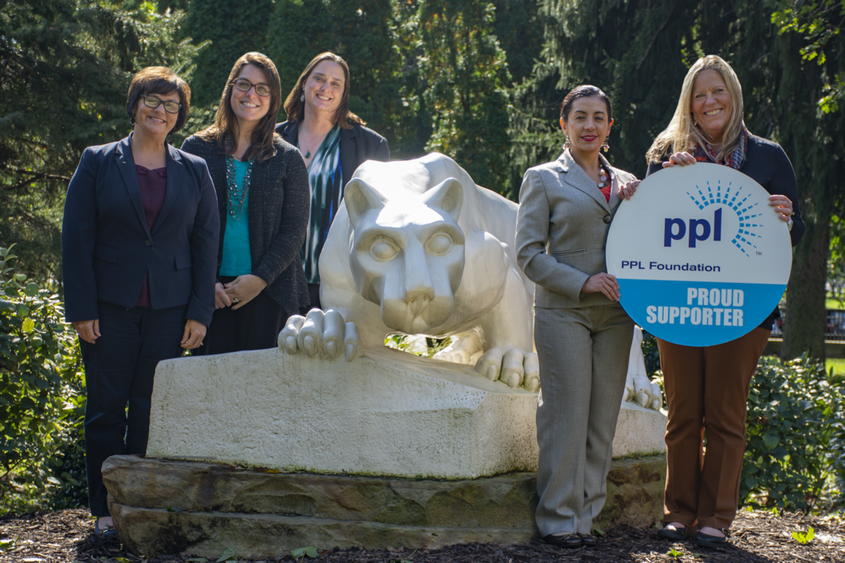 SCHUYLKILL HAVEN, Pa. — The PPL Foundation has selected Penn State Schuylkill's LionLaunch program, part of President Eric J. Barron's Commonwealth-wide Invent Penn State entrepreneurship initiative, for funding. The sustaining grant proposal submitted by campus personnel was awarded funding in the amount of $2,500.
Established in May 2016, LionLaunch is a community-based entrepreneurship program that provides funding and mentorship to start and grow businesses, as well as a community competition where winners receive startup funding, training and mentorship from industry, faculty and economic development professionals. The program also features its Innovation Hub in downtown Schuylkill Haven, a co-working space for entrepreneurs, innovators and business owners looking for a collaborative work area with a special focus on assisting startups and supporting small businesses.
"We are pleased to assist Penn State Schuylkill's LionLaunch program and encourage their efforts to continue to move our community forward," said Carol Obando-Derstine, regional affairs director for PPL Electric Utilities. "At PPL, we are committed to making the area we serve and live in a better place, and we are proud to partner with the LionLaunch program in achieving that goal."
The PPL Foundation received nearly 200 applications requesting funding during its highly competitive grant cycle. The foundation awarded $450,000 in sustaining grants to support more than 70 organizations working to empower the communities they serve, with a focus on education and sustainable communities. Additionally, the PPL Foundation awarded more than $50,000 to more than a dozen organizations selected for their focus on improving child literacy through reading and summer learning programs.
Susan Williams, Penn State Schuylkill's LionLaunch program coordinator, is excited to partner with yet another community pillar.
"LionLaunch, with the support of our community partners like the PPL Foundation, is helping Schuylkill County entrepreneurs and business professionals find the resources and information they need to make their business dreams a reality," said Williams. "This program is making a positive impact in our community."
Interim Chancellor Darcy Medica echoed that sentiment, commenting on the program's beginnings and looking to the future.
"The LionLaunch program began with funding provided by Invent Penn State, but with the grant money awarded by the PPL Foundation and other donors, we will be able to sustain the program and provide additional funding and essential services for entrepreneurs in our community."
Entrepreneurs are the bedrock of any community economy. With help from the PPL Foundation, Penn State Schuylkill's LionLaunch program reiterates its role as an organization lifting, fostering and supporting Schuylkill County entrepreneurs and small businesses.
For more information about Penn State Schuylkill's LionLaunch program, contact Williams at [email protected] or 570-385-6065. To make a gift to Penn State Schuylkill, contact Eileen Kuperavage, director of development, at [email protected] or 570-385-6260.
Through strategic partnerships, the PPL Foundation supports organizations that are working to create vibrant, sustainable communities and empowering each citizen to fulfill her or his potential. The PPL Foundation contributes more than $2 million annually to a wide variety of nonprofit organizations. For more information, visit www.pplcares.com.