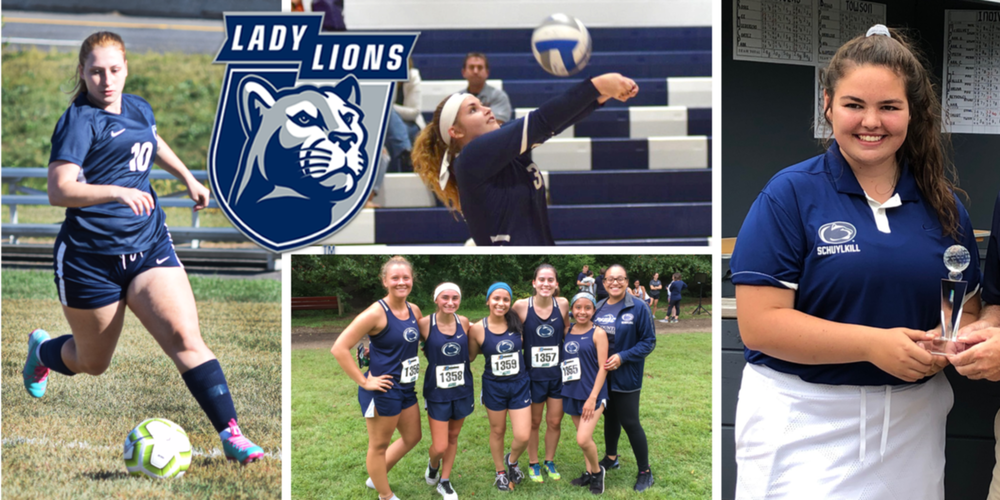 SCHUYLKILL HAVEN, Pa. – The fall sports season is well underway, and Penn State Schuylkill's Women's Athletics programs are shining bright during a semester marked with winning streaks, national honors for teams and individual athletes, comeback stories and academic success.
Volleyball
The Penn State Schuylkill women's volleyball team worked hard to clinch a seven-game winning streak to the top spot in the Pennsylvania State University Athletic Conference (PSUAC) Eastern Division
before a narrow loss to Brandywine in early October pushed them into a tie at the top of the division. The team also earned a No. 5 ranking in the United States Collegiate Athletic Association (USCAA)
Coaches Poll Rankings for Division II teams, and ranked No. 6 in the Sept. 30 National Association of Intercollegiate Athletics (NAIA) Independent Poll.
In September, junior Noel Kaufman earned the honor of being named PSUAC Volleyball Offensive Player of the Week. Kaufman helped steer her team to a division lead and racked up double-digit kills in three of her four matches.
To all eyes, the Schuylkill Lady Lions volleyball team is set up for an action-packed finish to their season.
Cross Country
The Penn State Schuylkill women's cross-country team has maintained the successes of high expectations set by previous teams with the debut of some dynamic new talent. Freshman Joahlana Najunas took second place in the Penn State Mont Alto Invitational in September, leading the team to an overall first-place finish and earning her the A.I.I. Cross Country Runner of the Week honor. Brinn DeAngelo, also a first-year student, placed fourth and was named the PSUAC Women's Cross-Country Runner of the Week. Najunas also received a PSUAC nod for her 13th-place finish at the Penn State Abington Invitational the week prior.
The 2019 PSUAC Women's Cross-Country Championship will be held Oct. 26, and with standout women runners like DeAngelo and Najunas, Schuylkill is poised to defend their 2017 and 2018 back-to-back championship titles. The team currently is ranked No. 5 in the NAIA Independent Poll and positioned to qualify for the NAIA regional playoffs in Lawrence, Kansas.
Golf
Newcomer Kathryn McCarthy completed an impressive first season with the Penn State Schuylkill golf team, consistently earning top honors in the women's division. After a strong second-place finish in the season opener, she won Women's Medalist honors in the Penn State Schuylkill Fall Golf Classic and tied for top honors in the PSUAC Blue Course Invitational. McCarthy finished strong this month when she was named the Women's Individual Medalist in the 2019 USCAA National Golf Championship in State College—a national tournament that included teams from other USCAA conferences as well as the PSUAC conference teams.
"Kat is a true pioneer," said Joseph Godri, Penn State Schuylkill's director of athletics. "Not only is she our program's first women's golfer, but she also is our most decorated golfer with her accomplishments on the course. We hope this is just the beginning for Schuylkill's women's golf program."
Soccer
The Penn State Schuylkill women's soccer team named a new head coach at the end of the spring semester, tapping Tina Rose to lead the program. In Rose's first season, the challenge has been to develop a cohesive team while integrating an influx of new players. It's been a rebuilding year, but Rose is confident in the team's future.
"It has been such an amazing opportunity to see the experienced players mentor the newer players and cheer them on," Rose said. "The women are all so supportive of one another. Watching the team develop new skills is so exciting, and they get energized by it as well. The joy of coaching is watching these women begin the season as individual soccer players, work hard, and come together as a team."
Complete student-athletes
While the on-the-field accomplishments of the women's athletics program are inspiring, the Lady Lions are putting in the work in the classroom and in the community, too. Penn State Schuylkill's overall student-athlete GPA for the 2018-2019 academic year was 3.17, and they completed 300+ hours of community service during that time. Many of these athletes are campus leaders and high-achieving students who balance academics, jobs and family obligations with their practice and game schedules, including travel. While athletic successes are to be celebrated, so too is successfully meeting the challenges faced by today's student-athletes.
"Our student-athletes embody what it means to be a Penn Stater. They take their studies seriously, they show grit on the field, and they give back to the community," said Penn State Schuylkill Chancellor Patrick M. Jones. "We couldn't be prouder of these incredible students, and I look forward to seeing them continue to succeed here on campus and well beyond."
Students interested in participating in Penn State Schuylkill Athletics, contact Joseph Godri, director of athletics, at [email protected].
For more information about upcoming schedules as well as game-day recaps, visit psuschuylkillathletics.com and follow us on Twitter at @PSUSL_Athletics.