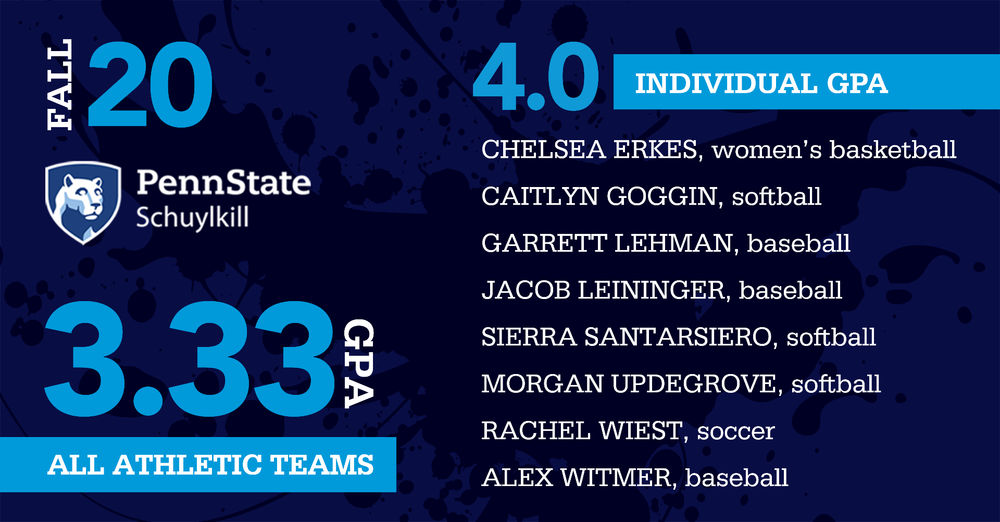 Penn State Schuylkill student-athletes maintained the tradition of impressive academic outcomes through the fall 2020 semester. With conference play suspended due to the COVID-19 pandemic, campus student-athletes doubled down on their pursuit of excellence in the classroom. All eight athletic teams achieved a cumulative GPA of 3.0 or better. The softball team led all teams with a cumulative GPA of 3.59, followed by the baseball team and women's soccer team with aggregate GPAs of 3.49 and 3.39, respectively.
Athletic team GPAs Fall 2020:
Softball 3.59
Baseball 3.49
Women's Soccer 3.33
Volleyball 3.31
Golf 3.27
Cross Country and Track 3.21
Men's Basketball 3.09
Women's Basketball 3.04
Over the last semester, Penn State Schuylkill had a population of 105 student-athletes across eight intercollegiate athletic teams. Nearly half of all student-athletes earned a GPA of 3.5 or better, making them eligible for the fall 2020 Dean's List.
Overall student-athlete GPAs Fall 2020:
4.0 8%
3.5 - 3.99 40%
3.0 - 3.49 31%
Also of note were individual student-athlete academic performances. Eight student-athletes earned a perfect 4.0 GPA for the fall 2020 semester. And while several student-athletes boast multiple 4.0 semesters, junior Alex Witmer has achieved an outstanding 4.0 GPA for each of five semesters with a total of 71 credits.
4.0 student-athletes Fall 2020
Chelsea Erkes, women's basketball
Caitlyn Goggin, softball
Garett Lehman, baseball
Jacob Leininger, baseball
Sierra Santarsiero, softball
Morgan Updegrove, softball
Rachel Wiest, soccer
Alex Witmer, baseball
If you are a student-athlete interested in learning more about academic programs at Penn State Schuylkill, contact the Office of Admission at 570-385-6252, or visit schuylkill.psu.edu for information about the campus. Stay up to date with Penn State Schuylkill athletics, or learn more about our athletic program by contacting Kayla Felty, coordinator of athletics eligibility and recruitment, at 570-385-6047.