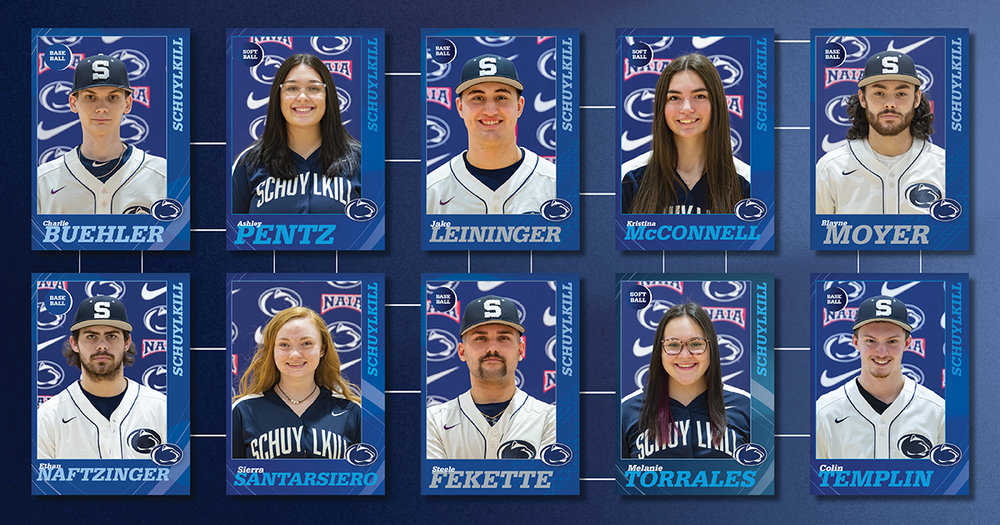 SCHUYLKILL HAVEN, Pa. -- The Penn State University Athletic Conference (PSUAC) announced their 2021 All-Conference spring teams* naming Penn State Schuylkill's Jacob Leininger the East Division's Player of the Year. Leininger owned impressive statistics, both offensively and defensively, and was Pitcher/Player of the Week, April 29. Leininger hit an impressive .362, and in just 17 games, had 26 runs-batted-in and a conference-leading eight home runs. Leininger also had an outstanding season on the mound throwing a complete shutout — with 12 strikeouts — against Penn State Hazleton. Leininger's strong offensive and defensive performance helped his team clinch the second seed spot in the East Division and advance to the Final Four of the PSUAC Baseball Championship Tournament.
Penn State Schuylkill softball had three student-athletes appear on the PSUAC First Team and one John Fritz Sportsmanship Award winner. Members of the Lady Lions also claimed several division-leading individual statistics. Sophomore Meghan Stokes led the entire conference in stolen bases, and junior Sierra Santarsiero dominated on the mound with 12 wins and 123 strikeouts — earning a second-place finish in all-conference individual pitching statistics.
The following student-athletes received PSUAC All-Conference honors:
Baseball
Player of Year, East
Jacob Leininger, junior
First Team Infield, East
Jacob Leininger, junior
Ethan Naftzinger, freshman
First Team Outfield, East
Colin Templin, sophomore
First Team Utility, East
Steele Fekette, senior
Honorable Mention, East
Blayne Moyer, senior
John Fritz Sportsmanship Award
Charlie Buehler, senior
Softball
First Team Infield, East
Ashley Pentz, junior
First Team Pitcher, East
Sierra Santarsiero, junior
First Team Catcher, East
Kristina McConnell, sophomore
John Fritz Sportsmanship Award
Melanie Torrales, freshman
The 2021 spring season marked the first intercollegiate competition in over a year. Due to increased health and safety protocols, the PSUAC instituted a condensed eight-week schedule limited to conference-only play for teams but included double-header lineups allowing for an expanded game schedule — including the May Championship Tournament.
Cross-country, traditionally a fall season sport, was also included in the limited return-to-play spring season. In cross-country action, Penn State Schuylkill stand-out runner Joahlana Najunas earned top place finishes in the two April meets — placing fourth at the Brandywine Invitational and second at the Scranton Invitational. Because there was no championship meet in 2020, the Schuylkill women's cross-country team retains its three-time consecutive PSUAC championship title (2017-2019).
Stay up-to-date with Penn State Schuylkill athletics, or for more information about Penn State Schuylkill's athletic program, contact Kayla Felty, coordinator of athletics eligibility and recruiting, at 570-385-6047.
*PSUAC All-Conference awards for team sports are nominated and voted on by member campus coaching and administrative staffs.