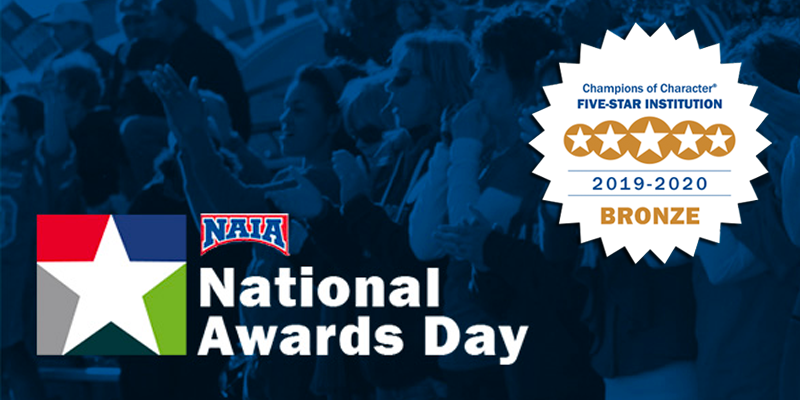 SCHUYLKILL HAVEN, Pa. — This week, as part of its annual National Awards Day, the National Association of Intercollegiate Athletics (NAIA) awarded Penn State Schuylkill a NAIA Champions of Character Five-Star Institution Bronze Award for 2019-20. The campus is one of only nine Association of Independent Institutions (AII) recognized by NAIA for commitment to character development and academic success. This year marks the campus' first year of award eligibility since Penn State Schuylkill joined NAIA in 2018.
The Champions of Character Five-Star Institution Award rates athletics programs by assigning points based on character training, conduct in competition, academic focus, and character recognition and promotion. Institutions are further awarded based on exceptional student-athlete grade-point averages and by having minimal to no ejections during competition for that academic year.
The Daktronics NAIA Scholar-Athlete Award recognizes excellence in the classroom among NAIA student-athletes who are juniors or seniors in good academic standing with a cumulative GPA of 3.5 or higher. Students must have attended two full years as non-transfer students or one full year as transfers and must participate in sports eligible for NAIA postseason competition.
Eleven Penn State Schuylkill student-athletes were named Daktronics-NAIA Scholar-Athletes for 2019-20:
James Abicunas, senior, Men's Golf
Anna (Raquele) Amato, senior, Women's Soccer
Alexis Bowser, senior, Women's Volleyball
Alexis Breslin, junior, Softball and Women's Volleyball
Charles Buehler, junior, Baseball
Morgan Edge, senior, Women's Basketball Division II
Sarah Holland, junior, Women's Volleyball
Noel Kaufman, junior, Women's Volleyball
Melissa Ramirez, senior, Women's Cross Country
James Swantek, senior, Men's Golf
Rebecca Vilella-Perez, junior, Women's Soccer
In addition, eight of Penn State Schuylkill's nine athletic teams were recognized as NAIA Scholar Teams, based upon the team's average GPA over the 2019-20 academic year:
Women's Cross Country - 3.600 GPA
Men's Golf - 3.520 GPA
Softball - 3.420 GPA
Women's Soccer - 3.400 GPA
Men's Cross Country - 3.350 GPA
Women's Basketball, Division II - 3.320 GPA
Women's Volleyball - 3.290 GPA
Baseball - 3.200 GPA
Penn State Schuylkill is the only Penn State Commonwealth campus with membership in NAIA's Association of Independent Institutions Conference. Learn more about athletics at Penn State Schuylkill.