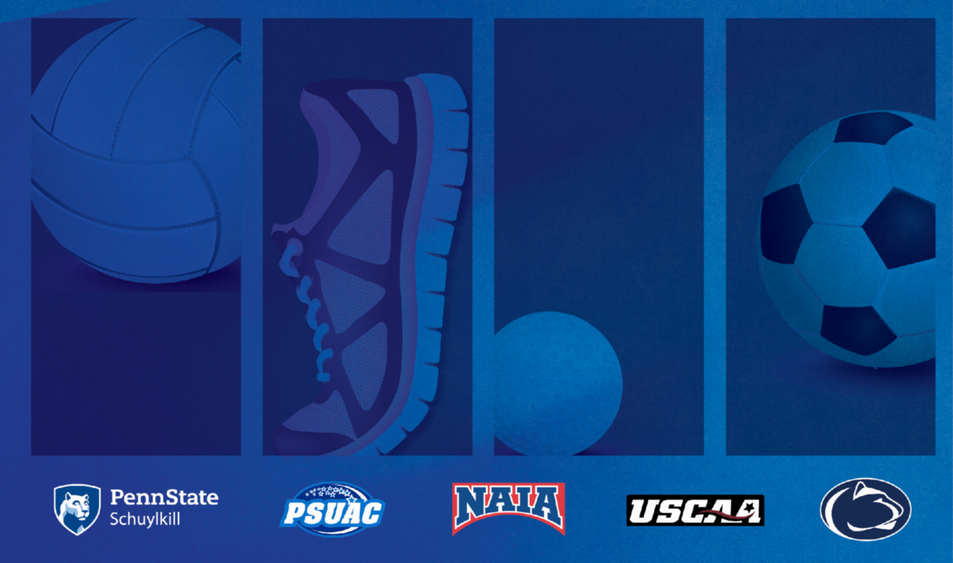 SCHUYLKILL HAVEN, Pa. — The fall 2021 athletic season at Penn State Schuylkill kicks off on Wednesday, Sept. 1, at 4 p.m., as the women's soccer team hosts the University of Valley Forge (NCAA Division III). Featuring just three returning players — Kelsey Atkinson, Rachel Wiest and Abriana Wills — and former assistant coach Jon Hummel in his first season as head coach, this is a young, developing team to watch.
On Thursday, Sept. 2, the reigning Penn State University Athletic Conference (PSUAC) East Division Championship women's volleyball team hosts a season-opening tri-match series against National Association of Intercollegiate Athletics (NAIA) rivals:
4 p.m. — Penn State Schuylkill vs. Washington Adventist University (Maryland)
6 p.m. — Washington Adventist vs. Pacific Union College (California)
8 p.m. — Penn State Schuylkill vs. Pacific Union College
With a single returning player — third-year student-athlete Jontae Martin — the volleyball team is primarily composed of first-year student-athletes as well as second-year student-athletes who missed their first collegiate season due to COVID-19 mitigation measures. Under veteran head coach Katie Malone, this team is young but poised to defend its title.
The collegiate golf season returns on Thursday, Sept. 9, when new head golf coach (and current head coach of the Penn State Schuylkill women's basketball team) Charles Killian ushers first-year student-athlete, and sole member of the golf team, David Hinchey to the PSUAC Invitational at the Penn State White Course in State College, Pennsylvania.
And on Saturday, Sept. 11, fall 2021 cross-country competition debuts at the Dutchmen Invitational in Lebanon, Pennsylvania. Standout runner Joahlana Najunas is the sole returning member of the 2019 PSUAC Championship women's cross-country team, and Craig Lowthert takes over in his first season as head coach.
"We are so excited to cheer on our talented student-athletes this fall," said Kayla Felty, assistant director of athletics. "It will be especially heartening to root for the athletes who missed competition last year due to COVID-19 mitigation efforts. Go, Nittany Lions!"
Follow the Penn State Schuylkill athletic program at athletics.sl.psu.edu to find upcoming schedules, rosters and statistics, as well as live-streaming of select games.