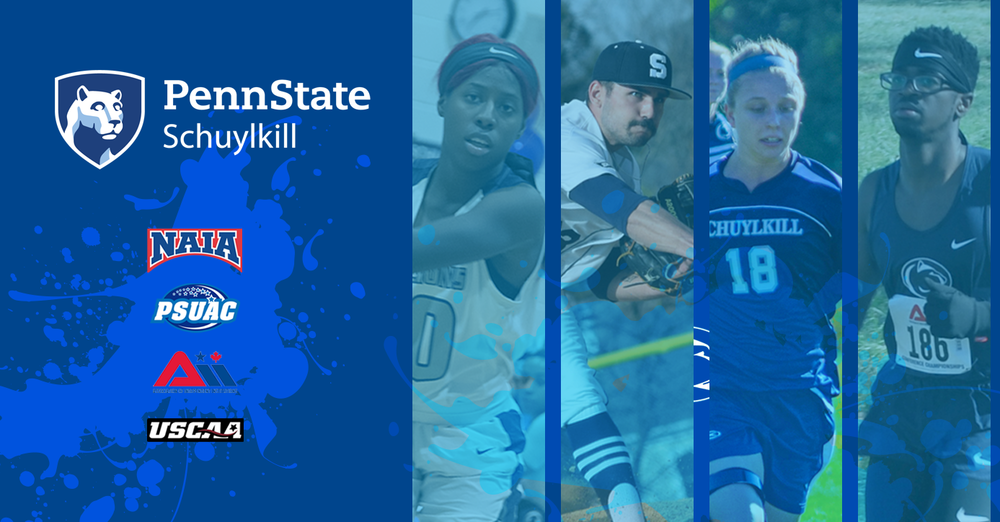 SCHUYLKILL HAVEN, Pa. — The Penn State Schuylkill athletic program continues to yield distinguished academic accomplishments by student-athletes and regularly ranks at or near the top of all campuses in the Pennsylvania State University Athletic Conference (PSUAC) for student-athlete academic performance measured in grade point average (GPA).
For the spring 2020 semester, the cumulative GPA of all athletes across all varsity sports was 3.47, with 15% of those students achieving a perfect 4.0 GPA. More than half of all student-athletes (54%) were named to the Dean's List, earning a 3.5, or higher, GPA. Spanning the 2019-20 academic year, the combined GPA of Penn State Schuylkill student-athletes was 3.24, with women's soccer, co-ed golf, and women's volleyball contributing the highest GPAs across two semesters and all men's and women's teams combined.
USCAA recognizes academic all-stars
The following athletes were recognized by the United States Collegiate Athletic Association (USCAA) and named to their National All-Academic team. These students have earned a minimum 3.5 GPA.
• James Abicunas, Golf
• Kelsey Atkinson, Women's Soccer
• Alexis Bowser, Women's Volleyball
• Alexis Breslin, Women's Volleyball, Softball
• Charles Buehler, Baseball
• Megan Ditzler, Softball
• Morgan Edge, Women's Basketball
• Lauren Faust, Women's Soccer
• Noel Kaufman, Women's Volleyball
• Lane Koury, Baseball
• Garrett Lehman, Baseball
• Jacob Leininger, Baseball
• Melissa Ramirez, Women's Cross Country
• Chloe Readinger, Women's Volleyball
• Sierra Santarsiero, Softball
• Taylor Staller, Softball
• Jian Sun, Men's Cross Country, Track and Field
• James Swantek, Golf
• Morgan Updegrove, Softball
• Rebecca Vilella-Perez, Women's Soccer
• Gabriella Zias, Women's Soccer
• Alex Witmer, Baseball
• Victoria Zak, Track and Field
Over 100 student-athletes were recognized by the Pennsylvania State University Athletic Conference (PSUAC) for their academic accomplishments, earning a 3.0 or higher GPA, and the Association for Independent Institutions (AII) named 59 Penn State Schuylkill students, who have earned a minimum 3.2 GPA, to their 2019-20 Academic All-Conference Team. Student-athlete recognition by the National Association of Intercollegiate Athletics (NAIA), is pending at this time.
Spring athletes recognized
Penn State Schuylkill spring-season athletes also received recognition for career and on-the-field achievements in their respective sports.
Softball's Sierra Sallada and Baseball's Derrick Eberhardt were named to the first-ever PSUAC Co-Ed Baseball/Softball All-Senior team. The PSUAC Tournament and Awards Committee reviewed all senior athletes in the baseball and softball conferences and, based on career statistics and other achievements and honors, selected a co-ed team of 18 all-stars.
The USCAA also named Sallada to their All-Senior Team. Sallada, along with teammates sophomore Ashley Pentz and freshman Meghan Stokes, was elected to the AII's All-Conference Softball Team, and the AII named freshman Colin Templin and sophomore Jake Leininger to their All-Conference Baseball Team.
Recipients of the PSUAC John Fritz Sportsmanship Award display sportsmanship, ethical, polite, and fair behavior while participating in their respective sports. This semester, the John Fritz Sportsmanship Award went to freshman Emily Maher (softball) and junior Ricardo Diaz (baseball).
Sophomore Alex Witmer (baseball) and junior Alyssa Gerber (softball) received the AII Champions of Character Award. This award is given out to student-athletes who demonstrate, both on- and off-field, the Five Core Values—integrity, respect, responsibility, sportsmanship, and servant leadership—at the heart of the AII collegiate athletic experience.
The Penn State Schuylkill athletic program produces well-rounded athletes who succeed athletically, excel academically, and graduate as engaged and thoughtful citizens. In addition to athletic and academic commitments, Penn State Schuylkill student-athletes log an average 300+ hours of community service every year by participating in the campus service club, Habitat for Humanity, and other community-focused programs. Many of these student-athletes balance academics, practice, work, and civic engagement, making their overall achievements striking and notable.
If you are a student-athlete interested in learning more about the Penn State Schuylkill athletics program, contact Kayla Felty, coordinator of athletic recruiting and eligibility, at [email protected].