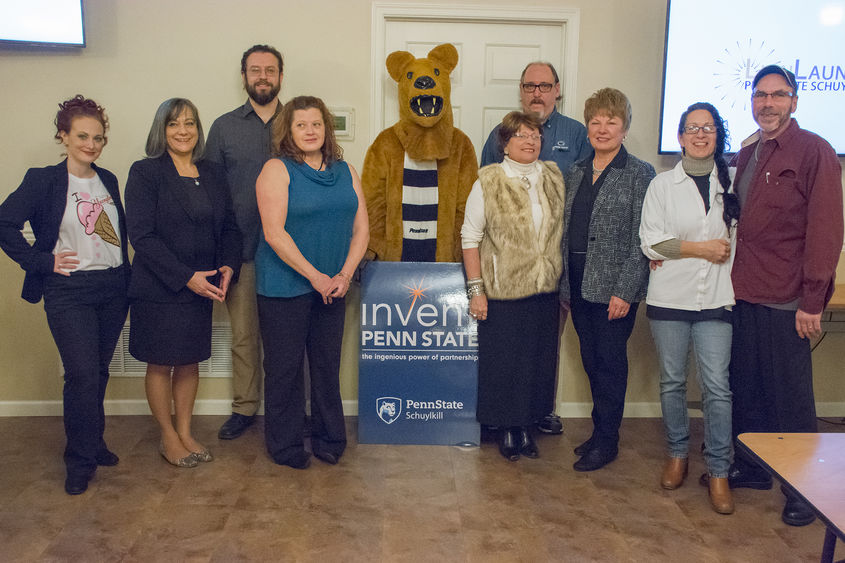 SCHUYLKILL HAVEN, Pa. — Watching the LionLaunch Business Plan Competition can have quite an effect on an audience. On March 15, sights, scents and sounds combined to deliver a bevy of sensory signals that could send you racing to the nearest store seeking a mouth-watering pint of ice cream; designing a sign that can be fashioned in steel, aluminum, copper or wood; or scavenging for a household item that can be transformed into a melodious drum.
Nine budding business owners and aspiring entrepreneurs pitched their innovative plans to a panel of seven judges at Penn State Schuylkill's LionLaunch Innovation Hub located on Main Street in downtown Schuylkill Haven.
Four business plans received $5,000, the highest seed amount award possible: Emily Ehlinger, The Scoop; Kevin Smith, WagonWorks; Mary Bardel and Marcia Bray, Cart to Heart; and Vince and Laurie McVee, LIVIT Industries. Cheryl Cresswell's Xpress Coaching plan was awarded $3,000, Scott Williams' SkooCal was awarded $2,500, and Sherri Buckmaster's Tree of Life received $1,500.
Smith said WagonWorks is grateful for the seed money granted by the LionLaunch Competition.
"We are already planning for the growth possibilities and preparing to bring more studio artists into our building," he said. "The funds are an amazing opportunity for myself as a local artist and entrepreneur to jump start ideas and get businesses off the ground."
Presenters who did not receive fund money are eligible to re-enter the next LionLaunch Business Plan Competition. They also may fine tune their business plans and learn valuable business startup information during the upcoming LionLaunch Bootcamp, in collaboration with SCORE, that begins April 18.
All competitors described their plans for unique businesses before the panel of judges in a six-minute presentation that was followed by a quick question-and-answer session.
"This year's group of competitors was very impressive," said Darcy Medica, interim chancellor of Penn State Schuylkill. "They continue the excellence set forth by last year's inaugural group in their high-quality business plans and presentations. These innovative businesses promise to spur and enhance the current momentum of economic growth occurring throughout Schuylkill County."
Ehlinger said that LionLauch would enable the purchase of new equipment for her business.
"Through the outcome of LionLaunch, The Scoop will be able to purchase equipment needed to get our business off the ground," Ehlinger said. "I loved how approachable the LionLaunch program was, and how there was literally nothing to lose by trying."
Penn State Schuylkill established LionLaunch, a community-based program that provides funding and mentorship to start and grow businesses, in May 2016. An initiative of Invent Penn State, LionLaunch is part of a Commonwealth-wide initiative established to increase economic development, job creation and student career success. 

The LionLaunch program boasts a three-fold advantage: a rigorous 10-week boot camp available to both students and community members; the business plan competition with the opportunity to earn up to $5,000 in seed money; and office space in Penn State Schuylkill's downtown Schuylkill Haven Innovation Hub.
Sponsors of Penn State Schuylkill's LionLaunch include Invent Penn State, KPMG, M&T Bank, Solar Innovations, Mr. and Mrs. Elmer and Ginger Ebling, and Mr. Ben Vaupel.
The judges panel was composed of successful business leaders in Schuylkill County, including Gary Hess, Schuylkill County commissioner and owner of Hess Catering Inc.; Karen Kenderdine, vice president and manager of relationship services at Mid Penn Bank Trust Department; Jeff O'Neill, vice president and business banking team leader at M&T Bank; William Reppy, president of Lehigh Valley Hospital – Schuylkill East and South; Darlene Robbins, president of Northeast PA Manufacturers and Employers Association and Council; Craig S. L. Shields, executive director of the Pottsville Housing Authority and CEO of Barefield Development Corporation; and Monica Walborn, executive vice president of the Schuylkill County Chamber of Commerce.
Rep. Michael Tobash of the 125th legislative district in the Pennsylvania House of Representatives served as master of ceremonies.
For more information about LionLaunch, contact program coordinator Susan Williams at 570-385-6065 or [email protected].