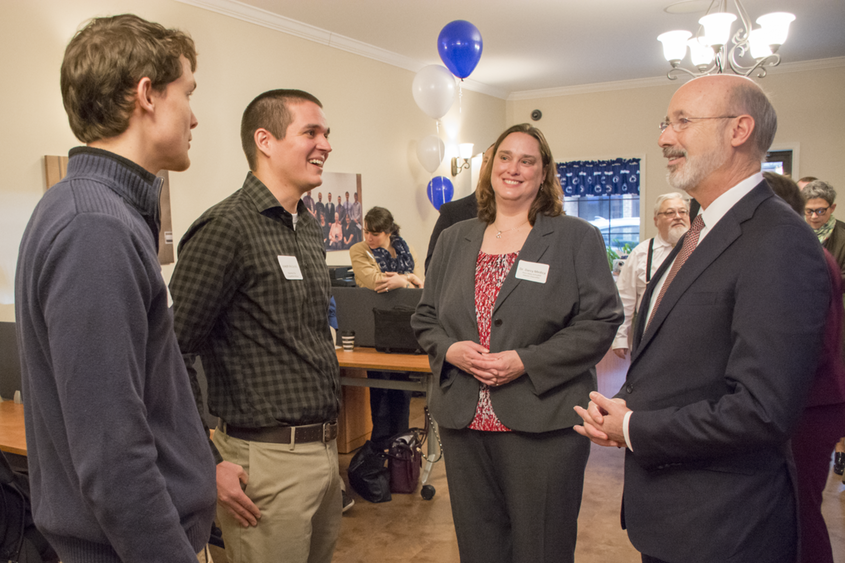 On a rainy, almost balmy mid-January morning, Governor Tom Wolf made a quick stop by Penn State Schuylkill's LionLaunch facility in downtown Schuylkill Haven. LionLaunch, a Penn State Schuylkill program and facility funded by Invent Penn State, helps to start or grow businesses throughout Schuylkill County.
"Places like this are important for helping to drive innovation and entrepreneurship, not just in Schuylkill County, but statewide," said Governor Tom Wolf. "I am committed to continuing to provide vital support to our talented entrepreneurs by implementing initiatives to improve our university partnerships and workforce training opportunities."
The governor was given a facility tour. Joining him and campus officials were state and local leaders, and, of course, the Nittany Lion.
In August, the doors of opportunity opened at the LionLaunch innovation hub in downtown Schuylkill Haven. LionLaunch, Penn State Schuylkill's community-based entrepreneurship program that is funded by Invent Penn State, is part of a Pennsylvania-wide initiative to spur economic development, job creation, and student career success. The dedication and ceremony was attended by Penn State's President Eric J. Barron, local dignitaries and community members.
"We were honored that Governor Wolf visited our campus' Innovation Hub, to learn about the benefits and support that our LionLaunch program offers to the budding entrepreneurs of Schuylkill County," said Darcy Medica, interim chancellor for Penn State Schuylkill. "Our space is one of nearly 20 such Penn State facilities located across the commonwealth of Pennsylvania."
The three key components of the LionLaunch program are a boot camp, a 10-week program to assist and mentor budding entrepreneurs; a business plan competition for start-up funds or business expansion; and the dedicated facility for working, networking, and meeting space.
Ten teams competed for seed money to grow or start their businesses in the first Business Plan Competition. Seven of the 10 were awarded between $1,000 and $5,000 for their inventive ideas. One winning entrepreneur artistically fashions recycled soda tab cans to craft beautiful handbags. Another startup offers a one-stop online shopping experience for car enthusiasts, offering a wide range of performance parts with personalized service and fast shipping.
The second Business Plan Competition will take place March 15, with applications due on Feb. 12. This program gives aspiring entrepreneurs the opportunity to pitch their plans and earn up to $5,000 in funding and free office space for meetings and collaboration, videoconferencing software, free printing, 3D printing and other amenities.
The LionLaunch community partners include the Schuylkill Chamber of Commerce, Schuylkill Economic Development Corporation (SEDCO), Northeast Pennsylvania Manufacturers and Employers Association, Schuylkill Vision, Berks-Schuylkill SCORE, and Pottsville Area Development Corporation (PADCO).
LionLaunch sponsors include Invent Penn State, M&T Bank, KPMG, Solar Innovations, and Elmer and Ginger Ebling.
For more information about the program, click here go to sl.psu.edu/lionlaunch or contact Shannon Del Conte at 570-385-6112.