Jason Rekulak seeks the fresh, unusual and unprecedented as a book publisher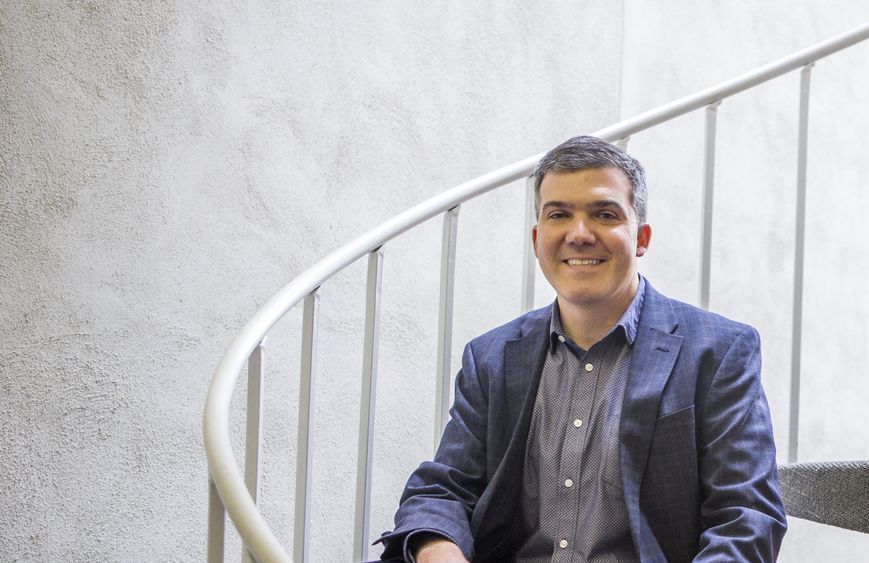 SCHUYLKILL HAVEN, Pa. — Jason Rekulak of Quirk Books, an independent book publisher, said that obtaining a library card as a child was a game-changer for him.
"I made weekly visits to the library with my mom and was constantly checking out books," he said.
As he got older, the library citadel continued to be Rekulak's haven, a vast reservoir of knowledge and a permanent fixture for him as a Penn State student. Now situated on a cobblestone, tree-lined street in an historic area of Philadelphia, Rekulak sits in his own library of an office drenched with fanciful books with one-of-a-kind, eye-catching covers.
According to Rekulak, the process of publishing varies among a host of publishing houses. "At Quirk, most books are acquired as manuscripts and edited, or writers are commissioned for a book and then published," he said. Quirk publishes approximately 25 books a year, of which several have become best-sellers and have posted sales in the millions.
Rekulak's first two of four years at Penn State were spent on the Schuylkill campus, where he expressed an interest in combining his love of storytelling with video game design. That was the plan, until he signed up for a writing elective that led to a major in English.
"My English professors at the Schuylkill campus, Dr. Charles Cantalupo and Dr. Tom Smith, were wonderful, and their mentorship meant a great deal to me," Rekulak said.
Rekulak made it clear that he wanted to write, and they took his aspirations seriously, arming him with confidence to tackle what once seemed daunting and inaccessible — a future as a publisher.
"After college, I never considered any other career. I did not know what else I would do," he said.
In the 1980s, Rekulak, like many teenagers at the time, kept his desire to pursue a writing career under wraps.
"At that time, you did not say that you had aspirations to be the next best author. Others would think that you were egotistical, presumptuous and impractical," he explained.
He recalled a vivid memory in the fifth grade when he took note of sample books in the basement of a friend whose father was a paper salesman. "There were hundreds of them — all different sizes that were blank — waiting to be filled. They were almost books in my mind."
Fast forward to 1999, when Rekulak began to work with David Borgenicht, owner of Quirk Books and co-author of "The Worst-Case Scenario Survival Handbook." Their underlying belief was that reading should be entertaining. This perspective would later serve them as they competed with Xbox and Netflix.
"To rival these digital powerhouses, books can be both smart and entertaining as well as artfully designed," he said.
The challenge, as it is in most fields, is to keep evolving. "You have to do better than to keep pace with industry by setting the trends. You have to think about what has not been done before," said Rekulak.
He cites the Harry Potter series as an example: Once the phenomena exploded in the marketplace, a slew of books about young wizards surfaced.
"The world is constantly changing and when you think you have it all figured out something comes along and disrupts it, and you have to recalibrate," Rekulak said.
A favorite project of Rekulak is Seth Grahame-Smith's best-selling parody novel, "Pride and Prejudice and Zombies." Within six months, he said that every other publisher started generating similar books based on classical tomes residing in the public domain, which includes books published prior to 1923. Rekulak first met the novel's author when he lived in Los Angeles and produced a blog. Grahame-Smith now writes for TV sitcoms and most recently produced the movie "IT," based on Stephen King's 1986 best-selling horror novel. Notably, the movie crushed box office records for the month of September.
"So many people don't have the right vehicle for their talent and sometimes a publisher can serve as a stepping stone to an amazing career for gifted writers such as Grahame-Smith," he said.
Another Rekulak favorite is "Ms. Peregrine's Home for Peculiar Children," a young adult fantasy novel. This title is illustrated with black and white photos collected by the author, Ransom Riggs. Illustration is also the driver of successful picture books published by Quirk: the "X Files," "ET" and others.
Does everyone have a good book in him or her that needs to be inked? Though Rekulak believes this is not necessarily true, he said that most people underestimate the points of interest in their background. An autobiographical writer himself, he penned a novel, "The Impossible Fortress," based upon his life in the '80s as a teen when he wrote code and computer programs on the now-obsolete Commodore 64.
Rekulak has come a long way since his coding and programming days as a teen and as a participant in the 2+2 plan* at Penn State Schuylkill and later at University Park. On most days, he would pay to do what he does.
"It is a job and, yes, there are challenging days, but on the whole this is the best job I will ever have," he said.
*By opting in the 2+2 Plan, students may choose from the University's 160 majors where they begin at one campus and finish their degree at another campus, including University Park.