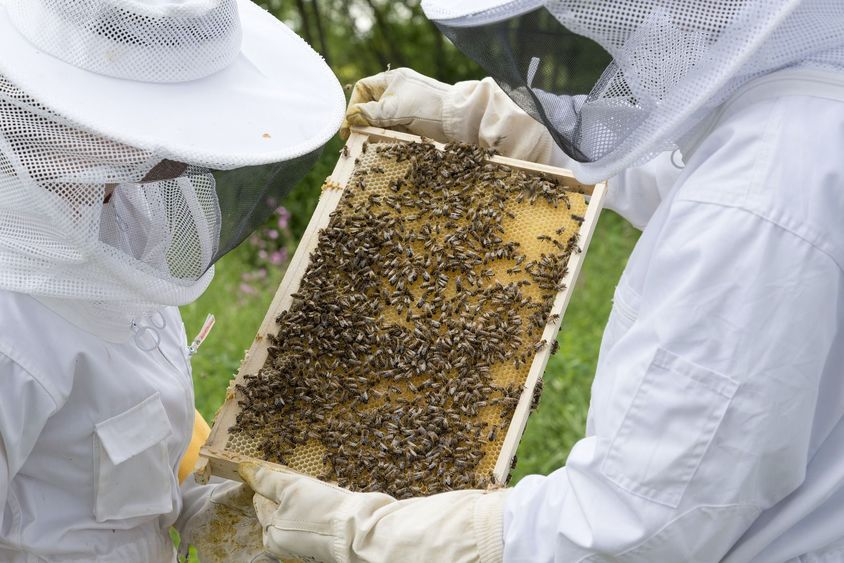 UNIVERSITY PARK, Pa. — A nearly $1 million grant from the U.S. Department of Agriculture will support Penn State researchers in determining best management practices for organic beekeeping by comparing organic and chemical-free to conventional management systems. The funding comes from the Organic Agriculture Research and Extension Initiative of USDA's National Institute of Food and Agriculture.
Led by project director Margarita López-Uribe, assistant professor of entomology in Penn State's College of Agricultural Sciences, the research team will conduct a stakeholder-driven, integrated systems-based project to rigorously test the effect of organic, chemical-free and conventional honey bee management practices on honey bee health. To this end, they will quantify colony performance, immune competence, and parasite and pathogen levels.
The overarching goals of the three-year project are to generate evidence-based knowledge for best management practices that will improve colony health in a sustainable, organic beekeeping system, and to increase economic returns of beekeepers. Researchers hope results from this study will help to improve organic agriculture while creating a profitable economic opportunity for beekeepers and organic growers.
The beekeeping industry is challenged in meeting the demands for crop pollination and honey production as the number of colonies continues to dwindle. A recent nationwide survey revealed that even with intensive disease treatment, beekeepers are averaging losses of almost 38 percent annually. Bees are essential, not only for honey production, but for pollinating crops that account for approximately a third of the food consumed by humans. This includes a large variety of vegetables, fruits, nuts and animal feed crops.
In this study, "Working Toward Best Management Practices for Organic Beekeeping: A Side-By-Side Comparison of Management Systems," scientists will build upon existing research derived from smaller-scale projects. The goal is to address the critical need for an improved management system to better control parasitic mite pressure.
"Varroa mites, which weaken bees' immune systems and transmit viral diseases, are one of the biggest challenges faced by beekeepers," López-Uribe said. "But some of the chemicals beekeepers use to treat for mites also can compromise honey bee health. Our hope is to develop recommendations for mite management that could completely change, for the better, beekeeping in the United States."
Added project co-director Brenna Traver, assistant professor of biology at Penn State Schuylkill, "Comparison of the different management systems on a large-scale level have not been done before. This is a very exciting project where we are taking a different approach into looking at how to alleviate colony losses."
Previous work has shown that current management practices are no longer sufficient, noted project co-director Robyn Underwood, research associate in the López-Uribe lab. "Varroa mites are getting more and more difficult to manage," she said. "Anecdotal evidence of beekeeping success using a chemical-free system leads us to question whether there is an unconventional approach that will lead to significant improvements in honey bee health."
Additional objectives of the study include quantifying pesticide residues in beeswax from colonies in the three management systems, developing a cost-benefit economic assessment of these systems, and establishing a long-term extension program to assist stakeholders with incorporating alternative beekeeping management systems.
The researchers will collaborate with the Pennsylvania State Beekeepers Association and the Rodale Institute to develop and implement extension programming. The extension plan includes an array of educational activities, including an annual field day, annual workshops and online presentations.
Contact
Chuck Gill
Twitter Handle
agsciences