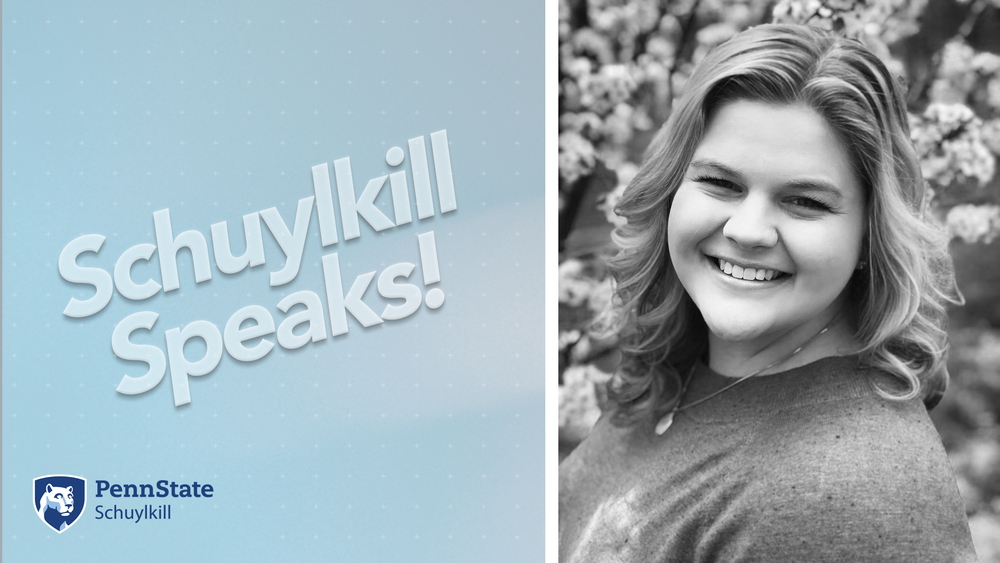 Editor's note: This story is part of a series profiling exceptional members of Penn State Schuylkill's spring 2020 graduating class.
SCHUYLKILL HAVEN, Pa. — Abigayle Kaiser is a business-marketing/management major from Cressona, Pennsylvania. Although she grew up not far from campus, it wasn't until she toured campus as a prospective student that she discovered in Penn State Schuylkill a highly suitable match. "I just knew I was in the right place," remembered Kaiser. "I would be able to commute while earning my degree, and still have the opportunity to be connected to campus life."
Kaiser maximized her undergraduate experience, earning a minor in project and supply chain management and completing an internship at Solar Innovations in Pine Grove, Pennsylvania. During her time on campus, Kaiser has emerged as a standout leader. She is a Lion Ambassador and peer tutor as well as chair of the campus THON chapter and president of the Blue & White Society. Kaiser is also a member of the Penn State Schuylkill Honors Program, the Gamma Beta Phi Honor Society, and the 2018-19 recipient of the Outstanding Service and Leadership Award sponsored by the Office of Student Affairs.
"Abbie is not your average student," emphasized Patty Shoener, Penn State Schuylkill's director of alumni relations, business instructor, and Blue & White Society adviser. "I have had Abbie in two of my classes, and she is an exceptional student. Leadership, commitment to service, and community involvement are things that she takes very seriously. Abbie is a strong advocate for the campus and serves tirelessly in her extracurricular leadership roles."
This semester Kaiser received the John and Veda Black Award, a Penn State University student leadership and service award that recognizes an outstanding campus leader with a 3.25 or higher GPA.
As Kaiser's undergraduate career comes to a close, she reflected on her last four years as a Penn Stater, with the Schuylkill Speak series.
Q: What extracurricular activities were you involved in, and how did they impact your time on campus?
Kaiser: I was involved in Lion Ambassadors, peer tutoring, the Blue & White Society, and THON. I had so many opportunities through my involvement with each of these different organizations, but THON was definitely the organization that impacted me the most.
From the beginning, THON was the club for me. I went from an organization member (2016-17), to family relations chair (2017-18), to fundraising chair (2018-19), and finally to the primary chair (2019-20). THON taught me many things: organization skills, leadership, dedication and determination. It also connected me to so many other amazing volunteers and Four Diamonds families. Without my involvement in THON, my college career would not have been the same. I was able to make many memories with my fellow students, dance for 46 hours, plan numerous events, and, most importantly, become part of something that impacts so many families.
One of the most immeasurable rewards I gained from THON is my new "extended family." I have become incredibly close with the Pulaskis, who are Schuylkill's THON family, and that has made THON so very special to me. Devin (Pulaski) inspired my dedication to our THON organization, and she continues to inspire me every day.
Q: Outside of academics, what was the most valuable lesson learned?
Kaiser: I learned to never pass up an opportunity to meet new people, experience new things, or learn something new. You never know where those opportunities will take you, plus pushing yourself out of your comfort zone not only helps you develop and learn, it can lead to amazing things you never could have imagined.
Q: Do you have a favorite Penn State Schuylkill memory?
Kaiser: I have made many memories at Penn State Schuylkill, but one very special memory is THON Weekend 2019 when I represented the Schuylkill campus as a dancer. That weekend was one of the most amazing and life-changing experiences I have ever had. Our THON organization was very supportive, my parents came to see me on the floor, and we spent a lot of time with so many THON families. If it wasn't for Penn State Schuylkill, I may have never had this opportunity.
Q: What will you miss most about campus?
Kaiser: Everything! Our campus is a like a big family that I am very sad to be leaving, especially with what is happening right now with the coronavirus pandemic. The Schuylkill campus is a place like no other. The faculty and staff are outstanding individuals who go out of their way to help students succeed, and I cannot thank them all enough for shaping my college experience and education into what it is today.
Q: As you near graduation, what advice would you give to an incoming student about college in general, and Penn State Schuylkill specifically?
Kaiser: Get involved! Being involved in something you're passionate about will take the stress of classes away and will give you something to always look back on and say, "I did that." Plus, getting involved will help you make a lot of friends and will help you get to know your faculty advisors well. I would also remind them that their time at Schuylkill will go very quickly. One day you're a freshman, and then you blink and you're graduating. So, cherish every moment and make as many memories as you can.
Q: Where do you see yourself next year? In five years?
Kaiser: In the next year I hope to be learning more as a business professional and growing in my job as the marketing and admissions director at (senior living facility) Luther Ridge. Plus, I plan to continue my involvement with campus — I am very excited to be joining the Schuylkill alumni board in July! In five years, I would like to continue my involvement with the alumni board, while advancing my career path. I could see myself in my current position, but with much more experience and knowledge.