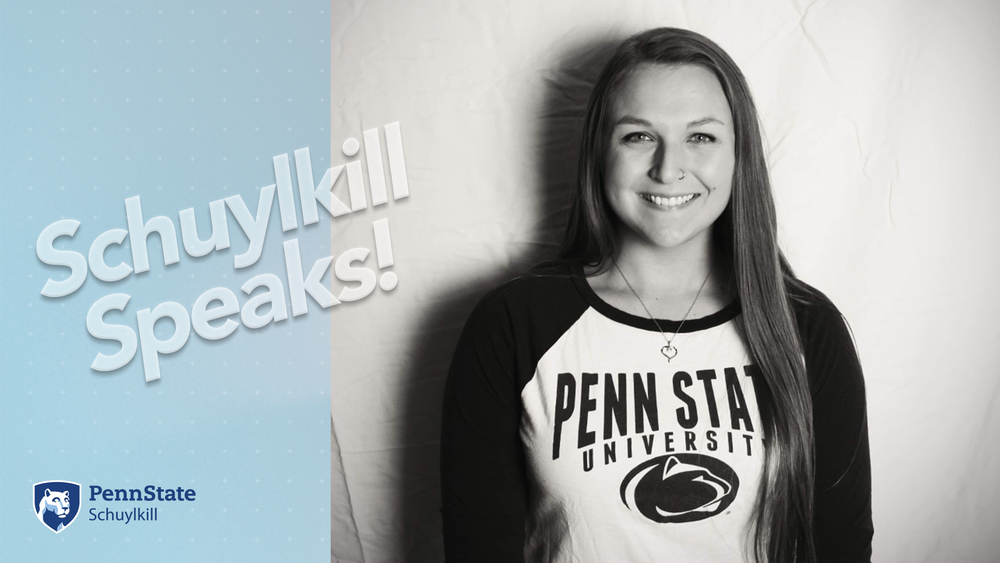 Editor's note: This story is part of a series profiling exceptional members of Penn State Schuylkill's spring 2020 graduating class.
SCHUYLKILL HAVEN, Pa. — Morgan Edge is a business marketing-management major from Pine Grove, Pennsylvania, as well as captain of the Penn State Schuylkill women's basketball team. As a senior, she helped lead her team from a 0-23 season to a place in the PSUAC playoffs and scored her 1000th college career point while wearing a Nittany Lion uniform. She has consistently appeared on the dean's list and has received multiple athletic honors and student-athlete awards from the various athletic conference governing bodies.
Women's basketball head coach Charles Killian said that in Edge's time at Penn State Schuylkill, she has emerged as a leader both on and off the court.
"Morgan Edge was my very first recruit," reflected Killian. "She is a soft-spoken player who leads by the example she sets. She is part of a fine tradition of student-athletes molded at Penn State Schuylkill who bring their skills and work ethic into the workforce."
Edge has been named to the PSUAC Academic All-Conference team and USCAA National All-Academic teams. Last year she was the recipient of the PSUAC John Fritz Sportsmanship Award. She is a member of Chi Alpha Sigma, the national college athlete honor society, and was a 2020 inductee into Gamma Beta Phi, the national honor and service society.
"Morgan is an exceptional person," affirmed Bryan Valentine, director of Student Affairs. "She excelled both in the classroom and on the basketball court. She also gave unselfishly of her time and talents to help others in need. Morgan participated in the May 2019 trip to Warsaw, Poland, where she helped build a home for a Habitat for Humanity partner family. I am incredibly proud of Morgan and I thank her for the many contributions she's made to our campus community."
Recently, the Schuylkill Speaks series spoke with Edge about her time at Penn State Schuylkill.
Q: First, what influenced your decision to come to Penn State Schuylkill?
Edge: I didn't like the college where I was enrolled my freshman year, so I decided to transfer to Penn State Schuylkill. I found a sense of community here and I liked how passionate the faculty were about the campus.
Q: What surprised you most about your time as a student here?
Edge: I didn't expect to love my major as much as I do now.
Q: What impact did athletics have on your experience as a college student?
Edge: Basketball was a major part of my college experience. It gave me the opportunity to meet new people (teammates) every year and it helped me grow as a person and leader.
Q: Which class, instructor, coach, or event had the most influence on the direction of your life?
Edge: My Introduction to Marketing class had the most influence on the direction I want to take after graduation. That class really helped me realize how much I love marketing and want to pursue it as a career.
Q: Do you have a favorite Penn State Schuylkill memory to share?
Edge: My favorite memory happened at the senior recognition during my last home basketball game. I was the only senior on the team, and I had to walk out onto the court by myself while everyone was clapping. It was really awkward, but also really memorable, and it made me feel like the campus community cared about me.
Q: Out of all of your accomplishments, which one achievement are you most proud of?
Edge: I am proud of pushing through and making the dean's list almost every year. It was pretty hard to do a couple semesters, but I did everything I could to keep my grades up and make the list.
Q: After graduation, what's the next step for you? Where do you see yourself in five years?
Edge: I plan to pursue a marketing career and maybe, one day, start my own photography business. In five years, I'd like to be a manager or supervisor while also doing photography on the side.