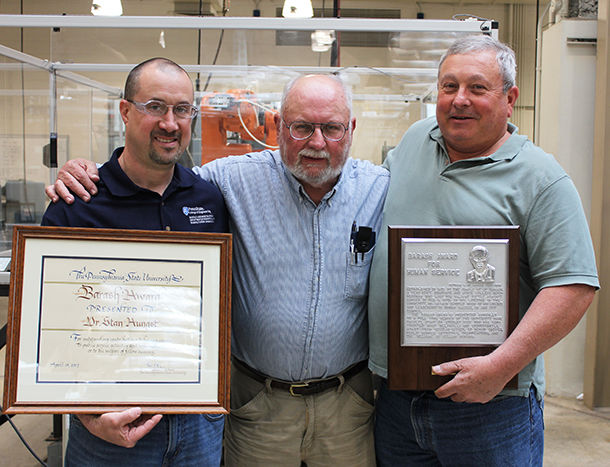 UNIVERSITY PARK, Pa. — From serving in Vietnam at age 19 to earning his doctorate at 52, Stan Aungst's life has played out differently than he initially planned.
Upon being drafted a year out of high school in 1966 to serve with the Army during the Vietnam War, Aungst trained and served as a field cryptographer, sending and deciphering messages via the electromagnetic spectrum on the battlefield in East and Southeast Asia. "I'm lucky to be alive," Aungst said about serving in the war. "It changed my whole life."
After two tours of active duty from 1966 to 1969 and 26 months of continuous overseas service in Asia, he was discharged as a sergeant in 1972. When Aungst returned from Vietnam, he describes the treatment of himself and the other veterans as "horrible." Undeterred, and despite his parents having only an eighth-grade education, Aungst was determined to get his education.
He enrolled at Penn State Schuylkill, finishing his first two years with a perfect grade-point average, before transferring to the University Park campus. In 1974, he earned bachelor's degrees in Chinese and East Asian history and graduated with honors.
His educational journey did not stop there. After graduation, he attended Ohio State and earned his master's degree in Chinese linguistics, before attending Bowling Green State University to earn his master of business administration degree with a focus on management information systems, operations research, and statistics.
Aungst soon returned to University Park, where he held academic positions in the College of Engineering, Smeal College of Business, Behrend College of Business, and the College of Information Sciences and Technology (IST). He earned his doctorate in industrial engineering from Penn State in 2000 when he was 52 years old, graduating with only five other students out of the 50 that started in the program.
"When I look back on my life, I'm lucky," Aungst said. "I'd say I rose above my station in life."
While in IST, Aungst helped to establish the college's new security and risk analysis (SRA) major with former dean and close friend David Hall, who passed away in 2015.
"The person in IST that I owe the most is Dr. Dave Hall," Aungst said.
But Aungst's efforts extend well beyond the classroom. Since 2012, he has organized Military Appreciation Day at Penn State. As a part of Operation Salute, which provides support to U.S. Military Veterans, this annual celebration has grown into a program led by more than 500 volunteers that welcomes 10,000 members from the military community to enjoy a tailgate and Penn State football game in appreciation for their service.
"Part of my healing process from Vietnam was Military Appreciation Day," Aungst explained. "That's part of the DNA at Penn State now. We want these veterans to be treated with respect — they earned it."
Most recently, Aungst was awarded the 2017 Barash Award for Human Service on April 19 by President Eric Barron. The award honors a full-time member of the faculty, staff or student body on the University Park campus who has contributed the most to human causes, public service activities and organizations, or the welfare of fellow humans.
"I'm proud to get the Barash Award, and I'm accepting the award in recognition of the whole Military Appreciation community," Aungst said. "It's not me; it's in recognition of all the work the [Military Appreciation Day] committee does."
Michael Morelli, senior IST major who has been working closely with Aungst for the past three years, said, "I've seen [Aungst] grow Military Appreciation Day to what it is now. I think he deserves that award for sure. He's done a ton of work and never asks for anything back, and he does it all out of goodwill."
"He's willing to help student with anything they need. He's been a true asset to me and the college is losing a great professor," added Morelli.
Aungst's colleagues agree. "I am very excited to see Stan receive this award. His dedication and inspiration to IST, the country, the military and human service are extraordinary, and [he] deserves this level of recognition," said Michael McNeese, professor of IST. "Over all the years I have been very proud to know Stan as a friend."
After Aungst retires as a professor emeritus, he plans to continue his work with Military Appreciation Day. He also will continue machining and making the bottle openers and wrenches for Military Appreciation Day's various donors and sponsors, as he has every year. Aungst made 35 this year for the Homecoming game against Rutgers University, with each bottle opener taking approximately 80 hours to make. He also plans to continue caring for his German shepherds with his wife, Wilma, who used to train search and rescue dogs.
As he winds down his professional academic career, Aungst has one piece of parting advice for students: "Determination and perseverance: When other people quit, you keep going."