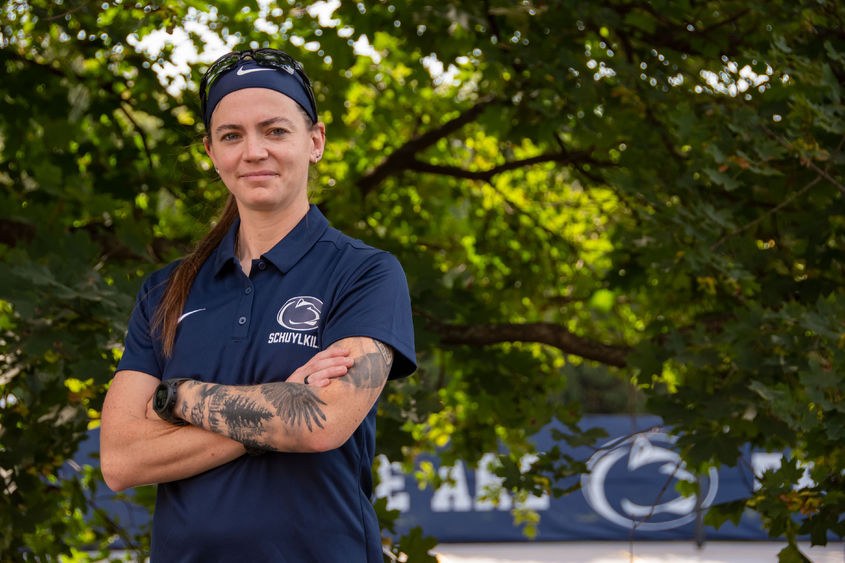 SCHUYLKILL HAVEN, Pa. — Since joining Penn State Schuylkill in November 2016, Kate Fullerton, the campus' first full-time athletic trainer, has become an integral part of the athletics program and instrumental in developing the department's sports medicine programming, including nutrition and strength and conditioning programs.
While her passion is helping Penn State Schuylkill student-athletes stay strong so they can compete safely, Fullerton pursued a lifelong ambition starting in May 2018 when she joined the United States Army Reserves. Electing to train as a military police officer, Fullerton underwent three stages of training to achieve her current rank and position: basic training, officer candidate school and, finally, the Basic Officer Leaders Course. She is currently a first lieutenant and the company commander of the 345th Military Police Company.
"Kate is a vital member of our Penn State Schuylkill athletic department, and she has been key to the success of our teams and overall program," said Bryan Valentine, director of student affairs and engagement. "Kate is a strong role model for our student-athletes and an excellent leader."
Originally from Denville, New Jersey, Fullerton earned a double bachelor of science degree in exercise and sports science and psychology from Guilford College in Greensboro, North Carolina. She also was a seasoned athlete and played shortstop and third base for the Guilford Quakers softball team.
Fullerton returned to the northeast to earn a master's degree in athletic training from Bridgewater State University in Bridgewater, Massachusetts. She went on to intern with the Bridgewater State and Boston College football programs and spent two years as an athletic trainer for Lewiston High School in Lewiston, Maine. At Lewiston, she worked with more than 200 student-athletes on strength training and conditioning programs while supervising a physical therapy clinic.
After spending the formative years of her career working in Maine, Fullerton found herself wanting to be closer to her New Jersey-based family. When the head athletic trainer position at Penn State Schuylkill came up in a job search, she was keen to apply.
"A lot of my family graduated from Penn State," said Fullerton. "So, it was my turn to wear the logo. I drove down from Maine for the interview and not long after that, I received the call that I got the job and they wanted me to start right away. I couldn't wait!"
We caught up with Fullerton as she prepares to embark on her first deployment as an army reservist — a yearlong mission to Cuba.
Q. What are some of the highlights of your time here on campus?
Fullerton: There are so many moments that stick out in my mind over the last five years. One highlight took place in 2018 when the women's basketball team won the first-round of playoffs against Penn State Beaver on Valentine's Day, the same season they did their pregame warmup in "ugly" Christmas sweaters. Another memorable event was when the women's softball team beat Penn State Brandywine back-to-back, 7-0, 7-0, and I do not think I have ever seen a team that animated or amped up.
Q. What adjustments did you make when COVID-19 shut down intercollegiate play?
Fullerton: While most of the hands-on or face-to-face aspects of my work stopped, the education aspect did not slow down at all. Most of my instruction transferred over to Zoom for talks about nutrition, stretching, building a workout routine, and other topics to help athletes stay in shape and prepare for the upcoming season.
Q. What is your nondeployment schedule like as a U.S. Army reservist? What is your enrollment commitment?
Fullerton: As far as military training goes, we drill one weekend each month, plus participate in a two-week training annually. There are other training opportunities for specific courses or schools that can range from one week to about a month, and I have attended a couple of those. I signed a contract for six years of active reserve, plus two years of inactive reserve time. As an active reservist, I am obligated to attend monthly drills and annual training. However, in my final two years while inactive, I am not required to drill or attend training, but the Army has the option to call me back to active or drilling status during that time.
Q. What can you tell us about your upcoming deployment to Cuba?
Fullerton: My unit will be deployed for about a year, with the actual mission taking place for nine months. Military personnel will be stationed at various locations around the island depending on what their specific mission requires. In general, you can request leave during deployment, but not this one. Since COVID-19, newly established restrictions have revoked the opportunity to apply for leave or a pass, or for family members to visit while we are stationed there.
Q. Do you have family here in Schuylkill County? Who will be waiting for you to return?
Fullerton: Some of my Penn State family lives in Schuylkill County, but most of my family lives in New Jersey. I will have my mom, dad, brother, sister, sister-in-law and grandmother waiting for me to come back home.
Reflecting on Fullerton's upcoming deployment, Valentine shared, "While Kate's absence will be felt by all who know her — especially our student-athletes — she is admirably serving her country as a member of the United States Army Reserve, and I could not be prouder of her."
Penn State Schuylkill has been named a Military Friendly School and in 2019 was one of only 30 institutions to receive the inaugural designation as a Pennsylvania National Guard Associations (PNGAS) Guard Friendly School.
For more information about admissions and student opportunities at Penn State Schuylkill, visit schuylkill.psu.edu.