As part of the University's 10th annual Military Appreciation Week, Penn State honors the Pennsylvania National Guard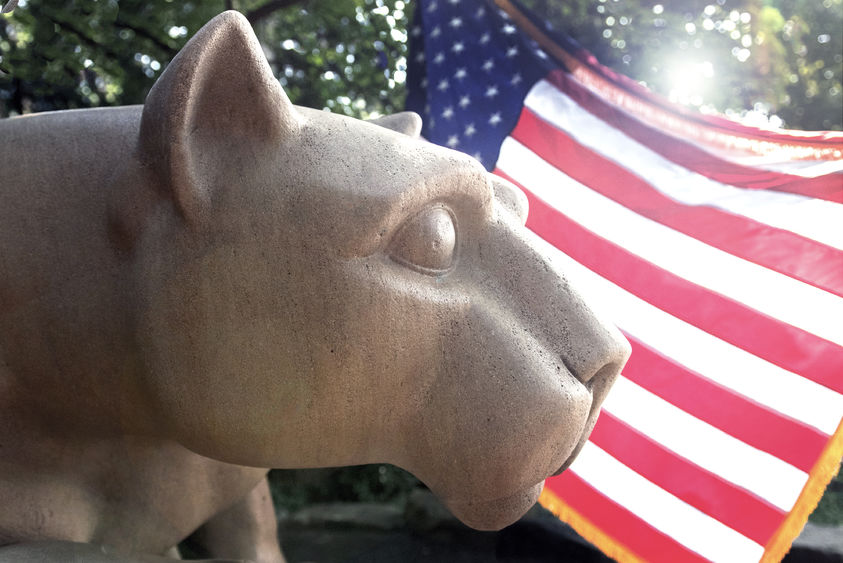 UNIVERSITY PARK, Pa. – As Penn State's 10th annual Military Appreciation Week celebrates the Pennsylvania National Guard, four Penn Staters share their military experiences and how both the Guard and University make an impact on their lives.
Comprised of the Air National Guard and Army National Guard, the Pennsylvania National Guard has its roots as an early militia first established by Benjamin Franklin in 1747 as a means to defend the young colony.
Today, a vibrant community of students, faculty and staff members are members of the National Guard. While living, learning and working in the civilian sector, these Penn Staters also commit their time to serving communities across the commonwealth and United States to provide relief during natural disasters and other emergencies.
Lt. Col. Kathleen Fabrizi, Pennsylvania Air National Guard
Kathleen Fabrizi, lecturer and program coordinator for the Project and Supply Chain Management program at Penn State Schuylkill, enlisted in the Pennsylvania Air National Guard during college when she was seeking adventure. Now, having served 22 years, Fabrizi says that joining the Guard was the beginning of an "adventure of a lifetime."
"After two years in college, I wanted to see the world but keep moving in the right direction," Fabrizi said. "With the Air Guard, I have been able to pursue my academic goals and career passions while serving my community, state and nation. I have visited nearly 50 countries, and my journey isn't over."
Fabrizi earned her human resource management and aviation maintenance technology applied sciences degrees from the Community College of the Air Force – and has continued to pursue higher education ever since.
She went on to earn a bachelor of science degree in business administration from Gwynedd-Mercy College, master of science degree in leadership and business ethics from Duquesne University, and master of military operational art and science degree from the Air University.
Today, as a project management professional, Fabrizi is also a certified Lean Six Sigma Master Black Belt, a popular efficiency program methodology. Fabrizi leverages her knowledge to educate fellow service members as a partnership between Penn State Schuylkill and the Pennsylvania National Guard. Via this program, service members earn continuing education units.
With her experiences around the globe and her various degrees, Fabrizi says that the military ultimately teaches individuals the value of feedback and working with others, which she leverages with her classes. Many students credit Fabrizi with pushing them academically and teaching them critical leadership, communication and professional skills.
"I think that the military teaches people how to counsel, care and lead because servant leadership is instilled at every level," Fabrizi said. "Military service inspires us to make the best of what we are given, and service members should do the same with their education. I encourage other service members to earn a formal degree."
Fabrizi currently serves as an officer in the Pennsylvania Air National Guard, and  has been activated for the Pennsylvania National Guard COVID-19 response, several national special security events, winter storms and floods. Some of her career highlights include serving as C-130 aircrew, electronic warfare officer, inspector general and special operations squadron commander.
Spc. Victor Figueredo, Pennsylvania Army National Guard
With a passion for health care, Victor Figueredo, now a fourth-year biobehavioral health student at Penn State, enlisted as a medic [when] in the United States Army to receive hands-on medical experience. Over the four years of his active-duty enlistment, Figueredo earned over 8,000 clinical hours by helping physicians, seeing patients and traveling to other countries to provide care.
As an Army medic, Figueredo was stationed with a field unit in South Korea when the COVID-19 pandemic rose to global prominence. Figueredo and his peers were honored for their work on the front lines to provide COVID-19 screening and testing for the military.
Figueredo explained that while he gained excellent medical knowledge in the Army, he also gained discipline, leadership skills, soft skills and a new level of maturity.
"The military teaches you skills that you can't always earn without failing," Figueredo said. "You have to be patient and learn how to work with other people from other kinds of backgrounds. I have coworkers from various countries, and I also am from Venezuela. You see different viewpoints."
During his active-duty enlistment, Figueredo joined Penn State World Campus to earn his bachelor of science degree in biobehavioral health with a goal of going to medical school and becoming a physician for the military. After he left the Army in early 2021, Figueredo switched to the University Park campus and enlisted in the Pennsylvania National Guard as a specialist and a medic.
As a University Park student, Figueredo said that he is enjoying his experience in the biobehavioral health program and as the vice president and co-founder of the Penn State Scientific Journal Club, a student organization aiming to make academic literacy attainable and fun for all.
Figueredo also works part-time with the Veterans Affairs and Services office to provide mentoring services and connections for veterans across campus.
"There is a certain level of comradery in the military," Figueredo said. "You notice it with other veterans, active duty or guard students across campus. There is an immediate click with other service members."
Capt. Theodore Schaeffer, Pennsylvania Army National Guard
Ted Schaeffer, a copywriter in the College of Agricultural Sciences, knew that he would enlist in the military before he graduated from high school; however, he said that he was an "anomaly" at his college-prep high school.
While most students went to college, Schaeffer decided he was interested in the military. He proclaimed to be bitten by the "language bug." Schaeffer enlisted in the U.S. Army to work in intelligence and continue his passion for learning other languages.
Schaeffer began his Army career in 1988 and studied Russian, he then left the Army in 1992 to work in a civilian role.
In the following years, Schaeffer found himself in new places and positions, attending the University of New Mexico to earn an undergraduate degree in liberal arts in 2000. During his undergraduate education, Schaeffer re-enlisted in the New Mexico Army Reserve.
Schaeffer moved to Texas, earned a commission as an officer and joined the Texas National Guard. He deployed to Iraq in 2001, where he studied the Arabic language at the Defense Language Institute and used it in combat in Iraq. Schaeffer earned a Bronze Star medal for his service.
Schaeffer left the military in 2008. He shared that the best part of his work was learning about Russian, Iraqi, Spanish and Brazilian life.
"There is a common humanity that we all share," said Schaeffer. "By having an open mind, you fall in love with the people of other cultures, and you learn so many amazing lessons."
Recently, he and his wife moved to State College. He fondly remembers his football trips as a child and has local family. Schaeffer also shared that working within the College of Agricultural Sciences and serving the University's land-grant mission is near to his heart due to his Pennsylvania roots.
Once the couple settled in the area, Shaeffer re-joined for the fourth time in the Pennsylvania National Guard.
"In any branch, you learn how human lives are both precious and excellent," said Schaeffer. "If I were a cat and had nine lives, I would have tried more roles and branches because there is so much you can do and so many people you meet."
Lyndsay Stakem, Pennsylvania Army National Guard and Penn State ROTC Cadet
Lyndsay Stakem, a fourth-year student studying biobehavioral health with minors in hearing studies and military science, didn't know she wanted to join the military until she arrived for her first semester at Penn State. Stakem was in the HUB-Robeson Cultural Center when she came across a recruiting table.
"When my high school friend went into the Air Force, I felt very emotional because I wanted to 'be like her,' but I didn't think I was strong enough," said Stakem. "When I spoke to a recruiter in the HUB, she told me that I am more capable than I think I am. I heard her story and felt inspired, so I decided to contact the ROTC department. After some time in the program, I landed an ROTC scholarship for the [Pennsylvania National] Guard."
Stakem shared that her desire to be in the military directly ties to her long-term career aspirations to earn a doctoral degree and be a physician's assistant. Ever since Stakem was a child, she knew she wanted to help people and positively impact individuals' lives. By being in ROTC, she said she is gaining leadership experience while learning meaningful life lessons for her future career.
"It's not easy waking up early for workouts and going away on weekends, but it's a solid teaching moment for time management and discipline," said Stakem. "Being in the military taught me to work hard so that what I need to do gets done to the best of my ability. I think being in ROTC also opens someone's eyes to a new realm of people, which I know will help me in my medical career."
As Stakem nears her spring 2022 graduation, she has started working on her graduate courses for her master's degree in public health through the Penn State College of Medicine. Upon graduation, Stakem will be taking classes and working for Penn State Health Milton S. Hershey Medical Center.
Military appreciation at Penn State
Penn State has a longstanding and proud tradition of serving the men and women of our military through education benefits, resources, support and more. This year, the Pennsylvania National Guard is being recognized with a series of campus events, including a football game, Veterans Day ceremony, speaker series and more. Visit militaryappreciation.psu.edu to learn more.