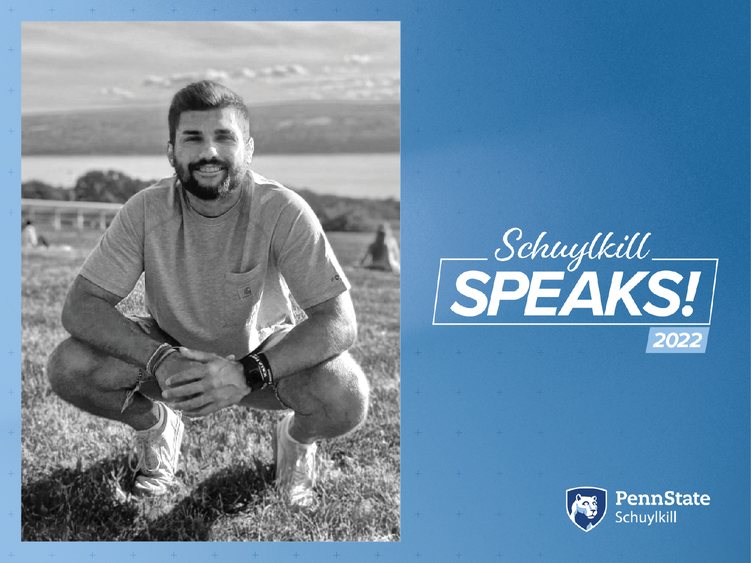 Editor's note: This story is part of a series profiling exceptional members of Penn State Schuylkill's spring 2022 graduating class. For more stories like Fekette's, visit schuylkill.psu.edu/2022-graduates. 
SCHUYLKILL HAVEN, Pa. — For Minersville native Steele Fekette, Penn State Schuylkill provided a competition-level collegiate baseball program at a campus close to home.  
Fekette's love for the game of baseball is apparent in everything he does. Fekette has had a stellar career at Penn State Schuylkill and also has served as team captain. Fekette was a Penn State University Athletic Conference (PSUAC) first-team pick for all three complete seasons while at Schuylkill (the 2020 season was canceled due to COVID-19). 
An administration of justice major, Fekette has been interning at Abraxas Academy in Morgantown, Pennsylvania, since January as a youth care worker — a position that will turn into a full-time job after graduation. Fekette also will be returning next season to Penn State Schuylkill in an assistant coaching role. 
Bryan Valentine, director of student affairs and athletics, has high praise for Fekette's dedication to Penn State Schuylkill's athletic program. 
 
"Steele exemplifies what it means to be a Penn State Schuylkill student," said Valentine. "He is a quality student, gifted athlete, and wonderful young man. I am so proud of what he has been able to accomplish during his time as a member of our Penn State Schuylkill family, and I know he will remain an active and vital part of our campus community even after he graduates." 
We caught up with Fekette as he plans for his next endeavor. 
 
Q: Who, or what, influenced your decision to come to Penn State Schuylkill?  
Fekette: The opportunity to play baseball and the proximity of campus to home.  
Q: What does it mean to be a student-athlete at Penn State Schuylkill? And how do you feel it influenced or contributed to your time on campus? 
Fekette: It has been an honor to be a student-athlete at Penn State Schuylkill. I have had the privilege to represent a college program within Schuylkill County, and over the years, I have made some very good friends because of the baseball program.  
Q: What is your proudest athletic accomplishment? 
Fekette: Our 2022 team is the PSUAC East Conference champions — and I hope there is more to come! 
Q: What other activities are you involved in? 
Fekette: I started to teach individual and group baseball lessons for kids 7-12 years old. I also coached a local baseball team last summer and realized how much I love coaching. It is something I will continue to do in the future. 
Q: Can you tell us about something you have learned that you are most grateful for?  
Fekette: Throughout my time at Penn State Schuylkill, I have learned to cherish the "ordinary" things and everyday moments that you have with the people around you. I have met a lot of great people here, and I am grateful for all the friendships this campus has brought me.  
Q: Did you have any mentors on campus? Faculty, staff, or fellow student? 
Fekette: Head baseball coach Jimmy Misstishin. Coach Misstishin has helped me become a better person on and off the field. He is someone I look up to and can count on if I ever need anything.  
One of my closest friends is a former student and baseball player, Matthew Roberts. When I was a first-year student and he was in his fourth year, he really took me under his wing and showed me the ins and outs of Penn State Schuylkill. 
Q: What surprised you most about your time at the Schuylkill campus?  
Fekette: How much of an impact it has had on me and my life — all the great people that I have met and the memories we made. 
Q: Do you have a favorite Penn State Schuylkill memory?  
Fekette: I have a lot of good memories, but my favorite Penn State Schuylkill memory is the spring break preseason trip we [Penn State Schuylkill baseball] took to Myrtle Beach my first year. 
Q: As you near graduation, what advice would you give to an incoming student about college in general, and Penn State Schuylkill specifically? 
Fekette: First, go to class! And do not sell yourself short. You can accomplish more than you might even realize. Most of all, enjoy your time on campus and use the opportunity to meet new people. 
Q: What's next for you after graduation? 
Fekette: I will continue to work within the juvenile detention system until I gain enough experience to advance in my career. I will continue coaching baseball and will be helping coach the Penn State Schuylkill team next season.  
Q: Where do you see yourself in five years? What would you like to do with your degree? 
Fekette: I am looking forward to having a family and working at a place where I am both happy and can have an impact. My long-term goal is to become a DEA [Drug Enforcement Administration] agent once I have gained enough experience in the criminal justice field.