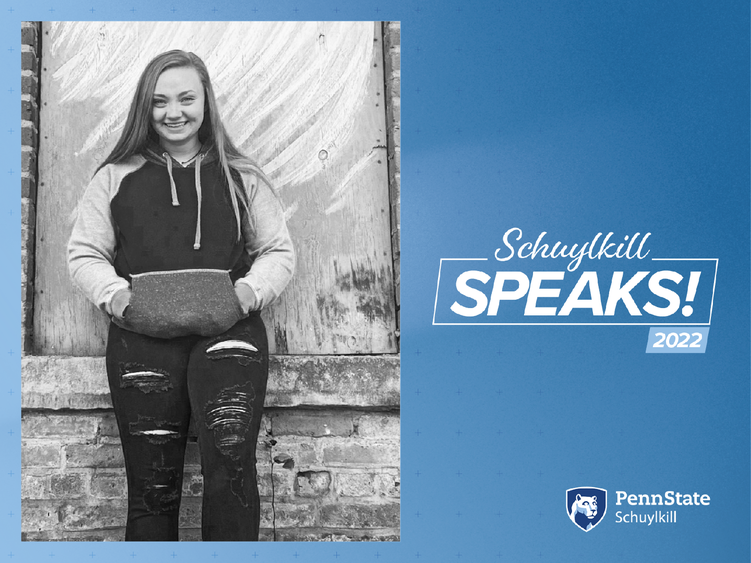 Editor's note: This story is part of a series profiling exceptional members of Penn State Schuylkill's spring 2022 graduating class. For more stories like Santarsiero's, visit schuylkill.psu.edu/2022-graduates.
SCHUYLKILL HAVEN, Pa. — An opportunity to play softball first brought Sierra Santarsiero to Penn State Schuylkill. A 2018 graduate of Riverside High School in Taylor, Pennsylvania, Santarsiero was recruited by women's softball head coach Darle Cresswell to pitch for the Lady Lions.
"Sierra was tough and determined to succeed," said Cresswell. "She took the opportunity presented to her and worked tirelessly to become one of the top pitchers in the PSUAC. I expect a lot from our team captains, and Sierra excelled in the role. She learned how to be a servant leader, putting the team before self, even when the sacrifice was not easy. She has set a high standard and left an indelible mark on our program."
With her sights set on a degree in secondary education, Santarsiero was set to spend a couple of years on the mound for the Lady Lions at Schuylkill before completing her degree at another campus as part of Penn State's 2+2 plan. However, an introductory psychology course helped point her in a new direction, and she had found her groove as a student-athlete at Penn State Schuylkill.
Santarsiero has shown herself to be a leader on and off the field. In fact, Santarsiero states that her role as an athlete helped her develop leadership qualities that she could apply to other endeavors. As a peer tutor at the Learning Center, Santarsiero helped to create and run a study group that was geared to accommodate student-athletes' schedules.
Santarsiero has a distinguished academic record — earning a spot on the dean's list each semester, as well as consistent appearances on both the Penn State University Athletic Conference (PSUAC) and United States Collegiate Athletic Association (USCAA) academic lists. This year, Santarsiero received the Penn State Schuylkill Psychology Academic Award and Tutor Award.
As an athlete, Santarsiero has established herself as one of Schuylkill's top aces. She was a PSUAC All-Conference East Honorable Mention in 2019, and both PSUAC All-Conference First Team and USCAA All-American Honorable Mention in 2021. Santarsiero is also Penn State Schuylkill's all-time women's softball leader in strikeouts with a career 326.
Santarsiero also gives back to upcoming athletes. Cory Scherer, associate professor of psychology, is one of her instructors who also coaches a community youth softball team where Santarsiero has volunteered her time.
"Sierra would come out and help the girls with pointers on fielding and pitching," said Scherer. "In fact, my daughter is one of the pitchers and really looks up to her. Sierra is a fantastic role model from her work on the softball field to her work at school."
We caught up with Santarsiero as she prepares for her next academic endeavor — graduate school.
Q: You originally wanted to be a teacher. What influenced your decision to change your major and stay at Schuylkill?
Santarsiero: I entered college with hopes of becoming a high school mathematics teacher — inspired by the amazing teachers I had throughout school. But I eventually concluded that it was not the right career for me. I knew that I wanted to help others in my future career and eventually fell in love with the field of psychology. Everything pointed to me staying at Penn State Schuylkill to play softball and complete my degree, so I trusted my gut and changed my major.
Q: What does it mean to be a student-athlete at Penn State Schuylkill?
Santarsiero: I am so thankful that I was recruited by Penn State Schuylkill, otherwise I would not have ended up here and had these amazing opportunities.
Q: Outside of athletics, what extracurricular activities were you involved in?
Santarsiero: I was an active member of Schuylkill Benefiting THON during my first year on campus, as well as the Penn State Schuylkill Nutrition Club in 2019. The athletic department offered me the opportunity to join the PSUAC Student-Athlete Advisory Council, and I served as co-secretary from 2019 to 2022. I was also inducted into the Penn State Schuylkill chapter of Chi Alpha Sigma, the student-athlete honor society.
Q: What is your proudest accomplishment? What was the biggest challenge?
Santarsiero: I am most proud to be graduating with a magna cum laude distinction, and an overall 3.93 GPA. The biggest challenge was finding who I am as a person throughout my time here, but the amazing staff and faculty have helped tremendously.
Q: What surprised you most about your time at the Schuylkill campus? 
Santarsiero: I was surprised at how welcoming everyone — staff and faculty — is. Initially, I was intimidated to reach out for help, but the acceptance and understanding from everyone around me encouraged me to work hard to better myself.
Q: Do you have a favorite Penn State Schuylkill memory? 
Santarsiero: My favorite Penn State Schuylkill memory is coming back to campus after being home due to the COVID-19 pandemic and seeing everyone again. I had missed my Penn State Schuylkill family!
Q: As you near graduation, what advice would you give to incoming students?
Santarsiero: Follow your heart and trust your gut. Go where you feel most comfortable, but don't be afraid to challenge yourself. Reach out when you need help — we are all here for you!
Q: What's next? Can you tell us about your plans for graduate school?
Santarsiero: I will be attending Marywood University's Master of Clinical Mental Health Counseling program starting this summer. I am on track to graduate as a Licensed Professional Counselor (LPC) in spring 2025.
Q: Where do you see yourself in five years? What would you like to do with your degree?
Santarsiero: I see myself persevering through graduate school, and ready to start my career as an LPC. I am not sure where that path will take me, but I trust that I will end up where I belong. My overall life goal is to help others every single day, so this field feels like the perfect fit for me.