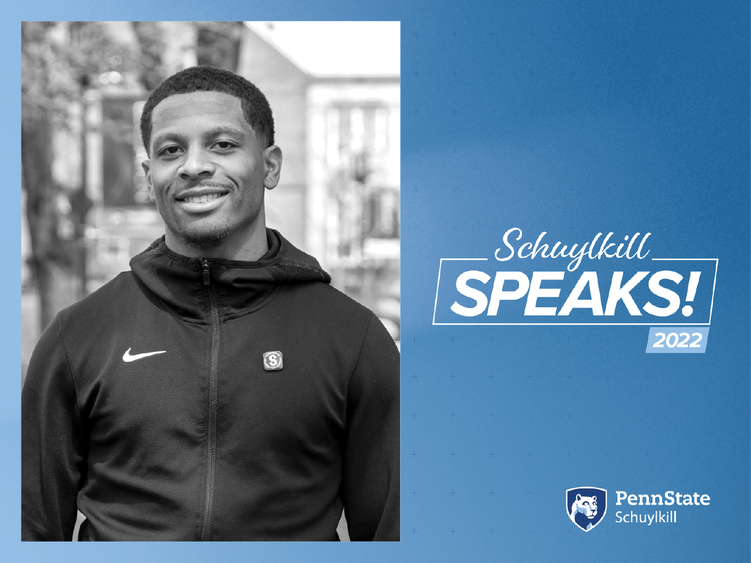 Editor's note: This story is part of a series profiling exceptional members of Penn State Schuylkill's spring 2022 graduating class. For more stories like Santarsiero's, visit schuylkill.psu.edu/2022-graduates.
Growing up in Baltimore, Maryland, Penn State Schuylkill administration of justice major Lamonttea Brown had not been planning a future that included college. However, that changed with the arrival of a new basketball coach in his senior year at Parkville High School. His coach, a graduate of Penn State York, encouraged Brown to reconsider college and explore some of the opportunities available to student-athletes at Penn State's Commonwealth campuses.
Brown took that encouragement and turned it into an opportunity to earn a degree as a two-season student-athlete at Penn State Schuylkill — making him the first person in his family to graduate from college.
Brown has been a key member of both the men's basketball and baseball teams, where he plays guard and outfield, respectively. On the basketball court, he has a 900-point career as a Nittany Lion — and without the interruption of the pandemic on athletic play, plus an injury that sidelined him part of his sophomore year — was on track to the 1,000-career points milestone.
Bryan Valentine, director of student affairs and engagement, has known Brown throughout his time at Penn State Schuylkill.
"Lamonttea has grown so much during his time at Penn State Schuylkill," said Valentine. "I watched him develop into a leader both on the court and within the campus community. He is an exceptional young man and he has all the tools necessary to be a great success in whatever he chooses to do. I look forward to seeing what he does next."
We spoke to Brown recently, as he prepares for what comes next.
Q. Why Penn State Schuylkill?
Brown: I liked the campus. It was small, diverse, and reminded me of my high school. I was also recruited to play basketball in my senior year of high school.
Q: What does it mean to be a two-season student-athlete at Penn State Schuylkill?
Brown: I'm glad that I had the opportunity to play more than one sport because I got to know and experience two groups of students on campus. Playing baseball, as well as basketball, gave me a whole new set of opportunities and memories.
Q: What's your proudest achievement on the court/field?
Brown: This year, our basketball team won a big first-round PSUAC playoff game at home. And we are this year's PSUAC East division champions in men's baseball. [Penn State Schuylkill will face Mont Alto on Sunday, May 8, as they close in on the PSUAC Championship game].
Q: What's one thing you have accomplished, that you are most proud of?
Brown: My proudest accomplishment is that I'm about to be the first person in my family to graduate from college.
Q: What surprised you most about your time at Penn State Schuylkill?
Brown: The number of relationships that I built during my time here.
Q: Do you have a favorite Penn State Schuylkill memory?
Brown: Prior to the pandemic we went on some great trips with the student affairs staff—the harbor in Baltimore, movie theatres, and Ozzy's [recreation center in Leesport, Pennsylvania].
Q: As you near graduation, what advice would you give to an incoming student about college in general, and Penn State Schuylkill specifically?
Brown: Don't be intimidated, try to make connections with everyone on campus. It's a small campus and you never know who you could run into.
Q: Where do you see yourself in five years? What would you like to do with your degree?
Brown: I think that I'd like to work as a parole officer with my degree, and I'd definitely like to be coaching basketball.