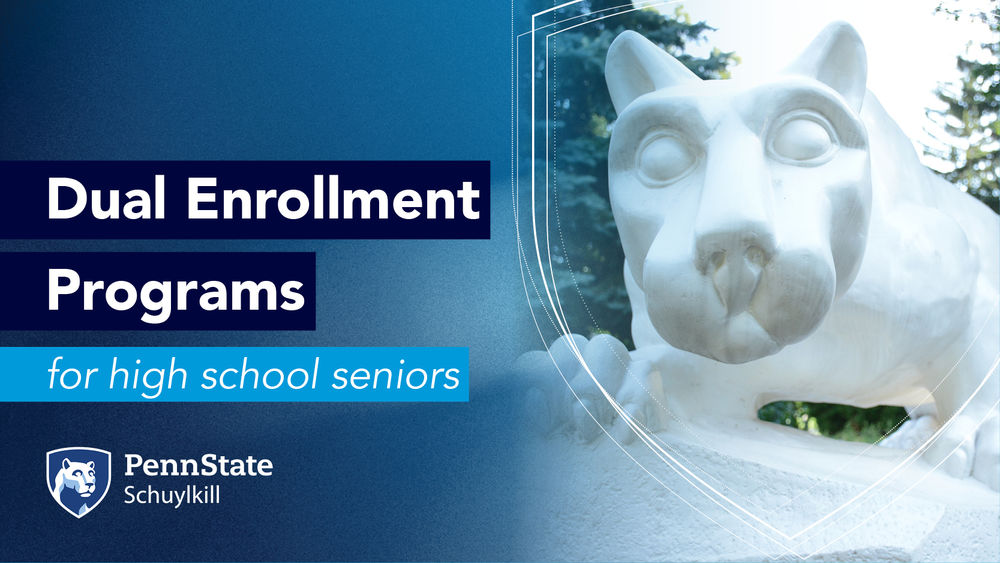 SCHUYLKILL HAVEN, Pa. — Area high school seniors will now have more opportunities to earn college credit and explore future careers while still in high school through Penn State Schuylkill's expanded suite of Dual Enrollment Programs.
While Penn State Schuylkill has offered its Emerging Health Professionals program in partnership with the Schuylkill Technology Center for a number of years, this fall the campus will offer new dual enrollment programs in:
A bridge to college
The Dual Enrollment Programs are year-long endeavors designed for driven high schoolers who are passionate about a particular subject area or career. Beginning in the fall of their senior year, program participants enroll in one course per semester at Penn State Schuylkill while continuing their regular classwork at their home schools.
Time on campus includes weekly guest lectures with subject-matter experts who take a deep dive into the chosen subject area. For example, students in the cybersecurity program may hear from someone combating data breach threats for an e-commerce business, and students in project and supply chain management may learn from a professional at the center of the COVID-19 vaccine rollout.
Participants also gain access to on-campus resources such as tutoring, academic advising, Penn State University Libraries, computer facilities, and the Career Development Center.
The coursework, guest lectures, and hands-on experience in each dual enrollment subject area provide students the core competencies they need to pursue a college degree in the field and correlate directly to a number of Penn State majors.
"These expanded dual enrollment offerings will be an incredible benefit to our region's high school students," said Penn State Schuylkill Chancellor Patrick M. Jones. "By participating, students will have an opportunity to explore a variety of in-demand degree and career pathways while earning college credits. It's a true win-win."
Flexible program options
In addition to the two-course Dual Enrollment Programs, juniors and seniors who are interested in a different career path, are not yet sure what they would like to study, or are simply interested in different topics, may enroll in Penn State Schuylkill's dual-enrollment single course offerings, which cover areas of study such as anatomy and physiology, sociology and more.
Participants in the Dual Enrollment Programs and single course offerings receive a 50% tuition reduction and earn college credits that can be applied to a Penn State degree or transferred to other institutions.
Applying for dual enrollment
Interested high school students and their families can learn more about Penn State Schuylkill's Dual Enrollment Programs, including how to apply, by visiting this web page.
For questions not answered there, email [email protected] or call 570-385-6252.