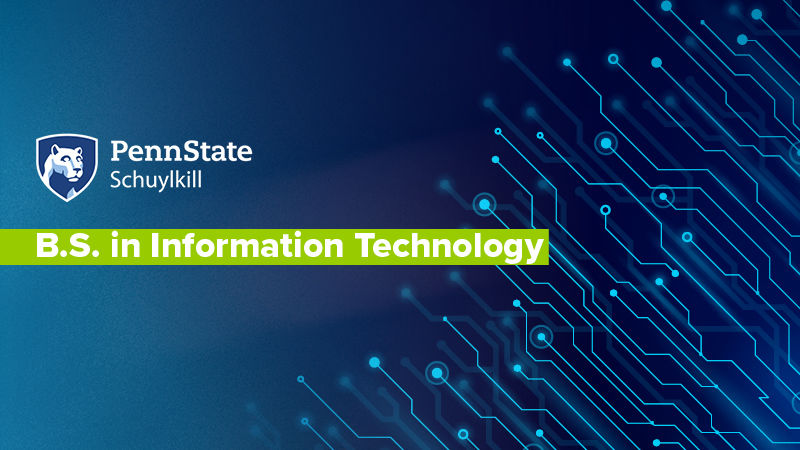 SCHUYLKILL HAVEN, Pa. — Penn State Schuylkill has launched a new four-year information technology degree program available to students beginning with the fall 2021 semester. The bachelor of science in information technology will prepare students to succeed in high-growth jobs such as web and application development, programming, systems analysis, network engineering, database administration, IT support and more.
"This new degree offering will help students develop a broad range of skills that they can apply across many different IT careers where employer demand is set to continue growing," said Brian Gardner, information sciences and technology lecturer and program coordinator for Schuylkill's IT and cybersecurity analytics and operations degree programs.
A balance of theory and practical skills
The information technology degree provides the student with the theoretical frameworks needed to use information technology to solve problems while also providing a set of applied, real-world experiences. The IT degree helps students:
Build an understanding of core information technologies and related areas of study.
Prepare for the practical application of various information sciences and related technologies.
Sharpen their abilities to think critically and to work in teams.
All this will be done while exploring the cognitive, social, institutional and global environments of IT. Team projects in most courses, a required internship, and a senior capstone experience round out the offerings of this holistic degree program.
Five options to help students focus their studies
The IT degree offers students five options to focus their studies in a specific area of expertise. Each option requires students to enroll in 12-13 option-specific credits, with a minimum of three credits at the 400-level. Penn State Schuylkill IT options are:
Application development
Business applications
Cybersecurity
Security and risk analysis
Custom information technology
Students can graduate with both a degree and a strong resume
To earn a bachelor of science in information technology, students must complete a 300-hour internship as part of their program, and they can elect to participate in Penn State Schuylkill Co-Op, a four-year career development program that combines rigorous coursework with three full-time work experiences, and relevant career development training. Co-op students graduate with both a degree and a resume filled with real-world experience.
Additional details about the new IT degree are available at schuylkill.psu.edu/information-technology.