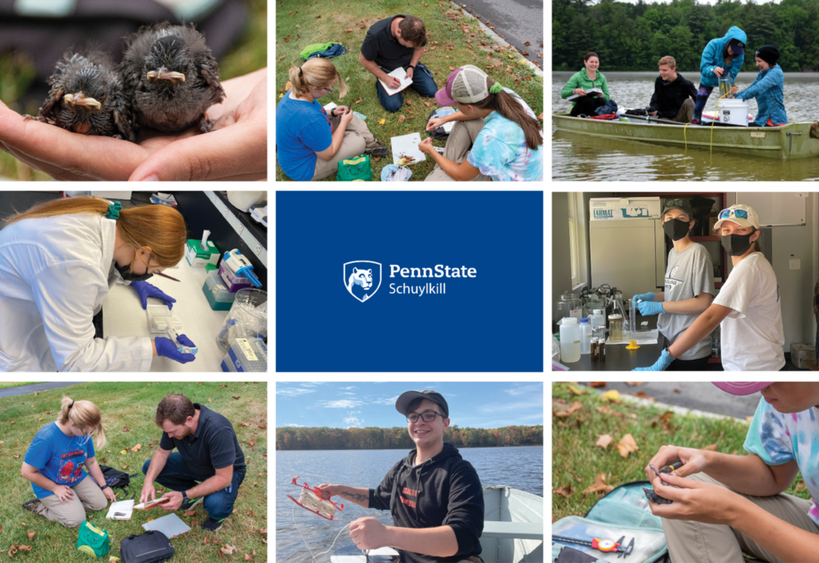 UNIVERSITY PARK, Pa. — For higher education faculty, summertime often presents an opportunity to focus on research activity. From the freshwater lakes in the Pocono Mountains to the thickets of woods surrounding the Penn State Schuylkill campus, Sarah Princiotta, assistant professor of biology, and Lucas Redmond, assistant professor of biology, use the time — alongside their undergraduate research partners — to venture out into the field.
This fieldwork activity is invaluable as it allows for the collection of data that builds and shapes their research projects. And while student participation provides critical assistance to the faculty researcher, it provides an invaluable experience for students and often leads to original student-authored research as well.
After a missed summer in 2020 due to COVID-19, students and their faculty mentors were eager to return to the field in 2021. We recently spoke with Princiotta and Redmond and a few of their student research assistants to learn more about their work "in the field," ongoing research and upcoming projects.
Understanding the microbial communities of freshwater lakes in predicting algae blooms: Sarah Princiotta
While serving as director of research and education at Lacawac Sanctuary and Biological Field Station in Lake Ariel, Pennsylvania, Princiotta began analyzing microbial communities in the surrounding freshwater lakes. Here she initiated a regional lake monitoring program — Pocono Lake Ecological Observatory Network (PLEON) — to provide education and analyses to the public and lake associations regarding water quality and lake management. She maintains a strong partnership with Lacawac as her research involving the region's lakes continues.
Princiotta's current research involves the analysis of 15 lakes — all located within a one-hour radius in the Pocono Mountains. The samples, typically collected from July through October, include a span of lakes: some brown, some clear, and some with a history of algae blooms. The water samples are cataloged, processed, and analyzed to identify the microbial makeup of each lake and to better understand the correlation of microbes in the lake and the potential for cyanotoxins and harmful blooms.
Helping student researchers gain experience and a paycheck
For her summer 2021 field research, Princiotta received funding from the Pennsylvania Water Resources Research Center (PAWRRC), a federal-state-university partnership that advances water quality and quantity research, education and outreach. Penn State is the university home of the PAWRRC in Pennsylvania. Princiotta noted that the funding allowed her to provide her undergraduate student researchers with summer stipends.
Her summer field team — selected through a letter of interest submitted by each student — included fourth-year biology major Caitlyn Goggins and Kayla Baney, a May 2020 biology graduate who had missed 2020 field research opportunities due to COVID-19.
Goggins explained, "I was interested in participating in this research project just for the experience, and I learned a lot! What surprised me the most is how much the researchers trusted all the interns. We were regularly sent out on our own to sample research sites which added a layer of maturity to our work. It also gave me an opportunity to practice lab skills and prompted my interest in other research internships. It was a great decision and the experience helped me grow as a student and a researcher."
Under the supervision of Lacawac's director of science and research, Beth Norman, Baney and Goggins collected water samples in the Pocono-area lakes, while Princiotta was using previously secured funding to conduct a different research project (delayed due to COVID-19) at the Lunz Mesocosm Infrastructure, University of Vienna, Austria.
The project received support from Aquacosm — an international network of mesocosm facilities to study marine and freshwater ecosystems. These mesocosms — outdoor systems that mirror larger ecosystems but at a size that allows for controlled conditions — help bridge the gap between lab work and natural world application. In this project, where Princiotta was the principal investigator, the aim was to resolve the impact of global climate change scenarios, on grazing by mixotrophic microbes. These microbes are considered "Venus flytraps" of the microbial world and can derive energy from both light and ingestion of material.
However, on her return, Princiotta continued her Pocono lake-sampling project through October with the assistance of a new group of Penn State Schuylkill biology students: second-year Kathryn "Katie" Muth, third-year Jevin Reeve and fourth-year Jordan Zelinsky.
Developing a multi-disciplinary research program
While most of her student researchers are biology majors, Princiotta has expressed interest in working with students with specialties in other disciplines. "I'd love to have an information sciences and technology student write a program to automate my counting process," said Princiotta. "Or work with students interested in statistical analysis."
In addition to fieldwork, Princiotta's lab provides a plenitude of opportunities for students interested in getting hands-on experience. Over the fall 2021 semester, first-year Aloura Gavalis, a student volunteer from Princiotta's Introduction to Biology class, assisted in processing the water samples for analysis by concentrating and staining the samples, and "settling the phytoplankton" for easier examination. Gavalis also helped transfer data from field data sheets and notebooks to computer spreadsheets. 
In May 2022, Princiotta will present some of her findings at the Joint Aquatic Sciences Meeting (JASM) in Grand Rapids, Michigan. And while she does not currently have students presenting with her at conferences, Princiotta is building her student research support and anticipates a range of prospects for student-authored research.
"I see a variety of opportunities for student-led research projects. For instance, the pigment and chemical data across the 15 lakes tell a neat story about how all these lakes, in the same area, change across seasons," said Princiotta.
"I see a variety of opportunities for student-led research projects. For instance, the pigment and chemical data across the 15 lakes tell a neat story about how all these lakes, in the same area, change across seasons."

—Sarah Princiotta , assistant professor of biology, Penn State Schuylkill
Recognizing the financial needs of her students, Princiotta is actively seeking grants and funding opportunities that will provide a stipend or salary to her student researchers.
"Funding undergraduate research is challenging," stated Princiotta, "and I understand that students on our campus need jobs. So, I am always looking for ways to pay my students, even if it is sometimes just providing breakfast and lunch."
Examining the breeding biology of local catbird populations: Lucas Redmond
Redmond has been studying catbird populations on the Penn State Schuylkill campus since 2016. His general interest in breeding biology and the abundant local population of catbirds suggested them as a befitting study species. And while Redmond's examination of catbird populations is ongoing, the focus of the research has been fine-tuned over the years as data has been aggregated and analyzed.
"In the first few years, my students and I initiated several individual projects — some did not go anywhere, others are still evolving. Recently, our research has focused on behaviors associated with parental care and parental investment. I am expecting this will lead to looking at the physiology behind those aspects of catbird biology. However, in the long term, I am most interested in developing a dataset to address the effects of climate change on catbird breeding biology," said Redmond.
Recently, our research has focused on [catbird] behaviors associated with parental care and parental investment. I am expecting this will lead to looking at the physiology behind those aspects of catbird biology.

—Lucas Redmond , assistant professor of biology, Penn State Schuylkill
Summer fieldwork yields dividends for undergraduate researchers
Undergraduate student researchers have a significant role in Redmond's labor-intensive fieldwork. Many of Redmond's students opt-in to earn research credits or as part of Honors Program coursework; others are simply interested in seeing what is involved in hands-on fieldwork. Redmond notes that while the degree of student involvement varies, many students go on to craft projects of their own from their initial fieldwork investigations, often resulting in poster and conference presentations and, in some cases, publication.
This summer, Redmond worked with two biology students, fourth-year Bethany Hollenbush and third-year Grace Muench. A project supported in part by the Penn State Schuylkill Faculty and Student Research Endowment, and a Penn State Schuylkill Research Development Grant. Hollenbush has been involved tangentially with Redmond's research since late 2019, but this was her first time in the field after COVID-19 interrupted the previous summer's fieldwork activities.
Hollenbush was eager and yet surprised by how much she enjoyed working in the field.
"I really looked forward to going out into the field every morning with Grace and Dr. Redmond," emphasized Hollenbush, "and I would find myself disappointed on days we could not go out due to weather or other circumstances."
For Hollenbush, her summer in the field also helped shape her career path. "I aways knew that I wanted to do something involving animals, but this experience really solidified that I want to have a future in ornithology," she said.
Muench also recalled the significance of her first experience in the field.
"Although it was demanding work, this summer was my most enjoyable and rewarding one yet," stated Muench. "I came away with a lot of new knowledge and experience on many different topics. I also acquired many skills such as: capturing birds via mist nets, banding birds, and taking blood samples. I was also lucky to have found a great partner and best friend in Bethany."
Promoting original research at national conferences
Redmond's catbird project has resulted in national conference appearances for student- and faculty-authored original scholarship. In 2021, Redmond and Hollenbush, along with May 2021 graduate Joseph Medica, presented findings at both the joint meeting of the Wilson Ornithological Society (WOS) and Northeast Natural History Conference during the spring semester, and the joint American Ornithological Society (AOS) and Society of Canadian Ornithologists meeting in August.
Because catbirds are a migratory species and Redmond's research is focused on breeding biology, fieldwork takes place primarily during the spring and summer breeding season. However, he often will integrate some field activity into his course and lab curricula or as part of student activity; for instance, taking members of Tri-Beta, the campus branch of the national biology student honor society, mist netting for birds. Outside of seasonal fieldwork, most of the research focus shifts to data entry, analysis, lab work and writing.
"Having our work published is critical to our research," emphasized Redmond. "I am currently working to complete two manuscripts from previous work conducted with students, and we are also preparing research for presentations at upcoming conferences."
Redmond is looking forward to presenting new research and updated analyses alongside his student researchers at national conferences this year, including the 2022 meeting of the American Ornithological Society, potentially to take place in person in San Juan, Puerto Rico, in late June.
Undergraduate research: learning by experience
The prospects for undergraduate research abound at Penn State Schuylkill. Whether in communication arts, natural sciences, or other areas, collaborative research with faculty and national peer-reviewed research and presentation opportunities are widely available to any undergraduate ready to pursue them. And the hands-on or experiential learning that is part of undergraduate research can often help set a student on a career path of lifelong satisfaction and reward. Learn more about undergraduate research and other opportunities for academic and professional growth at Penn State Schuylkill.