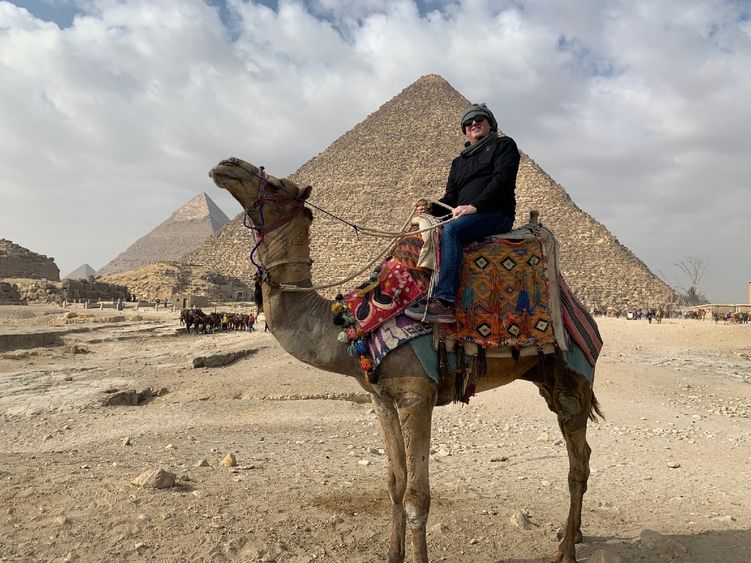 SCHUYLKILL HAVEN, Pa. —In January 2020, at the behest of the United Nations, Hakan Can, administration of justice professor at Penn State Schuylkill, found himself in sunny Cairo, Egypt, enjoying a respite from Pennsylvania's winter weather. Impressed by his research regarding police stress and coping mechanisms, the U.N. invited Can to the North African nation to share his expertise in a workshop titled, "The Implementation of the Standard Operating Procedures on the Assessment and Evaluation of the Formed Police Units (FPUs) Performance."
A research career focused on reducing police stressors
For more than a decade, Can has been studying police stressors and how to reduce them. Prior to his time as a professor, Can worked for INTERPOL, which is short for the International Criminal Police Organization, an inter-governmental policing institution with 194 member countries. During his tenure in INTERPOL, he worked in numerous countries under the Turkish National Central Bureau in their Drugs and Fiscal Crimes subdivisions. For 18 years, Can directly experienced the challenges inherent to police work, including the constant risk that compels many officers to leave the profession. Thus, his primary research investigations endeavor to decode these risks by examining predictors of officer perceptions and well-being.
When Can left policing, he aspired to give back to the law enforcement community. "I'm looking to make a bigger impact than what I was doing with INTERPOL," he said. "I want to bring more democracy to society."
And so, he began studying police stressors and community/police relations. He quickly realized that the scope of his research interests reached beyond his knowledge of psychology, an integral part of his studies. To bridge this interdisciplinary gap, he reached out to Helen Hendy, who was a psychology professor at Penn State Schuylkill and is now a professor emeritus. Her office was just across the hall from Can's, and his request to team up compelled her to shake up her own research.
Before Can approached Hendy to collaborate, her research focused on childhood obesity. But seeing an opportunity to make a global impact piqued her interest, and she agreed. Since this collaboration began, Can has published nearly 60 journal articles, many of them are peer-reviewed, dozens of which he paired with Hendy to publish.
Together, they examined ways to:
reduce police officer suicides;
decrease wrongful shootings spurred by panic on the part of police officers;
identify and mitigate issues that contribute to divorce rates, familial disputes, and economic issues affecting police officers; and
police obesity.
Fruitful relationships with global powerhouses
Can's work with INTERPOL opened the door to his relationship with the U.N., and he maintains a relationship with both institutions. "INTERPOL is a data exchange and management institution," he said, explaining that their current relationship is one of data sharing. For his current research purposes, he is grateful to have maintained his relationship with INTERPOL and curated a new one with the U.N.
As Can lectured in the U.N.'s workshop, he took advantage of an opportunity to advance his current research project. With access to hundreds of international police officers, he conducted a survey examining community-to-police conflict and its effects on officers. He collected responses from police officers serving in Somalia, South Sudan, Central African Republic, Congo and more. All told, he will have a sample size of about 800 participants for his current study.
In addition to his international research, Can is also working with Pennsylvania State Police (PSP) patrol officers to study community conflict with police throughout the commonwealth. With support from the Pennsylvania House Appropriations Committee, he will survey all 4,500 PSP officers.
Back home in Schuylkill County in his campus office, local police patches adorn Can's bulletin board. The patches hail from police departments in Dallas; Houston; Philadelphia; Kansas City, Missouri; London; and many more — even the FBI.
An award for Can's work sits atop a black crushed velvet display, a desk light illuminating it from above, dispersing spectral reflections on the walls. This Pyramid Award was presented to Can by the Egyptian National Police during his January trip. The award is given to national or international police personalities who selflessly dedicate themselves to the betterment of police work. Despite being repeatedly called on to present a number of critical workshops to police organizations and conducting years of research to improve police officers' well-being, Can humbly admits he wasn't expecting it.
With INTERPOL, Can lived one career through to retirement, and now has worked just as long in his second career in academia. His purposeful work has a local, national, and global impact, and he is far from finished. Can's next journey on this path is only an (inevitable) invitation away.