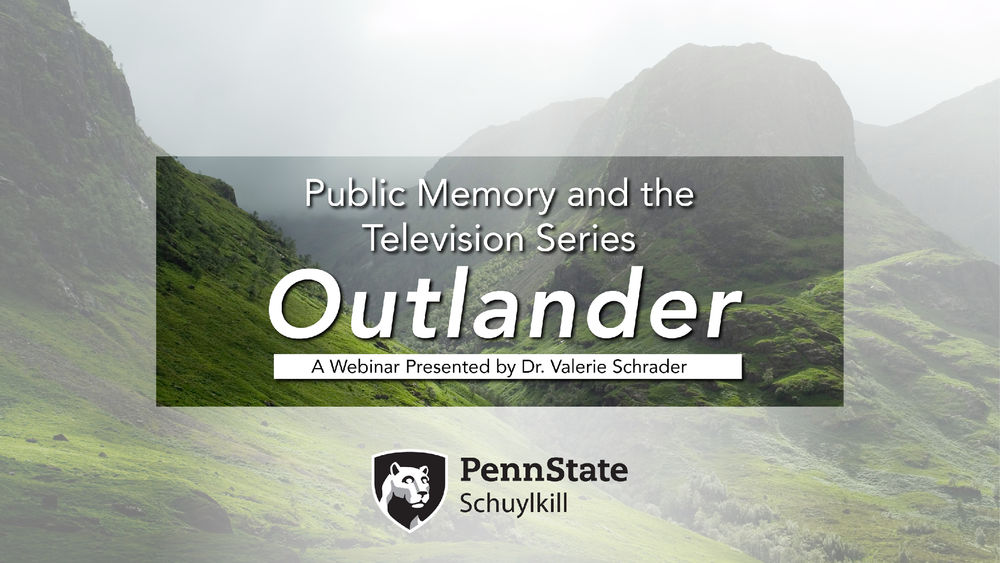 SCHUYLKILL HAVEN, Pa. — On Monday, June 29, Valerie Schrader, associate professor of communication arts and sciences, will present a webinar regarding her upcoming book project, "Public Memory and the Television Series 'Outlander.'" This free, public event begins at noon and will explore what public memory is, how it is connected to and differs from documented history, and how it can be created through popular culture texts.
In both the webinar and upcoming book, Schrader explores how the television show "Outlander," based on the book series written by Diana Gabaldon, creates public memory of the 18th century Scottish clan system, the Jacobite Rebellion of 1745, and colonial America. Through rhetorical criticism as a research method, Schrader examines the connections between documented history and the historical fiction and fantasy series, and how the series encourages audiences to learn about history and reflect on current issues.
Unwinding with a new TV show sparks idea for research
Schrader fell into this project fortuitously. She began her research in 2017 when she was serving as interim director of academic affairs at Penn State Schuylkill.
"During that time, I was still co-coordinating the honors program and trying to maintain my research agenda as a professor. If I was lucky enough to get some TV time, I generally picked shows that were set in a different time and place from my own," she said.
Soon, Schrader became enamored by the television series "Outlander," and commenced her research shortly after.
"I know most people love it for the storyline, but for me, it was all about the history and beautiful Scottish landscapes," Schrader explained.
Around the same time, while helping a few of her undergraduate honors students conduct their own research on public memory for the annual Eastern Communication Association Conference, Schrader decided to author her own paper on the topic, exploring the television series she had come to love. In the 2020 spring semester, Schrader continued her research while teaching a humanities course exploring public memory and Scotland, using "Outlander" as a springboard for developing the curriculum.
"One of the things I do on campus — something that's really important to me — is supporting undergraduate research, especially for our honors students," Schrader remarked.
In this case, she said, it helped lead to research of her own.
'Outlander' fan interest leads to online webinar
The idea for the June 29 webinar came about when Schrader shared her research in a few "Outlander" fan groups on social media.
"Within a 24-hour period, my two posts received over 900 likes and dozens of comments from all over the world, including several requests to 'teach the course online,'" Schrader said. The fan interest gave Schrader the idea to share her work in a webinar that would allow participation from right next door and across the globe.
"I am very pleased that Dr. Schrader is presenting on her 'Outlander' research next week, and that the online environment has provided an opportunity to share this exciting project and her upcoming book publication to a wide audience," said Penn State Schuylkill Director of Academic Affairs Darcy Medica.
How to join the webinar
The webinar will be presented via Zoom. Participants can join via this link at noon on Monday, June 29. A video recording of the event will be available on Penn State Schuylkill's YouTube channel once the webinar is complete for those who cannot join live.
As a rhetorical critic, the majority of Schrader's research focuses on rhetorical messages in musical theater texts and how those messages are communicated to audiences.
Schrader's research has been recognized with the National Communication Association's Theatre, Film, and New Multi-Media Division's Mid-Career Scholar Award; the National States Advisory Council's Scholar of the Year Award; and nine top paper awards from the National Communication Association and the Eastern Communication Association. Schrader has also earned Penn State Schuylkill's award for Excellence in Research and Creative Accomplishments.