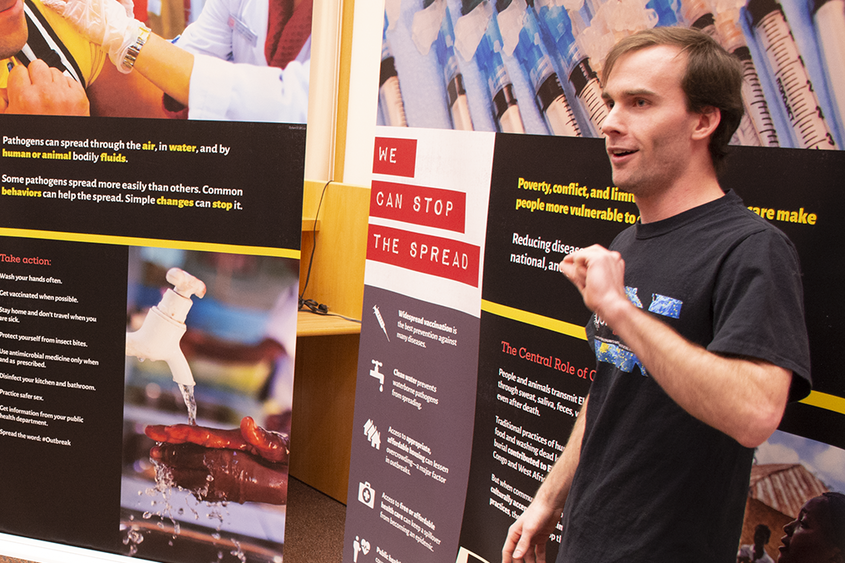 SCHUYLKILL HAVEN, Pa. — In January 2021, Penn State Schuylkill alumnus Duncan Noble will begin the process of earning a master's degree in neuroscience from the University of Calgary, located in his hometown of Calgary, Alberta, in Canada. This outstanding young alumnus built an impressive cadre of research skills during his time at Penn State Schuylkill, and he looks forward to applying what he learned in his time on campus to his graduate studies.
In 2018, Noble earned biology and psychology degrees from Penn State Schuylkill. This determined undergraduate was industrious during his college career, engaging in research with several faculty members, participating in myriad clubs and organizations, and working several on- and off-campus jobs.
Noble participated in Beta Beta Beta, the National Biological Honor Society; was an official campus dancer for THON 2018; worked with the Community Garden Club, helping faculty and staff secure the pollinator-friendly garden certification; and worked in the Hidden Stream Café. And before embarking on his college journey, Noble was a cook in the United States Army, which helped him earn dual citizenship.
"Noble" is more than just a surname for Duncan. "I want to help create a better world for people with psychiatric problems," he said, explaining why he chose his undergraduate majors. "I've known people with issues ranging from depression to autism to schizophrenia, and I wanted to look into behavioral health. I pursued a biology degree first, but it made sense for me to pursue a psychology degree, too."
At the University of Calgary, Noble will be working with Stephanie Borgland, professor of physiology and pharmacology and psychiatry, in the university's Hotchkiss Brain Institute. Together, they will conduct depression research with a focus on electrophysiology and optogenetics, studying neuropeptides and behavior. They will search for biomarkers that identify various types of depression, and these identifications will inform treatment options related to the various types of depression from which a person may suffer.
"I want to understand the way the brain works in such a way that I can help develop programming or a medication that will help people with behavioral issues," he said. And in his graduate program, he will build upon his existing body of knowledge to make that dream a reality.
Noble is well prepared for complex, intense research studies. During his time at Penn State Schuylkill, he created potentially anti-fungal organic compounds with Lee Silverberg, associate professor of chemistry; he conducted gray catbird nest site research with Lucas Redmond, assistant professor of biology; and he conducted experiments exploring human health, memory, and memory retention with Cory Scherer, associate professor of psychology. He also conducted in-class honeybee research with Brenna Traver, associate professor of biology.
After Noble graduated, he began working as a technician in the lab of Bernhard Lüscher, a professor of biology, biochemistry, and molecular biology in the Huck Institutes of the Life Sciences at Penn State University Park. Lüscher explores stress-based psychiatric disorders such as major depressive disorders and mechanisms of antidepressant drug action. In fact, Noble believes the research he conducted in Lüscher's lab laid the groundwork for the work he will do in graduate school.
With a summer of lab tech work under his belt, Noble returned to Schuylkill County and pondered his future. While working as an EMT, he kept in touch with Traver, who invited him to return to Penn State Schuylkill as a volunteer for the campus's "Outbreak: Epidemics in a Connected World" pop-up exhibit, curated by the Smithsonian National Museum of Natural History. And while he enjoyed his work as an EMT and was happy to volunteer at his alma mater, Noble was ready for his next adventure.
"I always knew I was going to continue my education, whether with a medical degree or some other type of grad school," Noble said. "This is my next step in achieving that personal goal."
Noble returned to Canada this September, a voyage about which he was excited and anxious. Though he is happy to be near his Canadian family again, he admits he will miss the people and relationships he forged in Schuylkill County. As he settles into the next chapter of his life, he promised to stay connected to Penn State Schuylkill.