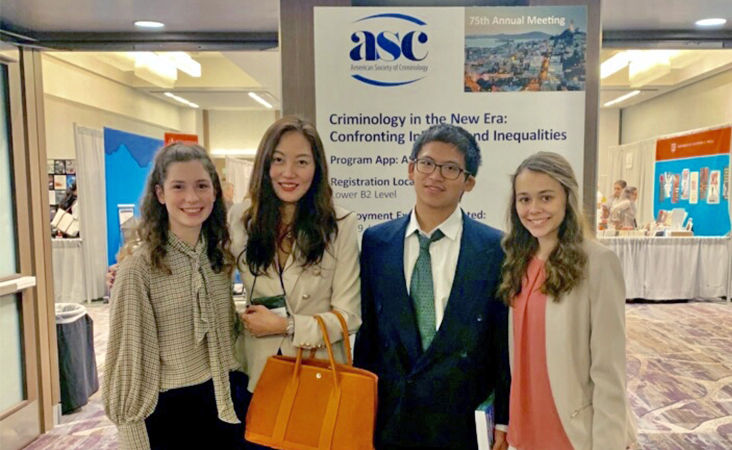 SCHUYLKILL HAVEN, Pa. — Incidences of bullying are higher among high-school students living in rural areas than in urban areas, according to three Penn State Schuylkill undergraduate students, who also found that bullied students in rural areas are more likely to skip class and school activities than their urban counterparts. They presented their research at the American Society of Criminology's annual meeting held in San Francisco in November.
Sophomores Jian Sun, Courtney Weikel and Gabrielle Zias — majoring in social sciences, economics and business, respectively — first met in a statistics course taught by Assistant Professor of Administration of Justice Juyoung Song. Their professor's research on bullying, cyberbullying, the use of big data and machine learning piqued the students' interest and informed their primary research question: How does bullying compare and contrast in urban and rural areas of the United States?
Surprising findings
To begin their collaboration, the students conducted a literature review, primarily using the 2015 School Crime Supplement from the U.S. Department of Education, along with peer-reviewed studies focusing on rural and urban areas, delinquency, drug and alcohol use and more. The trio then analyzed the data they uncovered.
"The students used their statistical skills to compare previous literature reviews with their current study," said Song.
She noted that the students began their research hoping to focus on Pennsylvania alone, but they had to expand their geographic area of study to the entire United States due to insufficient data.
The students' discoveries surprised them.
"I was expecting urban bullying to be far worse than rural bullying," said Zias.
But their presentation demonstrates just the opposite, depicting especially harsh bullying conditions for people of color in rural areas. Their research revealed that bullied students were far more likely to skip class and school activities in rural areas than their urban counterparts.
Expanding their horizons
Because the students' research project was conducted in support of Song's larger body of research, Song officially hired them as research support assistants. Between the money they earned through these on-campus jobs and additional funding from the Office of the Vice President for Commonwealth Campuses and Schuylkill's Office of Academic Affairs, the students were able to travel to San Francisco to present their findings at a session on bullying at the American Society of Criminology's national conference.
With travel covered and the research complete, the team hopped on a plane for an unforgettable experience.
"It was an amazing experience to see people from different countries who all have their own understanding of what bullying is," said Sun. "We got comments and suggestions from Ph.D. holders and other professors who attended."
The students said having the opportunity to network with other students, professors and professionals at the conference was one of the most gratifying aspects of their trip.
"I never imagined I'd be presenting research in front of people who do in-depth studying regarding these topics," said Weikel. "This opportunity allowed us to further our knowledge about bullying and also gave us the chance to experience what a national academic conference is like."
From presentation to publication
Now that the presentation is over and their research is complete, Song will develop the findings into a paper for publication. She plans to submit it to a journal with Sun, Weikel and Zias listed as co-authors.
"The students are a great team together," said Song. "Bullying is a very serious and important issue in criminology, and they did an amazing job."
Though the student research group will soon pursue their own individual academic and life paths, they all agree they'll never forget their first big research presentation experience in San Francisco with their Penn State Schuylkill classmates.