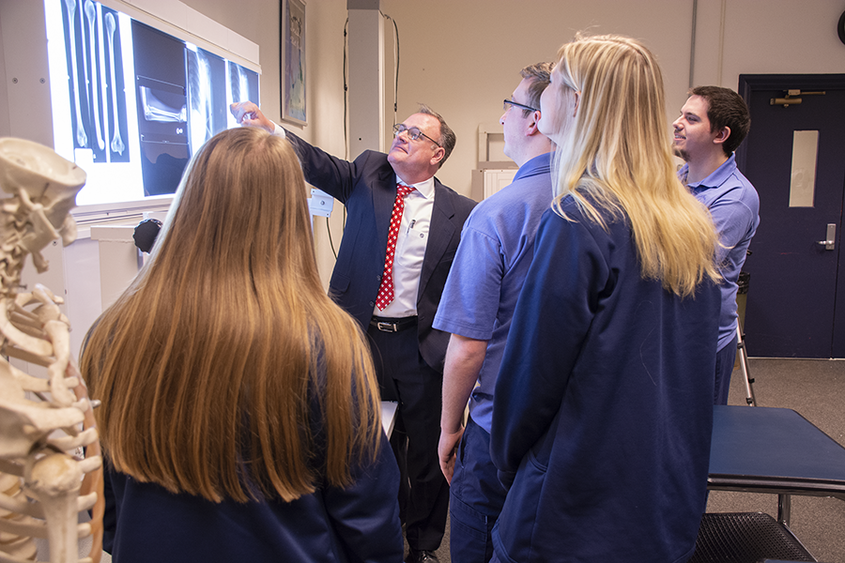 SCHUYLKILL HAVEN, Pa. — Imagine living in a rural corridor of the world, one where hospitals and other medical care facilities simply do not exist. Electricity is spotty. Roads may not exist. If a child breaks her arm in this environment, how could her community send her on a path to healing? If an elderly person slips and falls, how could his community help him monitor his bone health? Tom Sandridge, lecturer and program coordinator of the Radiological Sciences Program at Penn State Schuylkill, has written a textbook in partnership with Doctors Without Borders to address those conundrums.
Sandridge eagerly explained his writing process, ecstatic that the work he has committed to this book will help people across the globe. He said that the 22-chapter book took roughly six months to complete. Beginning such a massive project was a daunting task, he said, but Sandridge did not do it alone. In fact, he collaborated on this project with a colleague from the Netherlands.
Her name is Iona Crumley, diagnostic imaging adviser at MSF International, and she facilitates equipment acquisition and installation for the organization. She and Sandridge met at an international radiology conference. She, too, is a radiographer, with her own ideas of what the textbook needed to include. To tackle the project together, she would often email Sandridge and ask him to explain certain methods and techniques; other times, she would partially write out topics for Sandridge to expand upon or more clearly define.
Despite the six- to seven-hour time difference between Sandridge and his colleague, the pair completed and submitted their book for review together.
Originally, Sandridge and Crumley set out to create a training manual, but the project snowballed into a full-blown textbook. The impetus for creating this publication occurred, said Sandridge, when Doctors Without Borders realized that there was no standardized training for operating x-ray equipment. This textbook will help them standardize training.
"Developing nations have basic training in first aid, but nothing comprehensive," said Sandridge, speaking to the book's contents. Their textbook discusses radiology safety, proper radiologic equipment operation, how to conduct procedures, and pathologies the technicians may see. Radiation safety and protection for both the patient and machine operator are a focus throughout.
"Because radiation is potentially harmful, it's essential for those operating the equipment to have a working knowledge of how their actions potentially impact the dose [of radiation] to the patient, themselves, and other healthcare professionals," said Sandridge.
The currently untitled book will include annotated images and act as a comprehensive guide for healthcare workers in less formal medical settings.
"Part of the imaging professional code of ethics is to share knowledge with others, so writing this book was a natural step for me," said Sandridge, who added that working on this project is "my way of giving back to the profession I've loved for the past 30 years."
Doctors Without Borders will self-publish the book, anticipated in late 2019.
Doctors Without Borders is an international organization of doctors that was originally founded to help victims of wars and major disasters. Founded in France, it is known as Médecins Sans Frontières (MSF). Today, its members provide medical and humanitarian assistance in more than 70 countries. While the organization provides a number of services, including responding to global disasters and war-torn countries, its chief concern has become assisting developing countries with few resources to provide medical care for their populations. Most areas the group assists lack trained healthcare providers and medical supplies.
"By participating in this project," said Sandridge, "my hope is to help improve patient care and safety in developing countries." His motivation parallels the organization's mission. His work will help to create healthier people across the globe.
The book will be published in a few months and distributed to areas where it is most critically needed, he said. With dedicated trainers collaborating and innovating across international borders and over several time zones, the global impact could be immeasurable.
"I want to give back to the profession that has been so good to me," said Sandridge, hints of pride and reverence coloring his words.
Next year, Sandridge plans to travel to Amsterdam for further collaboration. He is also considering joining Doctors Without Borders missions in the future to assist with training. To learn more about Tom Sandridge and Penn State Schuylkill's Radiological Sciences Program, visit sl.psu.edu/radsc.