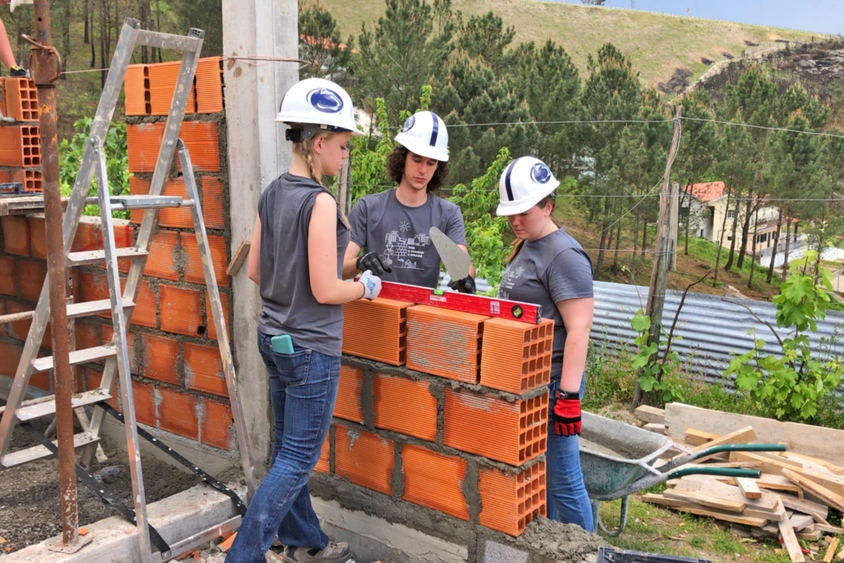 SCHUYLKILL, Pa. — "Te deixas sempre um pouco de ti e lleas also contigo" — "You always leave a bit of you and always take something with you." Nine Penn State students from three different campuses — Schuylkill, University Park and Harrisburg — will always recall this Portuguese-inspired thought as shared with them by Florbela Ferreira.
The students traveled to Portugal as part of a Habitat for Humanity International Global Village Trip to Amarante, Portugal, May 5-14, thanks to a grant from Penn State's Student Engagement Network. The students were selected because of previous service to Habitat for Humanity, strong academic standing and impeccable student conduct record.
Ferreira, volunteer coordinator for Habitat for Humanity Portugal and a history teacher, was an invaluable resource to the students throughout their stay. Trip organizer Bryan Valentine, director of student affairs and enrollment services at Penn State Schuylkill, said that "Florbela began as our host coordinator and, by the end of the trip, we called her our friend."
The students were charged with helping to build the exterior walls for a home of three — a father, Rodrigo; his daughter, Angela; and her son, Gabriel. The students helped to expand the family's small home in the city of Amarante in the northern Portuguese district of Porto, which previously only had a small stove as a heating source for the two-bedroom, unfinished block abode.
The re-engineered house had no exterior walls for the kitchen and living room areas when the students arrived.
"We helped mix the concrete, lay the stone, knocked out the windows and prepared the foundation for the roof," said Schuylkill junior Raquele Amato. The house is due to be finished this August.
The 10-day trip was both service-oriented and an opportunity to learn the Portuguese culture through trips to historic cities, area universities and social events. The group toured the University of Minho campus; visited the historic city of Guimãraes, which sported a sign that said "Portugal was born here"; and were introduced by the Mayor of Amarante during the Sweets Festival.
The Schuylkill students all took away big life lessons from their trip abroad. Unanimously, the students said they appreciated the chance to give back to others, and that while they had the opportunity to help change the life of a family, they also changed in the process.
While senior Alyssa Hatter said the opportunity was one to remember for a lifetime, McGowan said that he looks forward to future travel and, as a biologist in the making, could possibly work in other countries. Amato, who is a dual citizen of the U.S. and Italy, recounted the many similarities between Italy and Portugal with food and language being the major differentiators.
Food and local cuisine is always a large part of international trips. Amato said that she found the portions were large, but very healthy. Although Ferreira took them to area Portuguese restaurants, they also frequented a restaurant with a menu showcasing hamburgers from around the world.
Amato said she ordered a hamburger prepared French-style and served in a soup bowl. Yes, fellow foodies, she could not help but take a photo to share with her friends.
For Marla Stoner, a Schuylkill senior, the trip brought back welcome memories of her grandparents.
"All of our meals were home-cooked and my grandparents would go out to the garden for vegetables and get eggs from the chickens," she fondly reminisced. "It was rewarding in that I was able to remember things that I may have been forgetting."
University Park student John Sloane said, "I had a great time in Portugal with all the other Habitaters; it was truly an experience that changed my life for the better." Comparing it to other trips, Sloane said that there was something different about this trip, including the mix of people and experiences, that made it truly special.
Amato said that she has already befriended Ferreira on Facebook. She added that Ferreira had invited them all back for a future visit. In addition, Valentine has arranged for a June Zoom videoconference meeting to keep the group engaged with their fellow travelers and host coordinator.
Amato said that she felt happy the entire week after they returned from Portugal. "The people [we met] there were uplifting and cheerful, and that made me feel happy as well," she said. "The family had few possessions, but they were very inspirational."
Ferreira wrote in an email to Valentine, "If these nine students are representative of the type of students that Penn State University educates, then the University has many reasons to be proud. These students gave of themselves, both their time and energy to improve the lives of a family in Amarante, Portugal, and therefore contribute to the creation of a better world."
It is fitting that when the students were asked what word they first learned in Portuguese they said, as if on cue, "Obrigado." One word in Portuguese and two words in English: "Thank you."