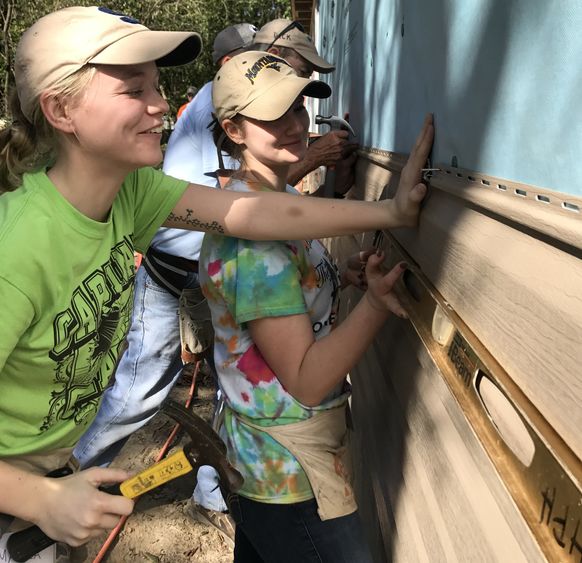 SCHUYLKILL HAVEN, Pa. — Building concrete walls in Portugal. Painting homes in Quebec. Installing vinyl siding in Florida. Over the past several years, Penn State Schuylkill students have helped build better lives for people in need through a partnership with Habitat for Humanity. But in January 2019, that partnership became more intentional when the campus announced that it has become the first Penn State Habitat for Humanity Campus Chapter outside of University Park.
Their passion was sparked in the Sunshine State. "Alternative Spring Break" — a Habitat for Humanity service trip that occurs in Florida every March — offers students the opportunity to assist people here in the U.S. Visiting somewhere new, helping people — Alternative Spring Break sparked a passion that could not be quelled.
"I wanted to be involved [with Habitat] because I went on one of the trips to Florida," said Nico Granito, a senior studying business at Penn State Schuylkill. "It was life-changing meeting two families who've lost their homes to fires, and for me to be able to build for and learn from them was a life lesson that I'll never forget."
Fueled by ambition and motivated by zeal, recent service trips have taken eager Schuylkill students beyond U.S. borders. In August 2016, students voyaged to Montreal, Quebec, visiting the city for a second service project again in November 2018. In May 2018, several students built a home for a family in Portugal. And once the 2019 spring semester ends in May, a group of students will travel to Poland for a service build there, too.
"Some of our best and brightest students made the collective decision to apply for a campus chapter through Habitat for Humanity International and, to no one's surprise, they were awarded one earlier this year. As the group's adviser, I couldn't be prouder of these young men and women," said Bryan Valentine, director of student affairs and engagement at Penn State Schuylkill. By collaborating with the Habitat for Humanity of Berks County affiliate, Schuylkill students brought Habitat to Penn State Schuylkill with Valentine's assistance.
On Feb. 8, the campus chapter held their first interest meeting, which featured guest speaker Tim Daley, executive director of Habitat for Humanity of Berks County.
"My mother and aunt grew up in the [Schuylkill County] coal region, and the people who never had much still shared what they could," said Daley. "Now, I'm in a position to give back by empowering students at the Schuylkill campus."
The new Habitat for Humanity Campus Chapter allows students to continue to participate in international and domestic builds while also building locally. Marla Stoner, the Campus Chapter's president, says she's looking forward to what Habitat can do for Schuylkill County.
"I've seen the impact Habitat has on a family and community, but never in this area," she said. "I'm really excited to see what it can bring to this county and this community."
During the meeting, Daley expressed a need for Habitat's services in the Schuylkill County area. He explained that without a tangible asset, disposable income and debt stabilization — problems affecting people across the nation — U.S. citizens will "struggle mightily."
But Habitat initiatives work to put people in that stable position, and Daley informed the student group that they are empowered to launch whatever local project they would like.
"If you're waiting for me to come up with an idea for you, I'm not your guy," said Daley, encouraging the students to take initiative.
One way this new campus chapter can effect change is through working at the Habitat for Humanity ReStore, located in nearby Reading, Pennsylvania. Habitat's ReStore blends home improvement, home goods and traditional resale items to create an uncommon shopping experience for homeowners, landlords and general treasure seekers alike. All proceeds from Habitat's ReStore support their organization, but the Reading shop also offers Schuylkill students a unique fundraising opportunity.
Once a quarter, Habitat's Berks County affiliate will invite the Campus Chapter to run the Reading ReStore on a Saturday of their choice as a type of fundraiser. Saturdays are the store's best sales days, and ten percent of the store's profits will directly benefit the student group. Running the shop includes managing the cash register, stocking shelves, customer service and more. But there is one stipulation: none of the money they raise can be reinvested in Habitat for Humanity. Daley implored the students to take those funds and invest them in something good, but outside of the organization.
Beyond student involvement, Daley stressed the importance of the local community's support for the Habitat for Humanity program. He explained that one of the best methods to encourage community support and participation is by putting boots to the ground, talking to people within the community, and simply familiarizing them with the chapter and its initiatives.
"You've got to let community members know that Habitat for Humanity is a resource here for them, and you are all liaisons to that resource," Daley told the students.
As the students become acclimated to their new role as a Habitat for Humanity Campus Chapter, they will consider their stance within the community. While these students will certainly learn how to hang a door or properly spackle, they will also exit the chapter with the gratification of knowing that they helped their community become more secure.
To learn more about the Habitat for Humanity Campus Chapter, contact Marla Stoner, Campus Chapter president, at [email protected].