Habitat for Humanity project builds community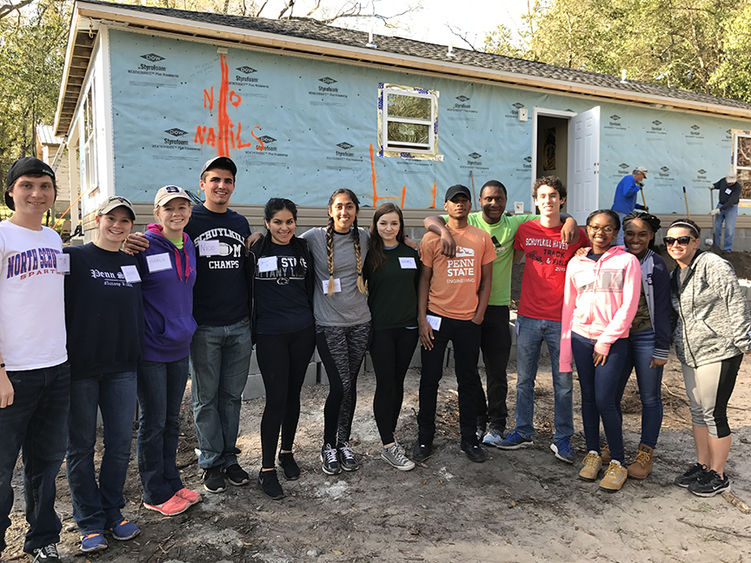 SCHUYLKILL, Pa. — At 4 a.m. on March 3, a group of 13 Penn State Schuylkill students accompanied by two staff members headed to Florida for their spring break. Their destination was not Daytona Beach, Miami Beach, Key West or any of the other popular hotspots that lure college students to Florida at this time of year. Rather, the students chose to spend their free time assisting other volunteers to build two homes to replace those burnt down in DeFuniak Springs, Florida, a city located near Pensacola with a population of roughly 5,000.
One home was being constructed for a family with five children, and the other for a widowed grandmother. Habitat for Humanity homeowners also participate in building their homes. When the students returned to the Schuylkill campus, home construction was three weeks ahead of schedule. During their 10-day adventure, they picked up a variety of carpentry skills, ranging from roofing, framing, painting and landscaping to installing vinyl siding.
For Niccolo Granito, there was nothing not to love about the alternative spring break project. "I helped give a new home and a new life to people who had lost everything," he said. "In turn, I gained experience on how to build a house in the future for my own family."
Jessica Prado noted that some people thought she did not really have a spring break. "But, I did have a spring break — just helping others helped make my spring break," she said.
For Jackie Beltran, the trip made sense as she was able to give back to others while staying in the same time zone, rather than return home to California. The students unanimously agreed that they would repeat the trip in a heartbeat, the other volunteers were outstanding, and the experience brought them closer together. Kirsten Kohr said, "I did not know any of the students before the trip and now we are like family."
The retired volunteers held a special place in the students' hearts. Lauren Gross said, "They were very caring with us and use their time as retirees to help others going through a difficult time," Omar Walker believes that volunteers can make or break the trip. He said, "They don't tell you, but teach you, and you realize they are just like you and are accepting."
Also on the itinerary for the road trip were memorable and informative visits to museums and landmarks, such as the National Civil Rights Museum, the Jimmy Carter Presidential Library and Museum and the Martin Luther King, Jr. National Historic Site. The students also enjoyed being near Santa Rosa beach and trying out the local cuisine.
Bill Rennicke, construction chair for the Walton County Habitat for Humanity, was impressed with the students' efforts. He stated that the core volunteers loved working with the highly productive students, who did an excellent job.
Serving as co-coordinators of the trip were Gracie Gilbert and Valerie Clay from Schuylkill campus' Office of Student Affairs.
For students interested in learning more about alternative spring break trips, contact Gracie Gilbert at [email protected] or (570) 385-6047.