Poverty impacts entire communities, so students and staff from Penn State Schuylkill grabbed their tools and got to work.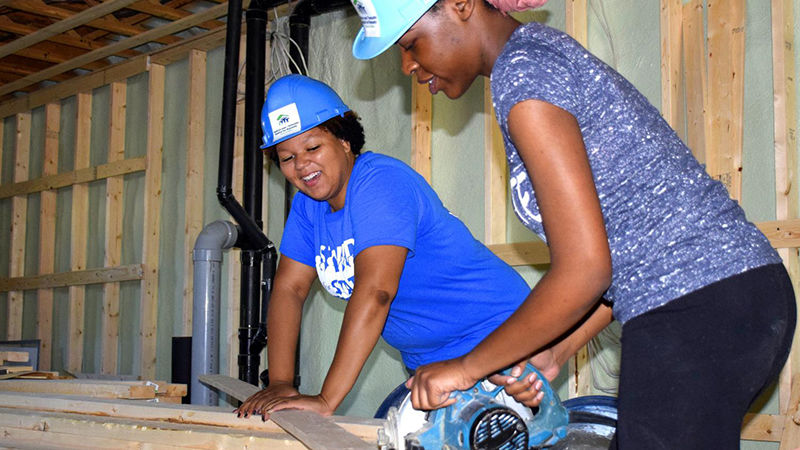 SCHUYLKILL HAVEN, Pa. — Three Penn State Schuylkill students and one staff member traveled to Montreal, Quebec, from May 22 to 29 to participate in a campus-sponsored, international Habitat for Humanity Canada (HFHC) trip.
Jacqueline Beltran, Darlyncia Nobrun and De'Airra Drayton, student members of the campus Community Service Club, and Valerie Clay, assistant director of Student Affairs at Penn State Schuylkill, volunteered to participate in the Habitat for Humanity Quebec (HFHQ) Women's Build 2016. The team assisted with the building of homes, and they also took time to explore the cuisine, lifestyle and culture of Montreal.
"It was our hope that the students loved the experience of using their hands in possibly one of the most positive and impactful ways you can imagine," said Clay. "Building a home for someone provides a great gift and satisfaction for oneself."
The participating students have taken pride in being able to contribute to the well-being of others while also enjoying new experiences. Beltran, a sophomore from Inglewood, California, also participated in the campus' Habitat for Humanity alternative spring break trip in Santa Rosa Bean, Florida. "Although I've had various experiences helping others, nothing compares to building a home for another human being," said Beltran.
"Being able to step out of my comfort zone from my usual surroundings has widened my eyes to what the world has to offer," said Nobrun, a junior from Philadelphia.
Habitat for Humanity Canada is a nonprofit organization with a goal of "breaking the cycle of poverty." The organization is charged with providing volunteers in an effort to "work toward a world where everyone has a safe and decent place to live" because they believe in providing low-income families with access to affordable home ownership. Since 1985, with the help of more than 70,000 volunteers each year, HFHC has been able to provide almost 2,800 Canadian families with affordable housing.
Women have been a driving force behind the construction of Habitat for Humanity homes around the world. With this in mind, between the months of May and June, HFHQ will welcome 300 women volunteers. According to the HFHQ website, since the program's inception in 2000, women volunteers have been able to build 58 homes throughout Canada.
"It is often said it takes a village to raise a child," said Drayton, also a junior from Philadelphia, who embarked on two Habitat for Humanity trips with the campus this year. "Children turn into adults, so whether young or old, I want to be a part of the village that helps the next person. I wanted to go on this trip to move further toward my goal of helping others."