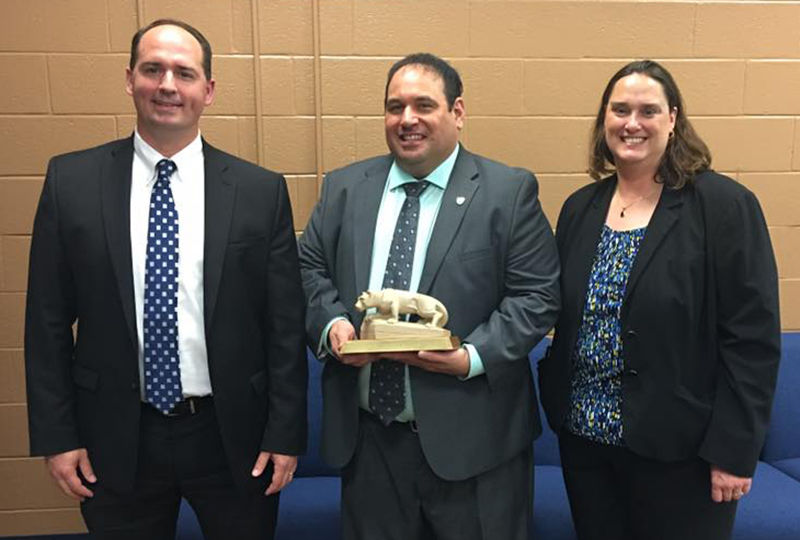 READING, Pa. — Jonathan Kukta, Director of Housing and Food Services at Penn State Berks and Penn State Schuylkill, was recently honored with Schuylkill's Outstanding Alumnus Award. Presented by the Penn State Schuylkill Alumni Society Board, the award is their highest honor, recognizing alumni "whose personal lives, professional achievements and community service exemplify the objectives of their alma mater."
According to one nominator, Kukta's "commitment and dedication to faculty, staff and students at multiple campuses has created a wonderful work environment that fosters respect, diversity and inclusion. He leads by example, showing how to maintain high standards of excellence both personally and professionally."
Kukta is a 2000 graduate of Penn State with a bachelor of science degree in hospitality management. He went on to earn an MBA from Alvernia University in 2007.
In 2002, he began his Penn State career as a manager and then assistant director of Housing and Food Services at Penn State Berks. In 2007, he was promoted to director of Housing and Food Services for four Penn State campuses: Hazleton, Schuylkill, Wilkes-Barre and Worthington Scranton. In July of 2017, he assumed his current position as director of Housing and Food Services at Berks and Schuylkill and contract administrator for Penn State Lehigh Valley Food Services.
"Jonathan is a dedicated, hardworking and creative director of dining and food services," said Darcy Medica, interim chancellor of Penn State Schuylkill. "He received the 2017 Outstanding Alumni award for his service to the community, personal and professional achievements, and ongoing commitment and passion for the Penn State Schuylkill community."
He has received numerous awards during his time at Penn State, including the Housing and Food Services William H. Reiber Outstanding Management Award (2017), Penn State Hazleton Service to Student Award (2015), Finance and Business Mentorship Award (2012) and Finance and Business Leadership Award (2010).
In addition to his administrative role, Kukta teaches part-time as an adjunct instructor in the Penn State Berks in Hospitality Management baccalaureate degree program. He also teaches at Penn State Schuylkill in the business administration program.
Kukta is also an active member of the National Association of College Auxiliary Services (NACAS) organization, currently serving as the Eastern Region Representative on the Communication Services Committee. In his community he is active with the Schuylkill United Way and the Schuylkill Chamber of Commerce, is a 2000 graduate of the Schuylkill Leadership program, and volunteers at the Orwigsburg Library.
"I join a group of many outstanding business and community leaders who have received this award before me," states Kukta. "It is so rewarding to serve my alma mater as an employee and to be part of the growth of a campus that has enabled hundreds of students to achieve their dream of a Penn State degree."