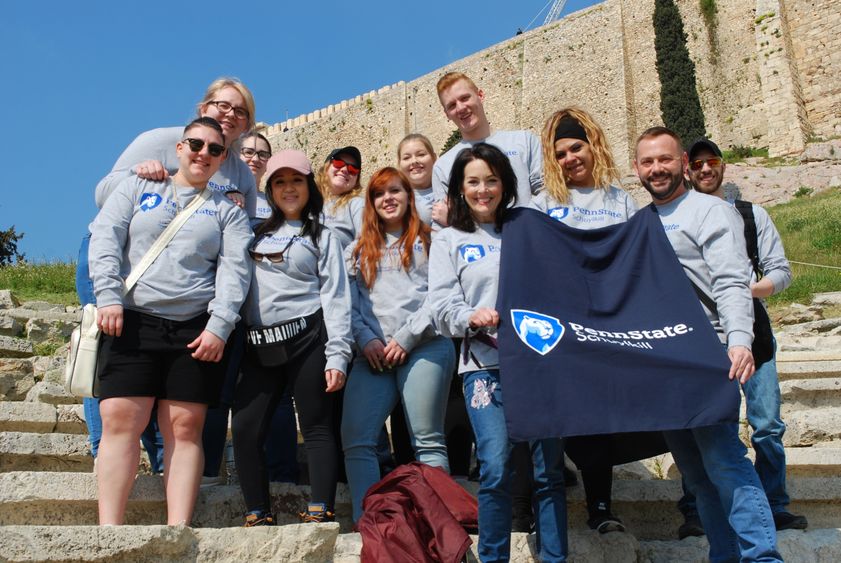 "Electrifying," "transformational," "breathtaking," "inspirational." The 10 Penn State Schuylkill students who recently traveled to Athens, Greece, recounted their trip with such zeal that each struggled to wait for their turn to speak. With help from their professors, a group of administration of justice and communications students traveled to the ancient nation to study the foundations of theater and the justice system. They had no idea how profoundly this cultural experience would impact them.
Last summer, Cathy Fiorillo, associate teaching professor of theatre and speech, decided she wanted to teach an integrated class with a global component. "I've been teaching theater via books and videos for years, but I wanted to experience it in person," said Fiorillo.
So, envisioning theater lovers of the past sitting upon the stone seats of the Theatre of Dionysus, Fiorillo reached out to Ron Kelly, assistant teaching professor of administration of justice, to see if he would like to team up for a special trip. Kelly enthusiastically agreed.
Savoring the culture
On Saturday, March 2, the group departed from Schuylkill Haven, Pennsylvania, and headed north. They boarded a plane in Newark, New Jersey, and settled in for the 11-hour flight to the Mediterranean. Once they touched down in Athens, they soaked in the beauty of the ancient ruins. Everything felt like a museum exhibit.
After their lengthy flight, the group settled in to their hotel rooms and came together for their first group meal – their first step toward becoming a tight-knit family bound by a shared global experience. "The 'family' dinners were the most enjoyable moments of the trip," said Jennifer Vilayhong, a senior in Penn State Schuylkill's psychology program.
Vilayhong wasn't alone in her love of group meals and the food in general. All the students clamored to describe their favorite foods. Some tried rooster, others moussaka. Fried feta with honey and sesame was a crowd favorite, and everyone had glowing reviews of spanakopita.
Roxana Achach, a junior studying international politics, said, "I gained at least 15 pounds!"
As the days passed, Fiorillo excitedly informed students about the historic theaters they wandered through. They visited legions of museums, too, including the Acropolis Museum, which has a glass floor to showcase the ancient ruins underneath the building's foundation. When asked how modern infrastructure looks when juxtaposed with the ruins, the students explained that the city was built around the ruins. They continued to explain that many ruins have been found as a result of excavation for modern infrastructure. They revealed that there are no skyscrapers in the city of Athens, and even claimed that the air felt cleaner.
"I actually enjoyed walking about eight miles a day," said Vilayhong. "I felt free."
During one museum visit, the students were introduced to the concept of ostraka, which were voting tokens ancient Athenians used to cast "guilty" and "not guilty" votes during all court trials. The group learned that this practice facilitated unbiased court decisions.
"Greece was an amazing learning experience, from the culture to the history of their society, crime and punishment, and democracy," said Achach. "But I left with people who I first saw as classmates, and when we came home, they felt like family."
Applied knowledge
A few communications students focus their studies in journalism, and all returned with fascinating reports relating to their majors. For junior Matthew Williams and freshman Hannah Studlack, the contrast between U.S. and Europe's political culture was staggering. During the day, the pair reported, Athenian police wandered the city with machine guns on their backs.
"And at night," Williams said, "they'd carry them in their hands. But they were always friendly."
Studlack notes that free speech is significantly different between Greece and the U.S. She spoke about all the graffiti decorating Athens, much of it in opposition to the government and police. During their time in Athens, Studlack made friends with a local cab driver. She probed him and discovered that graffiti is not criminalized in the city unless it defies the government or makes its way onto ruins.
"In this way, state censorship is pretty pronounced, but this is why journalism is so important in Greece – for transparency," said Studlack.
Williams, who is a dual major studying international politics and digital journalism, was keenly aware of Europe's refugee crisis during the trip. He spoke about people without clothing roaming the streets, wrapped in blue tarps and appearing not only filthy, but also distraught.
"[These refugees] are trying to assimilate into a culture that does not accept them, largely for economic reasons," said Williams. "You can see that they feel profoundly disenfranchised just walking past them on the streets."
For him, seeing this crisis firsthand was not only sobering, but also an incredible experience in cultural immersion.
Leaving as classmates; returning as family
Every student was asked to prepare a statement about their trip to Greece, and each statement included the same trope: their newfound love for one another. "I left with Penn State acquaintances and came home with a genuine family," said McKenzee Warner, a sophomore studying administration of justice.
Rachel Tarlecky, a first-year business administration student, was nervous about the trip. She had no idea what to expect, but soon broke out of her shell.
"I came back with a family and a whole new perspective on traveling," said Tarlecky.
For Raquele Amato, a junior studying corporate communication, "This experience showed me how exploring another country with a group of people you hardly know can make you into a family."
Ashley Frantz, a junior studying administration of justice, echoed those statements. The group showed off their photos from the trip. Everyone was all smiles. After this experience, their support for one another is tangible.
Making it happen: Creating and funding the course
Fiorillo and Kelly spent nearly a year preparing the course curriculum. They conjured an idea, built an interdisciplinary curriculum, and presented their syllabus to Cory Scherer, assistant director of academic affairs. Because the course was an interdisciplinary one, geared toward communications and administration of justice students, Scherer suggested the two professors classify their proposal as a general education philosophy course. After identifying the core components of the course, however, the professors had to fund it.
Philosophy 136N, as it came to be known, ended up being a crash course in grant writing for all involved. Fiorillo and Kelly could only accept 10 students for their integrated class, and affordability was one of their main concerns.
To help defray the cost of the global component, Fiorillo completed the First-time Faculty Embedded Course Grant offered through Penn State University. Meanwhile, Kelly secured a Commonwealth Grant, whose funds were matched dollar-for-dollar by Penn State Schuylkill. Additionally, each student filled out the Student Engagement Network Grant offered through the University, as well. Ultimately, the students submitted a simple $250 deposit for their trip, which was returned to them in the form of €300 that they were encouraged to spend while in Greece.
"After teaching administration of justice at Penn State Schuylkill for 11 years, to actually see the foundations of the justice system in Greece was thrilling," said Kelly. Now home from their first successful embedded course trip, Kelly looks to the future. "Given the success we had with this course, we're excited to announce that we will be doing an interdisciplinary course with an embedded global component every other year."
Home again
Now home, the students look back on their voyage fondly. Some students expressed that this trip has sparked their love for travel; Fiorillo says they have "the itch." Perhaps the most succinct and all-encompassing statement came from Hannah Studlack, who concluded her description of the journey thusly: "This was a remarkable, culturally enriching experience that has molded me into a well-rounded person. It's left a mark on my heart forever."