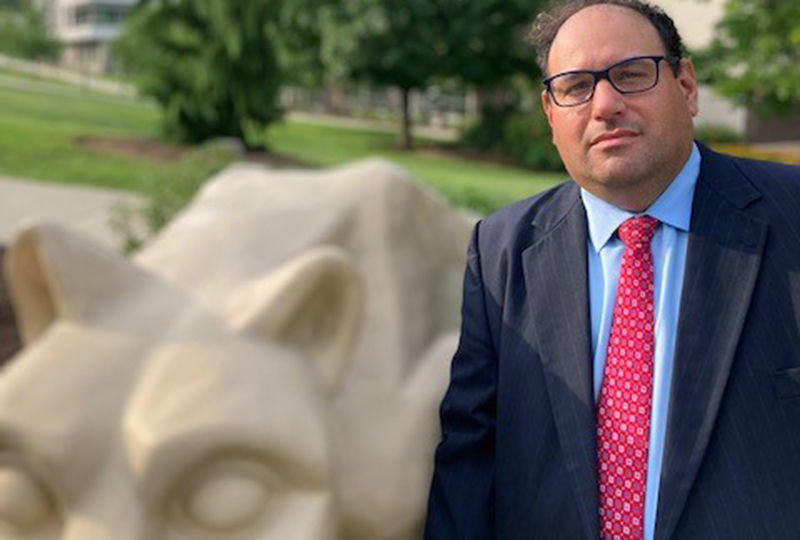 Jonathan Kukta, director of housing and food services at Penn State Berks, Lehigh Valley and Schuylkill campuses and adjunct instructor business administration and hospitality management, was recently honored with the 2020 National Association of College Auxiliary Services (NACAS) East Rising Star Award.
This award, which is sponsored by Spelman Johnson, recognizes one individual in an auxiliary service unit or central management organization who has provided excellent services and has demonstrated the ability and desire to excel in the field of auxiliary services management. There is one recipient of this award per NACAS region.
Penn State alumnus Kukta, 2000 hospitality management, stated that the award is especially meaningful to him as he is continuing the legacy of two Penn State Berks chief operating officers (COO): Kim Berry, current COO, who served as NACAS East President from 1998-99, and Jim Sterganos, retired COO, who served as NACAS East President from 2002-03.
"I was delighted to learn that Jonathan has been recognized by the NACAS East Region which includes more than 250 member colleges with the Rising Star Award. Jonathan exemplifies the qualities of leadership, accountability, and attention to detail that the Rising Star Award represents," stated Penn State Berks Chancellor R. Keith Hillkirk.
"Jonathan is incredibly hard working and well deserving of this special recognition from NACAS," Penn State Schuylkill Chancellor Patrick M. Jones said. "His dedication to Penn State along with his depth of expertise helps our campus provide the highest quality service to our students."
Kukta has been an active member of NACAS East since 2002, serving on a variety of committees. He served on the board of directors from 2019-present. He also worked with Penn State University's Office of Auxiliary and Business Services to host the 2018 and 2020 NACAS East on the Road at Penn State.
"Jonathan's passion for our industry resonated with me and he shares his passion with all of us. He is a natural leader who shares his best practices so that all of us can benefit from his experience and he shares his knowledge so that we can improve our campus environment. He is truly a Rising Star within the world of college auxiliaries and so deserving of this recognition," stated Phil Allison, deputy director of United Stated Naval Academy Business Services Division and past president of NACAS East 2018-19.
"I appreciate Jonathan's dedication and the passion he provides within the NACAS organization as it is evident that he is making a positive impact throughout the region," Karen Kreger, senior director of Housing and Food Services, Commonwealth Campuses.
Kukta joined Penn State in 2002. Prior to his current role at the University, he was the director of housing and food services for Penn State's Hazleton, Wilkes-Barre and Scranton campuses. During his time at the University, he has received the Finance and Business Quality Service Quality People Leadership Award (2010) and the Mentoring Award (2012). In 2017, he was the recipient of the Housing and Food Services William H. Reiber Award for Outstanding Management. That same year, he also received Penn State Schuylkill's Outstanding Alumnus Award.
About NACAS
NACAS is a professional trade association that supports the nonacademic segment of higher education responsible for generating business through campus services that students need and value – such as food services, bookstores, housing and transportation. The NACAS East Region is comprised of 13 U.S. states, Ontario the Atlantic provinces, United Kingdom and Ireland.