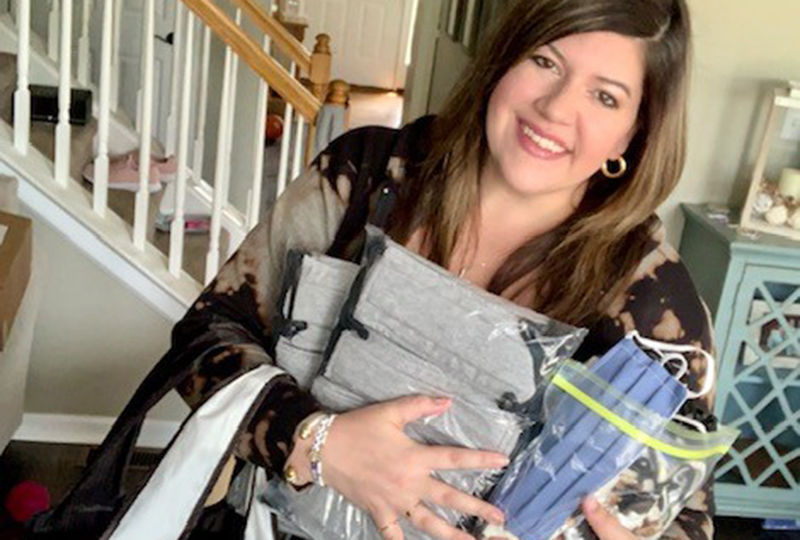 WYOMISSING, Pa. — Aurora Brunovsky, a  2009 Penn State alumna and member of the University's Human Resources team, has made helping others a way of life. Her organization, Give Back Lehigh Valley, held a Face Mask Drive from April 24 26, with the goal of providing 1,000 face masks to nonprofits in an effort to slow the spread of the coronavirus.
Over the course of just 48 hours, Give Back Lehigh Valley exceeded its goal, raising funds for 1,000 face masks, and receiving a donation of 300 handmade masks.
Masks were donated to the nonprofits in the Lehigh Valley including Allentown Rescue Mission, The Children's Home of Easton, Third Street Alliance, Turning Point of the Lehigh Valley, Cancer Support Community, Allentown Seventh-Day Adventist Food Pantry and Valley Youth House. Some masks were also donated to St. Luke's University Hospital – Bethlehem Campus.
Since the cost per mask was $4, Give Back Lehigh V needed to raise $4,000 to provide 1,000 masks. By the end of the 48 hours, they raised $5,000, and received an additional 300 homemade masks. The end result is 1,300 masks, plus additional funds that were donated to several Lehigh Valley nonprofits to fill critical needs, such as diapers.
"This shows the power of Facebook and social media," said Brunovsky. "We exceeded our goal in just 48 hours!"
"When we were first thinking about this idea, I reached out to local nonprofits and the need was greater than I realized," she said.
Fortunately, she found many groups and individuals who were eager to help. One friend put her in touch with a local branch of a well-known manufacturing company in Berks County and they joined the effort to create face masks.
Then through a retired co-worker, Brunovsky learned of another group of volunteers in Berks County who has been hard at work creating masks for nonprofits, donating 20,000 to date. They responded to the call and provided 300 masks to Give Back Lehigh Valley in a wide variety of materials; Brunovsky set aside the more colorful masks for children being served by nonprofits.
"People want to help but they don't know how. We want to unite people in our community and give them a way to give back if they can't find one," said Brunovsky.
Known for its signature event, the Give Back Lehigh Valley Softball Tournament, the organization has donated over $60,000 to various Lehigh Valley charities and organizations. Each year, the event raises funding and awareness for a different cause, allowing Give Back LV to put the spotlight on a number of different charities.
The softball tournament developed a following over the years and Brunovsky said she has used Give Back Lehigh Valley platform to engage people in other charitable endeavors, such as Holiday Hope Chests, a holiday initiative in which volunteers fill shoe boxes with gifts for at-risk children. 
When Brunovsky isn't raising funds through Give Back Lehigh Valley, she works as a regional human resource consultant for Penn State Berks, Penn State Lehigh Valley and Penn State Schuylkill. She is an alumna of Penn State Berks, graduating in 2009 with a bachelor's degree in applied psychology.
In 2013, Brunovsky and her husband, Joe, founded Give Back Lehigh Valley, an organization whose mission is to make a difference by supporting various charities and causes. To date, Give Back Lehigh Valley has donated over $60,000 to various Lehigh Valley charities and organizations.
 "We Are" stories
The "We Are" spirit is perhaps more important than ever before, and Penn Staters everywhere are coming together in new and amazing ways. During these challenging times, our community is continuing to realize Penn State's commitment to excellence through acts of collaboration, thoughtfulness and kindness. As President Eric Barron has written on Digging Deeper, this truly is a "We Are" moment — and we want to hear your "We Are" stories.
Visit news.psu.edu/WeAre to share how you or other Penn Staters are supporting each other to overcome the collective challenges presented by COVID-19. We are!