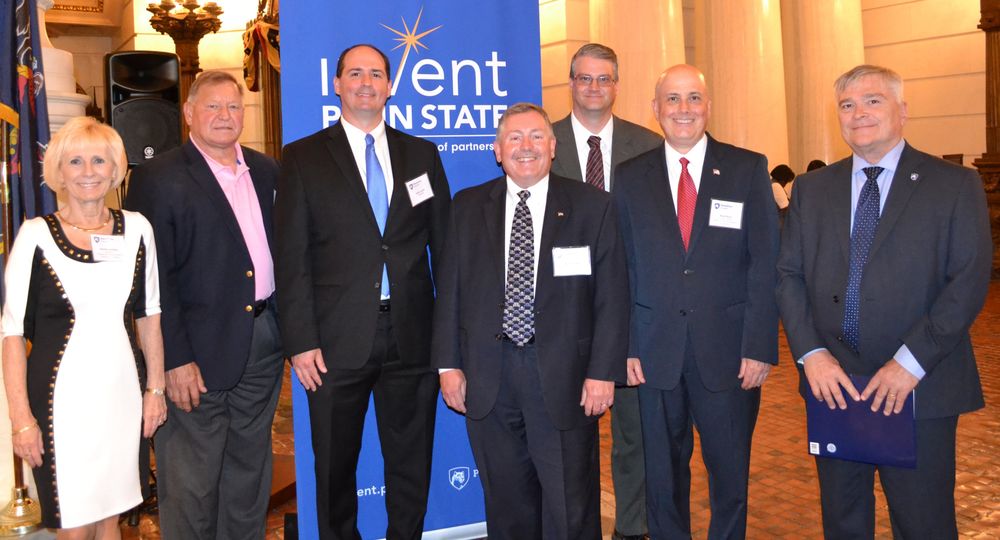 SCHUYLKILL HAVEN, Pa. — Penn State Schuylkill is the recipient of a $50,000 seed grant to expand entrepreneurial endeavors through the Invent Penn State initiative. Schuylkill is one of six campuses recently named as part of the newest wave of entrepreneurial sites across the Commonwealth that are poised to become economic strengths in their region.
Invent Penn State, which was announced in January 2015 by Penn State President Eric Barron, focuses on leveraging Penn State's research, knowledge and entrepreneurial spirit to bring to market creative ideas, helpful products and needed services. Invent Penn State is a collaboration where students, faculty and Commonwealth campuses such as Penn State Schuylkill work with local businesses to assist and guide entrepreneurs, helping them grow, prosper and ultimately improve lives and spur economic development at the local, state and global level.
"I am delighted that this year Penn State Schuylkill was chosen as one of the campuses to help in expanding entrepreneurial endeavors," said Penn State Schuylkill Chancellor Kelly Austin. "We are looking forward to assisting creative and motivated entrepreneurs establish their ideas and businesses. Their success will be far-reaching and extremely positive on numerous levels, which will only enhance and improve the economic development of this area. This is truly a great initiative and an exciting time for Penn State, Penn State Schuylkill and for Schuylkill County."
Invent Penn State is a Commonwealth-wide initiative that blends entrepreneurship-focused academic programs, business startup training and incubation, funding, and key regional partnerships together for the benefit of Pennsylvania and beyond. These six new awards follow on the heels of six similar $50,000 grants awarded to Penn State campuses in 2015.
Penn State Schuylkill's Lion Launch program is a community-based entrepreneurship program that provides funding and mentorship to assist and encourage local entrepreneurs to start and grow businesses and new innovative products. Penn State Schuylkill's Lion Launch also provides community competition wherein winners receive startup funding, training and mentorship from industry, faculty and economic development professionals.
"Penn State Schuylkill has been working closely with many amazing community leaders and wonderful organizations such as SEDCO, SCORE, the Schuylkill Chamber of Commerce, Northeast PA Manufacturers & Employers Association and PADCO, to name a few," said Austin. "We know the extremely talented, caring and giving individuals of this community will help guide, facilitate and assist with Penn State Schuylkill's Lion Launch program."
Through the Lion Launch program, successful awardees will not only be provided funds to launch their ideas, but they will also be given the opportunity to participate in workshops on growing and strengthening their business. SCORE members and other community partners will facilitate these workshops within the space made available for use by Pottsville Area Development Corporation (PADCO). In addition, the successful participants will be provided mentorship from business and community leaders, faculty and Penn State alumni. They will also be given the option to employ student interns in their new businesses.
"The process for awarding these six additional grants was very competitive," said Madlyn Hanes, vice president for Commonwealth Campuses. "I congratulate the recipients who share a deep commitment to the economic well-being of their communities. They are connecting the talent of Penn State faculty and students with community partners to bring innovation and entrepreneurial activity to the regions we serve. The Invent Penn State initiative is a powerful driver of economic development."
Other campuses in addition to Schuylkill that are receiving funding in this latest round include: Altoona, Berks, Great Valley, Shenango and York. Prior to this round of funding the Penn State campuses of Abington, Behrend, Harrisburg, Lehigh Valley and New Kensington received seed-grant awards for collaborative economic ventures on their campuses and within their communities.
"The Schuylkill Chamber was elated to learn that Penn State Schuylkill was a recipient of a $50,000 seed grant to expand entrepreneurial endeavors through the Invent Penn State initiative," said Robert Carl, executive director of the Schuylkill Chamber of Commerce. "Expanding entrepreneurship in Schuylkill County has been an initiative of the Schuylkill Chamber for the past two years through the Young Entrepreneurs Academy, in which Penn State Schuylkill has been a major driving partner. We look forward to further collaboration and welcome the opportunity to work with Penn State Schuylkill with their initiative of job creation, economic development and student success through the Invent Penn State initiative. The Schuylkill Chamber of Commerce, and our business community, has always embraced entrepreneurship, and we believe this program is an excellent way for students to be able to explore their passions and learn the skills needed to become future business leaders. By bringing the Invent Penn State initiative to the Penn State Schuylkill campus, we are working to further ignite the spirit of entrepreneurship in Schuylkill County."
For more information on Invent Penn State, visit www.invent.psu.edu.