Applications are due Oct. 15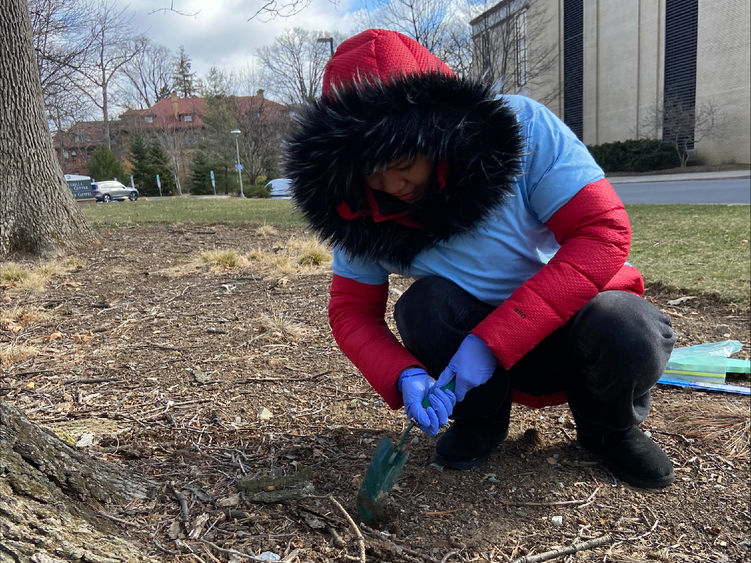 UNIVERSITY PARK, Pa. — Penn State's EnvironMentors program connects high school students from underserved districts with the University's world-class research facilities and faculty, providing opportunities for them to achieve bright futures. The program, now in its sixth year, is currently accepting applications for faculty, undergraduate and high school students for the 2023-24 cohort. Applications are due by Oct. 15.
The national program, developed by the Global Council for Science and the Environment, aims to make college accessible for underrepresented and underserved high school students. Penn State is one of seven university chapters.
Now housed within Penn State Sustainability, EnvironMentors is available at four campuses across the University: Schuylkill, Shenango, Harrisburg and University Park. High school students can apply to partner with a faculty and undergraduate student mentor for much of the academic year. During that time, the team plan and conduct environmental research projects together. Both the Penn State undergrads and the high school students receive a stipend for their participation in the program.
"These are the kind of projects we need," said Mary Ann Smith, a lecturer in biology and chemistry at Penn State Schuylkill who served as a faculty adviser in the program during the last academic year. She said she plans to advise more teams this year. "It would be amazing to bring this program to more campuses and engage a number of students from diverse backgrounds in STEM across our commonwealth, which will bring different experiences and perspectives to the table that can help improve how we view issues and eventually solve them."
Smith oversaw two science, technology, engineering and mathematics-based projects between two State College high school students and two Penn State students at University Park, from initiation in November of 2022 to presentation in April of this year.
Both teams earned the opportunity to present at a national forum during the Annual Biomedical Research Conference for Minoritized Scientists ePoster Spring Symposium for Emerging Scientists in April. Smith said the event provided great practice to these future researchers, as did their participation in the Penn State EnvironMentors Research Symposium the same month.
"Working with my team of undergraduate and high school students within the EnvironMentors program helped demonstrate to me how we can change students' perceptions of science and scientists, while helping students have an active role in research and learn about critical issues that affect our environment today," Smith said.
Smith advised Asiedua Ohene Asante, a Penn State student from Ghana majoring in health administration at University Park, who worked with high school student Leo Wang on a project titled "The Power of Trees: ​The Relationship between Trees and Climate Change​." The team conducted biometric sampling of 20 trees at University Park, then used the U.S. Forestry Service's MyTree tool to measure the ecological benefits of each tree, regardless of size.
The students found a significant difference in the trees' ability to store carbon dioxide. Species commonly planted as ornamental flowering trees, such as crabapple, provided only about a third of the storage capacity of many classic shade trees such as buckeyes, maples and oaks, the students said.
"If we're concerned about greenhouse gases, we need to be more intentional about the types of trees we're planting," Smith said. "It might not tip the scales today, but if we plant more of these trees that have the ability to store more carbon, we could make an impact."
Smith also advised Aliya Karim, a pre-med student at Penn State University Park who is from Ghana, who worked with high schooler Fatima Nadeem on a project titled "A Treasure Chest of Diversity: ​The Effects of Soil Health on Soil Microbial Diversity and Species​." The team took soil samples at five different sites and prepared serial dilutions to see the types of microbes present in their samples.
"Soil microbes and organic composition are useful in understanding climate change and global warming," Kareem and Nadim explained in their poster. "Protecting and promoting soil health helps protect soil microbe biodiversity and can play a role in reducing climate change's effects."
Smith said that while the students' time was limited, their interest has been piqued for future study. Because some samples are in cold storage in her lab at Penn State Schuylkill, students in her fall biology course are following up with questions that the team didn't have time to explore.
"The students had so much more confidence after this experience," Smith said. "There is great value in bringing this to students, especially since many of them wouldn't have the opportunity to do this type of research in a lab."
Smith's advisee Fatima Nadeem, who participated as a high school student, certainly agrees.
"The EnvironMentors program provided me with the invaluable opportunity to engage in university-level collaborative research," she said. "Working alongside esteemed faculty and professors has impacted my academic journey significantly. Through this program, I have attained hands-on field and wet lab work experience while working on formal symposium presentation skills. Going forward into my post-secondary education, I am confident in my goals and aspirations for a future career in medicine and research with the knowledge and experience I've gained from this program."
To learn more about EnvironMentors at Penn State, visit the program website. Applications for all roles — high school student, undergraduate student and faculty mentors — for the 2023-24 cohort are due by Oct. 15.