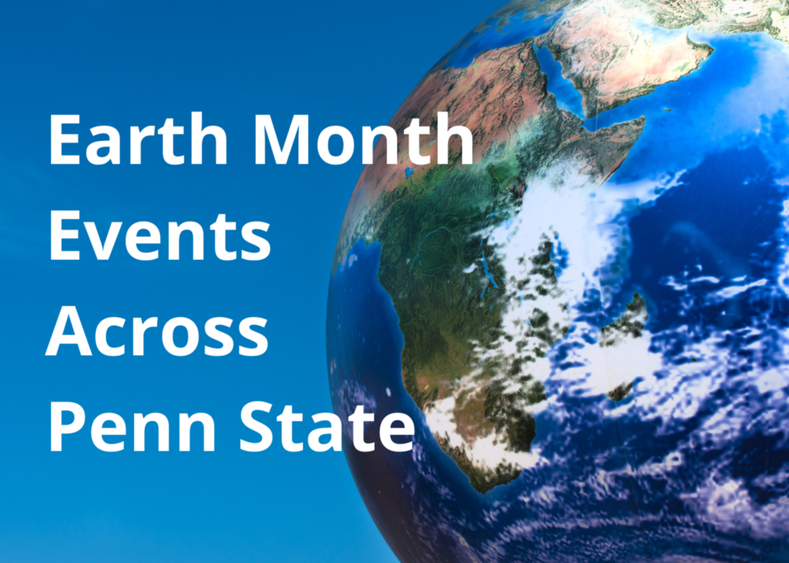 UNIVERSITY PARK, Pa. —  Penn State students, staff, faculty, alumni and community members kicked off Earth Month with a visit from United Nations Youth Ambassador, AY Young for a series of pop-up concerts and speaking engagements culminating with the inaugural Student-Led Sustainability Summit.   
As Earth Month continues, Penn Staters are invited to attend a wide variety of special events and activities throughout the remainder of April.   
Celebrating April as Earth Month is an expansion of Earth Day, which was first established over 50 years ago on April 22, 1970. Penn State students helped inaugurate the original Earth Day, organizing a teach-in on the environment, campus art exhibits, film screenings and a political debate between candidates for Pennsylvania state governor. Recognition of the importance of the environment and sustainability continues to grow, so that now Penn State takes a full month to encourage our whole community to take action and get involved in projects, events, and discussions that focus on the urgent need for environmental justice, sustainability, and climate solutions.  
"Earth Month at Penn State is an exciting time to engage with a variety of opportunities connecting sustainability and climate action to the Penn State experience," said Lara Fowler, interim chief sustainability officer and director of the Sustainability Institute. "By focusing on Earth Month in April, our community can learn about opportunities to participate in year-round sustainability related activities."  
Additional opportunities to celebrate Earth Month will be added to the Sustainability Institute (SI) Calendar as event information becomes available. Click here to submit your unit's Earth Month event to the SI calendar. For more information or questions about the calendar, please contact Sierra Keller at [email protected].  
Opportunities to get involved with Earth Month at Penn State include:  
Tuesday, April 18, 4 p.m. (in-person, University Park)  
Tuesday, April 18 – May 14, All Day (in-person, State College) 
Wednesday, April 19, 7 p.m. (virtual)  
Friday, April 21, 7 a.m. (in-person, University Park)   
Friday, April 21, 7 a.m. (in-person, University Park)   
Friday, April 21, 8 a.m. (in-person, University Park)   
Friday, April 21, 11 a.m. (in-person, Schuylkill)  
Friday, April 21, 10 a.m.-noon (in-person,Hershey) 
Friday, April 21, 1 p.m. (in-person, Hershey) 
Friday, April 21, 11 a.m. (in-person, University Park)   
Friday, April 21, 11 a.m. (in-person, University Park)   
Saturday, April 22, 8 a.m. (in-person, Centre County)  
Monday, April 24, 1-6 p.m. (in-person at Shaver's Creek) 
Thursday, April 27, noon (in-person, University Park)  
Thursday, April 27, noon (in-person, University Park)  
Friday, April 28, noon (in-person, Schuylkill)  
Friday, April 28, noon (in-person, University Park)