Funding from the Bedford Falls Foundation will distribute assistance across five campuses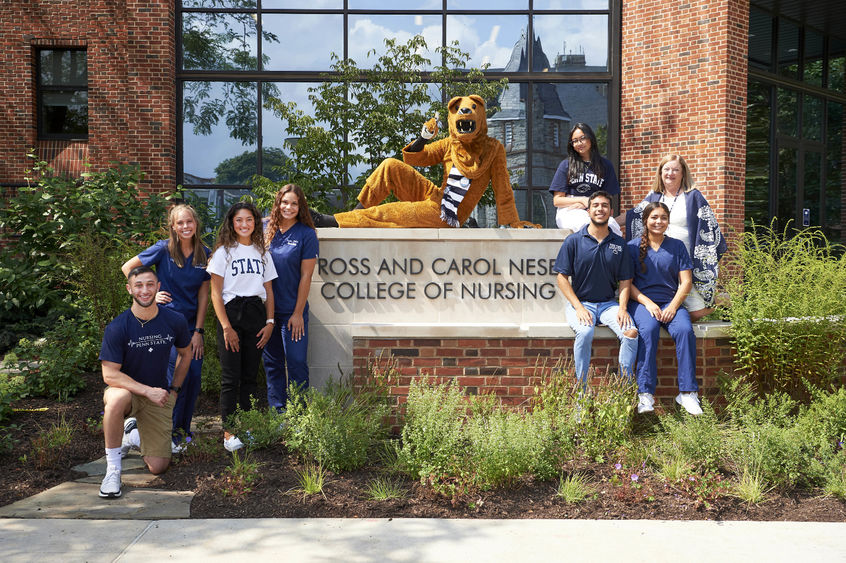 UNIVERSITY PARK, Pa. — A historic grant benefiting nursing students across five Penn State campuses is set to boost recruitment, expand mentorship and leadership opportunities, and fund a wave of new scholarships.
The Ross and Carol Nese College of Nursing has been awarded $2 million by the Bedford Falls Foundation, a donor-advised fund that supports a wide range of charitable and educational causes. The grant will fund the Joanne and William Conway Nursing Scholarship, named for the donors who established Bedford Falls-DAF, and create a new cohort of approximately 38 undergraduates who are seeking their bachelor of science degrees in nursing. Each Conway Scholar will receive a total of $40,000 dispersed annually over four years, easing their financial burden and clearing the path for them to focus on developing skills in the field of nursing.
Eligibility for nursing students will span five Penn State campuses — Behrend, Fayette, Mont Alto, Schuylkill and Scranton — that have the existing infrastructure to accommodate and enroll additional students.
"At a time when the commonwealth and the nation broadly are facing a critical shortage of nurses, the Conways not only foresaw the urgency of the problem but acted with decisive leadership to boost resources for nursing students," said Penn State President Neeli Bendapudi. "We are deeply grateful for this leadership by the Conways and the generous support of the Bedford Falls Foundation-DAF. Empowering our graduates to serve the needs of their communities is at the heart of Penn State's land-grant and academic mission, which is why we are so excited about the extraordinary impact this grant is poised to make."
The Joanne and William Conway Nursing Scholarship will be strengthened by an additional stream of funding from the grant to hire a faculty member dedicated to supporting and tracking the success of Conway Scholars. The position will provide academic and professional nursing mentorship and facilitate leadership opportunities throughout the program. Most notably, in their third year, Conway Scholars will enroll in the "We Lead" program, which provides experiential learning for nursing students in leadership, including matters of entrepreneurship, negotiation and innovation.
"Given the high cost of earning a nursing degree, we have made it a top priority to obtain substantial support for nursing students," said Laurie Badzek, dean of the Ross and Carol Nese College of Nursing. "With rural Pennsylvania in particular facing chronic unmet need in nursing staff, this grant from the Bedford Falls Foundation-DAF represents an enormous leap forward in our ability to graduate nurses who can deliver high-quality care to every corner of the commonwealth."
We seek to address the looming nursing shortage by greatly reducing the burden of debt nursing students face after they graduate.

—Bill Conway , co-founder of the Carlyle Group
As the nursing shortage continues to affect areas across the country, Penn State is positioned to be a leader in mitigating the crisis. With more than 2,200 undergraduate and graduate students on 13 campuses, the Ross and Carol Nese College of Nursing is one of the largest educators of pre-licensure students in the commonwealth of Pennsylvania. Since its founding in 1964, Penn State nursing has grown into a nationally recognized flagship program and now awards more than 500 bachelor's degrees annually, as well as many other certificates and advanced degrees. The college was recently designated a Center of Excellence by the National League for Nursing, highlighting the college's investment in its nurse educators and their professional growth.
With the launch of new initiatives by the provost and the Office of the Vice President for Commonwealth Campuses to enhance recruitment, the Conway Scholarships are projected to play a key role in generating interest from prospective students and boosting enrollment across the nursing program.
Penn State is among a growing list of nursing programs throughout Maryland, Virginia, Washington, D.C., North Carolina and Pennsylvania that have received substantial support through the philanthropy of Bill and Joanne Conway. In 1987, Bill Conway co-founded the Carlyle Group, a multinational private equity, alternative asset management and financial services corporation, and currently serves as co-executive chairman.
"We seek to address the looming nursing shortage by greatly reducing the burden of debt nursing students face after they graduate," said Bill Conway. "Penn State has proven it has the expertise and infrastructure to educate these undergraduates, so our role has been to make sure these opportunities are affordable and accessible for young people from every background who dream of becoming nurses."
With the record-breaking success of "A Greater Penn State for 21st Century Excellence," which raised $2.2 billion from 2016 to 2022, philanthropy is helping to sustain the University's tradition of education, research and service to communities across the commonwealth and around the globe. Scholarships enable our institution to open doors and welcome students from every background, support for transformative experiences allows our students and faculty to fulfill their vast potential for leadership, and gifts toward discovery and excellence help us to serve and impact the world we share. To learn more about the impact of giving and the continuing need for support, visit raise.psu.edu.