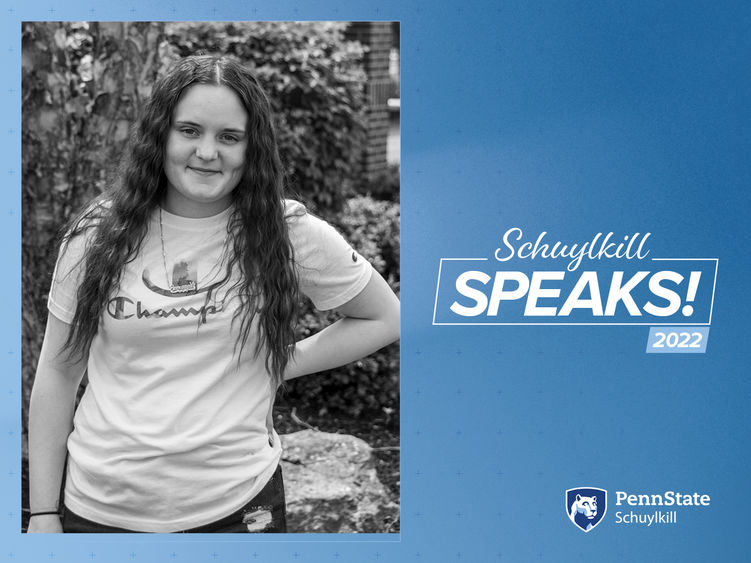 Editor's note: This story is part of a series profiling exceptional members of Penn State Schuylkill's spring 2022 graduating class. For more stories like Berardino's, visit schuylkill.psu.edu/2022-graduates. 
SCHUYLKILL HAVEN, Pa. — This past weekend, Savannah Berardino graduated from Penn State Schuylkill with her degree in psychology. But this is not Berardino's first degree, as she earned her associate degree in human development and family studies in fall 2020. 
Berardino is passionate about the human development process, and she earned a child development certificate to complement her bachelor's degree. Her education has supported her career path, and she is already employed in her field. Berardino works at the Blue Mountain Recreation Center as a childcare assistant group supervisor, where she is responsible for morning and after-school care. Once school is over and summer begins, the center will become a summer camp, and she will continue working with the students throughout the season. 
With two degrees, a certificate, and a job in her field, Berardino has achieved so much. Though she was born and raised in Long Island, New York, she graduated locally from Minersville Jr./Sr. High School. When she accepted her offer to Penn State Schuylkill, Berardino invested in her success in her first year, choosing to participate in the Pathway to Success: Summer Start (PaSSS) program. The PaSSS program allows first- and select second-year students the opportunity to earn credits while becoming familiar with campus during the summer months, prior to the fall semester beginning. 
"I met Savannah at an application session I held at Minersville High School during the 2017-18 school year," said Gianna Agnello-Porambo, assistant director of admissions and adviser of the Lion Ambassadors. "She became a PaSSS student mentor, and she is a student who you will find always supporting the basketball teams and students on campus," she explained. 
Berardino's work in the PaSSS program helped launch her into other leadership roles on campus, becoming a Lion Ambassador and helping prospective students and their families feel welcomed to Penn State Schuylkill. She also served as a work study student in the Admissions and Financial Aid Offices, supporting critical operations on campus. 
In addition to showing her Penn State pride by supporting her peers and Penn State Schuylkill's athletics teams, Berardino channeled her creativity into a fledgling business venture. "Savannah used her Cricut crafting machine and worked with Kayla Felty, assistant director of athletics, to make t-shirts in support of the women's soccer team this past fall," Agnello-Porambo said. "Savannah is a quiet student with lots of pride for her second home, and it is bittersweet to see her graduate." 
As Berardino's undergraduate career comes to a close, she took time from her busy schedule to reflect on her experiences at Penn State Schuylkill, discussing the opportunities presented to her and sharing advice for others like her. 
Q: How did the Pathway to Success: Summer Start Program impact your time at Penn State Schuylkill? 
Berardino: Being able to get ahead and familiar with campus prior to my official freshman year made me feel at home. I met some amazing individuals through the program as well as having an easy transition from high school to college. The program allowed me to take six credits in the summertime to help me graduate early. 
Q: Outside of academics, what was the most valuable lesson you learned during your college career? 
Berardino: Do not procrastinate when it comes to completing any tasks you encounter.  
  
Q: Do you have a favorite Penn State Schuylkill memory? 
Berardino: Being a part of Lion Ambassadors and attending the basketball games. Being a tour guide on campus has given me many opportunities in being a leader, planning fundraisers, and meeting prospective students. I was given the opportunity to inform prospective students of all the wonderful opportunities our campus has.  
  
Q: What will you miss most about campus? 
Berardino: The one thing I will miss most about campus are the individuals I have been working hand-in-hand with since my sophomore year. As a work study student, I have been part of financial aid and admissions since summer of 2019. The admissions counselors have had such an impact on my perspective and decisions I have made throughout my college years. I will never forget the life lessons and conversations we have had over the years.  
  
Q: As you near graduation, what advice would you give to an incoming student about college in general, and Penn State Schuylkill, specifically? 
Berardino: I would advise students to stay on top of their course work. In the middle of the transition from high school to college it could be difficult to stay focused. However, come up with a weekly plan and stay on top of it so you do not fall behind on any material. Advice I would give individuals coming to Penn State Schuylkill would be to take advantage of all the wonderful opportunities we have in arm's reach.  
Being a first-generation student, I came into college clueless, to be quite honest. However, speaking up and asking for help or getting involved on campus has made my four years fly by. Not only was I involved on campus with Lion Ambassadors, but I was also able to obtain an associate's in human development and family studies and a child development certificate, along with a bachelor's in psychology.
Never shut down or give up — you never know what awaits you on the other side. Although it is a small campus, it is going to be your home away from home once you attend here. 
  
Q: What made you want to pursue a psychology degree, and what was the most memorable part of the program for you? 
Berardino: I find that helping individuals regardless of the circumstances has always been a passion of mine. Growing up having somebody there to guide me when days would get stressful always pushed me to want to become a counselor. My favorite memory with the psychology program here on campus must be the professors. Each professor I have come across within the program has been very helpful, especially listening to the way they were passionate about informing us on different reasons an individual may react or act when dealing with certain circumstances.  
  
Q: Where do you see yourself next year? In five years? 
Berardino: Within the year I am hoping to be enrolled in a graduate program so that I can obtain my master's degree. However, I also do see myself staying with my current position as a childcare assistant supervisor through Blue Mountain Recreation Center. Within the next five years I am hoping to be an advocate for individuals with special needs or become an advocate in the juvenile delinquency system.