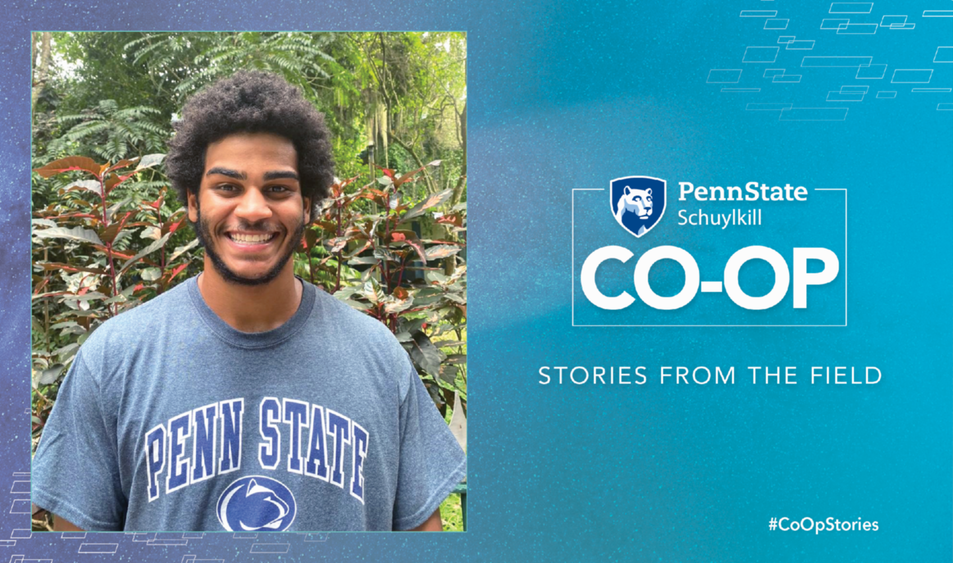 Editor's note: This story is part of a series profiling the summer 2021 internship experiences of undergraduate students participating in Penn State Schuylkill Co-Op. For more stories like Centola E Silva's, visit schuylkill.psu.edu/co-op-stories. The series is written by Courtney Weikel, a fourth-year Penn State Schuylkill student majoring in corporate communication and completing her summer internship in the campus's Office of Strategic Communications.
RIO DE JANEIRO, Brazil — From Schuylkill Haven to San Diego to Rio De Janeiro, second-year Penn State Schuylkill student Lucas Centola E Silva has made the most of a remote internship opportunity while living at home in Brazil this summer.
Centola E Silva landed his summer internship with Sizigi, an eportfolio platform based in San Diego, California. Sizigi helps individuals searching for jobs and companies searching for candidates by creating a relationship between the two parties throughout the hiring process. Centola E Silva said, "I chose Sizigi because the company seems to have a huge potential to grow and help a lot of people get their dream jobs."
His experience with Sizigi allowed Centola E Silva to connect with those in leadership positions to discuss new ideas. "I had never imagined I would work for a company and be able to reach out to the CEO to talk about ideas I had to expand their marketing strategies," he said. "That definitely made my experience memorable, and after working for Sizigi, I will set the bar high for future jobs."
Centola E Silva is majoring in business with the marketing/management option and is also pursuing a certificate in sports administration. His campus involvement includes competing for Penn State Schuylkill on the men's basketball team, and being a founding member of Penn State Schuylkill Co-Op.
We recently caught up with Centola E Silva to discuss his remote internship experience with Sizigi, and here's what he had to say.
Q: Describe a day in the life at your internship.
Centola E Silva: At Sizigi, I organize events and initiatives to help the company grow and promote the brand. We can write blog posts, do social media takeovers, or produce videos that will help job hunters in their job search.
Q: How have your Co-Op courses prepared you for your summer internship?
Centola E Silva: The Co-Op courses have helped in several ways throughout this experience. During the two Co-Op courses I've taken so far, Ms. Kate Zimmerman [director of cooperative education] taught us how to build our résumé, write a cover letter, how to talk to your supervisor or advisor, how to dress for work, and more. I believe this experience will help me in the future because it is the first time I am in a professional environment. I had no experience prior to this internship, and I believe I will remember the tips I received at Sizigi for the rest of my life.
Q: How did you hear about the Co-Op program?
Centola E Silva: My academic advisor told me about the Co-Op program, and I realized that would be great for my plans because I had no experience. I knew the Co-Op program would get me ready for professional life, and that I would really need that, especially as an international student who came from a totally different culture.
Q: What advice do you have for students looking to join Co-Op and find internships?
Centola E Silva: I would do everything I did again and recommend it to incoming students because I learned about some fundamental principles for people who want to get a job early in college and be different. COVID-19 prevented me from being on campus freshman year, but I am excited to finally be on campus this fall. I hope I can experience everything Penn State Schuylkill has to offer and hope to have a great sophomore season with the basketball team.
Q: As an international student, can you explain your unique position in the Co-Op program?
Centola E Silva: Being an international student in the Co-Op program means a lot to me, and it can be very beneficial for the program as well. I believe international students can bring different perspectives to certain situations, and that can really help the program grow as a whole.
To learn more about Penn State Schuylkill Co-Op and how you can get involved as either a student or an employer, visit schuylkill.psu.edu/co-op or contact Kate Zimmerman, director of cooperative education, at [email protected] or 570-385-6296.