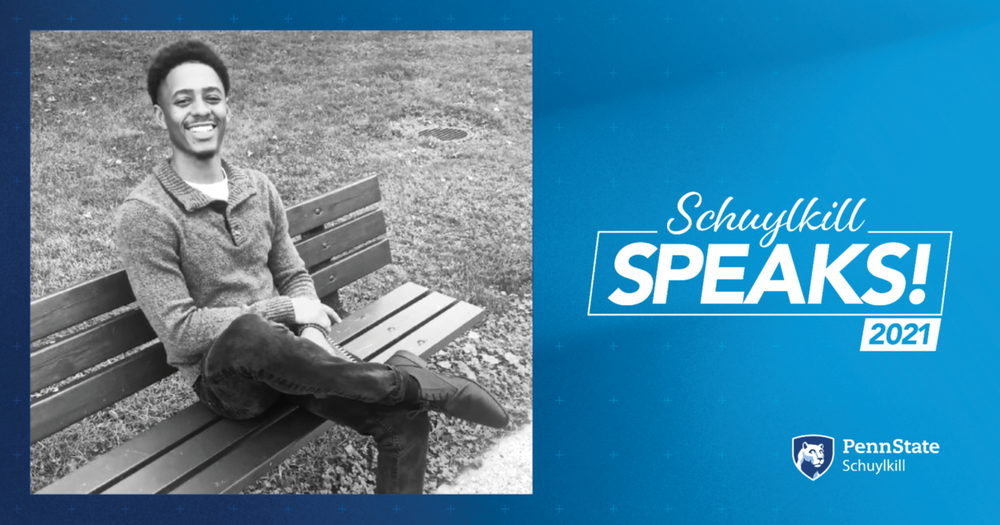 Editor's note: This story is part of a series profiling exceptional members of Penn State Schuylkill's spring 2021 graduating class. For more stories like Hughes's, visit schuylkill.psu.edu/2021-graduates.
SCHUYLKILL HAVEN, Pa. — Malique Hughes is a corporate communication major from Browns Mills, New Jersey, who transferred to Penn State Schuylkill for the opportunity to be part of the men's basketball program. Like many student-athletes, Hughes credits his participation in the athletic program as a significant aspect of his time at Penn State.
"Coming to Penn State Schuylkill allowed me to help build their athletic program through playing basketball," said Hughes. "And I appreciate the opportunity to work with the coaching staff, especially Coach Travis [Williams]. Being part of the team is like being part of a family, including the time spent outside of practice and games. Through playing basketball here, I have made lifelong friends."
Williams, who is an admission counselor as well as the head coach of the men's basketball team, had this to say about Hughes: "Malique has been a great student, athlete, and mentor to others. He is an amazing communicator and wise, well beyond his years. The campus athletic community is proud to call him a member of our Nittany Lion pride."
Hughes was also a resident assistant (RA) in his senior year — starting in Nittany III and moving to Nittany V for the spring semester. "Malique was quick to adapt no matter what we threw at him," said Lauren McCarthy, associate director of student affairs.
He was an equally hardworking and thoughtful student and a member of Lambda Phi Eta, the national communication honor society.
David Higgins, assistant teaching professor of film/video and music, credits Hughes as being diligent and creative: "I admire his work ethic as a student-athlete and RA. His enthusiasm and passion will be missed! I look forward to hearing about his future and all that he will accomplish. I am extremely proud of Malique and his many achievements at Penn State Schuylkill."
As Hughes prepares to move on, we caught up with him to talk about his time on campus.
Q: What surprised you most about your time at Penn State Schuylkill?
Hughes: What really surprised me were the connections that I made on this small campus. The people here truly mean well and want you to establish yourself.
Q: Outside of academics, how did you spend your time while a student?
Hughes: I spent time on the basketball court, in the nearby city of Pottsville, and hanging out in the Student Community Center.
Q: What role did athletics play in your time here?
Hughes: A huge role. Without athletics, I don't know where I would be. I have improved immensely as an athlete thanks to the coaching staff and facilities on campus.
Q: What are some accomplishments that you are particularly proud of?
Hughes: I am proud of becoming a member of Lambda Pi Eta, the corporate communication honor society.
Q: Which class or instructor had the most influence on your academic career? Future career? Why?
Hughes: By far, the instructors that influenced me the most were David Higgins and Janelle Gruber, lecturer and coordinator of the corporate communication program. They taught me to value creativity and freedom. They have both affected me as a person, and they helped me understand the different aspects of film and communication and what they mean in life.
Q: Do you have a favorite Penn State Schuylkill memory?
Hughes: There are too many to count. They vary from times spent with my housemates, traveling with my teammates, and competing with myself to be better overall.
Q: As you near graduation, what advice would you give to an incoming student about college in general?
Hughes: In general, be you! But don't settle for just that. Always push yourself to be better, but remember that it is a marathon and not a sprint. It's okay if you don't fully have it figured out yet. Just trust in yourself and the process.
Q. Where do you see yourself next year? In five years?
Hughes: Next year, I see myself pursuing my master's degree in communication. In five years, I will be invested in real estate or chasing a professional career in athletics coaching or training.